Kicking cancer with a football star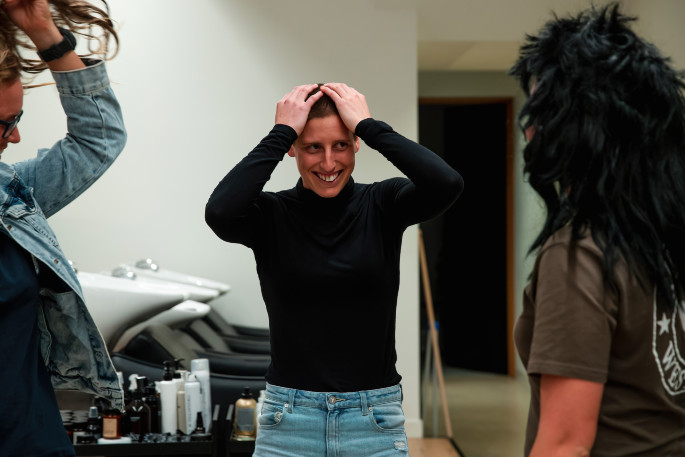 Rebekah Stott is used to a physical battle.
Playing over 70 times for the New Zealand national women's football team, the Football Ferns, the defender's leadership and strength is unquestionable.
But now, the 27-year-old is in an entirely different fight, and is hoping to help others along the way.
Stott, who started her footballing journey with Papamoa Soccer Club at just four-years-old, was diagnosed with stage three Hodgkin lymphoma in February. It was the end of a lengthy diagnostic period that started with the discovery of a lump last June.
Stott headed straight back to her home of Melbourne when it appeared likely the diagnosis was cancer, escaping the Covid-19 stretched health system in England, where she plays her football for Women's Super League side Brighton and Hove Albion.
Now, she is undergoing treatment and recently took part in the World's Greatest Shave, raising over $35,000 dollars to help fight blood cancer.
The support from family, friends, colleagues, and employers past and present has been a massive boost for Stott, whose parents regularly visit from Australia's "sunny coast" for treatment cycles at the Peter MacCallum Cancer Centre.
Although, when it came to the shave, Stott let her friends off the hook.
"It was a bit daunting but as it got closer I kind of got excited. It is pretty incredible to see how much support I had.
"All my friends said, 'I'll shave my head with you'. But I said we don't need two ugly heads in our group. So I told them not to but they have been so supportive and so nice."
The positive attitude Stott has shown throughout the experience is a major benefit to herself and the loved ones surrounding her.
To help share her story, Stott started the blog 'beat it. by stotty'. The inspiration comes from her own experience as the diagnosis loomed. Stott found information about the other c-word, chemotherapy, lacking.
"I found it quite hard to find information about what chemo would be like," says Stott.
"So I really felt like I wanted to share some information and my story."
Stott has her own personal battle at hand but is determined to help others in similar situations, especially in the younger demographic, when it comes to the anxiety and information scarcity of treatment.
"I went to meet one of my friends the other day and she was like, 'What do you actually do in chemo?'
"I am going to have a video coming out soon about my chemo sessions and talking about what I go through. Just to make it a bit more normal so people know what to expect.
"Cancer doesn't discriminate, it gets anyone so I just hope it can help."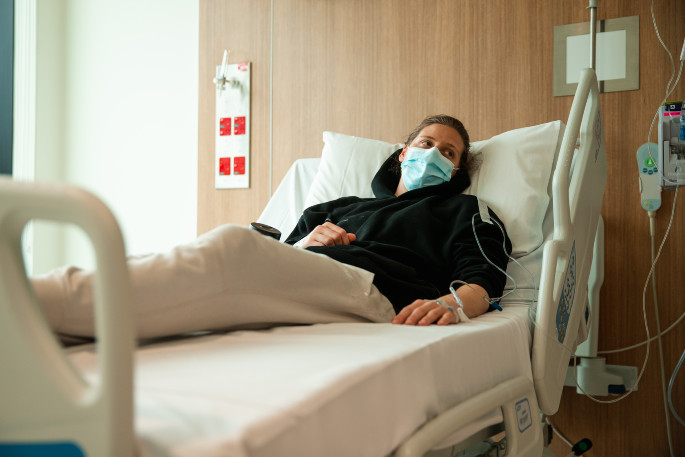 The Football Fern is hoping to remove some of the stigma surrounding cancer treatment. Photo: Supplied.
As for her own recovery, Stott has no doubts she will "beat it".
That positive attitude and competitive mindset will hopefully lead to an impressive sporting comeback and homecoming. The FIFA Women's World Cup is coming to Australia and New Zealand in 2023 and Stott has it earmarked on her calendar.
"That is going to be incredible," she beams.
"I can't wait for that. If all goes to plan I should be finished with treatment around August.
"My goal is I want to be back playing in England in January next year and then obviously 2023 is the biggest goal. It is really nice to have something like that to look forward to."
Until then, the football boots are away for Stotty. She is listening to her body and giving it the downtime needed to win this tough fixture.
However, sharing her experience in as open and positive a way as possible is her current gameplan.
"I have been quite open and I can be quite vulnerable and share that and I hope that I can help someone else who might be going through something similar," she says.
"If it helps one person, then I am happy."
As always, the ultimate team player.
Read Rebekah's story at www.beatitbystotty.com.
More on SunLive...