War veteran Fred Johnson takes final flight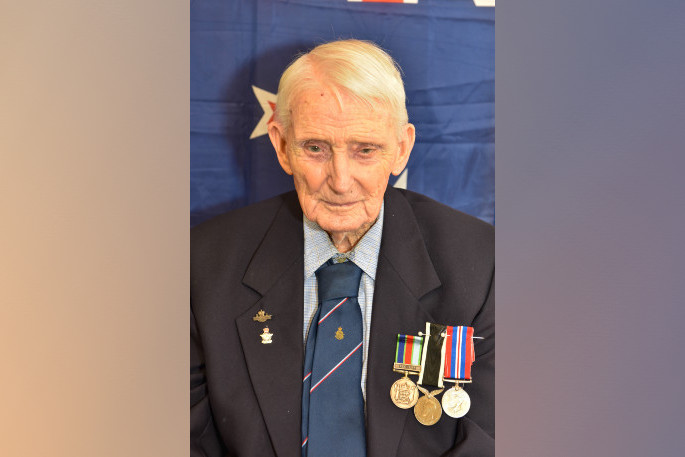 Fred Johnson had been looking forward to lighting a candle at a special memorial service at Radius Matua on Anzac Day.
Sadly, the World War 2 veteran passed away two days before Anzac Day, aged 96 years.
Fred joined the Air Training Corp Number 7 Squadron – Hamilton aged 17 in September 1942.
It is noted on his enrolment form, that he was already a member of the Home Guard. He joined the Home Guard when he was 16, the reason being that his father was also in the Home Guard and he was one of the field cooks. Fred remembers that he would go and cook for Home Guard every Sunday lunchtime.
In February 1943 Fred applied for enlistment - Non Flying - but in March he received a letter advising him that his employer Tractor Traders Ltd had appealed for him to not be allowed to join the Royal New Zealand Air Force – RNZAF - on the grounds of "public interest". The appeal was eventually withdrawn at the request of Tractor Traders Limited on May 6 1943. Tractor Traders were making farming machinery and they were short of staff.
"I told them that I wanted to go," says Fred. "There were two of us who enlisted, but my mate George stayed and I was allowed to go."
On May 13 1943 Fred caught the train in Hamilton with others from the wider Auckland area and travelled overnight to Wellington. One day later he caught a steamer boat to Picton and then a train on to Blenheim arriving at the RNZAF Station Omaka.
On May 15 he was discharged from ATC to join the RNZAF, age exactly 18 years and 131 days, and in the following months he was stationed at various RNZAF Stations at Omaka, Delta, Rongatai, Nelson and Hamilton.
He started as AC2 Flying Mechanic under training, finishing his training and later working as LAC Flight Mechanic and AC1 Mechanic – he specialised in diesel engines and also marine engines.
In October 1945 he was posted overseas – Lau Bay - Fiji, Noumea – New Caledonia, and a few other places and was attached to the PRP – Pacific Rear Party.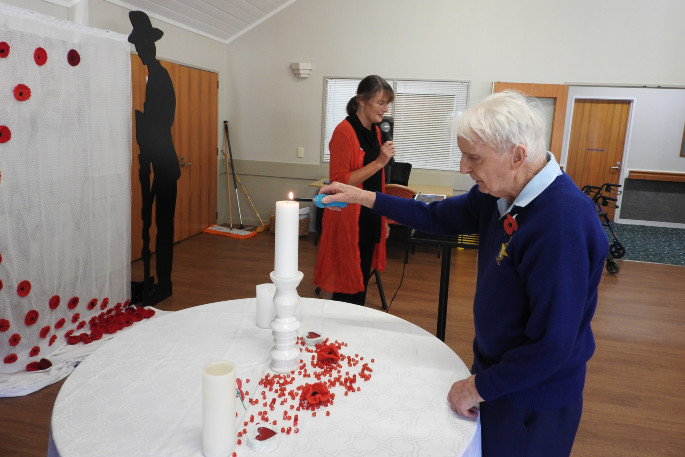 Fred Johnson lighting a candle last year for Anzac Day. Photo: Supplied.
One of his jobs was to look after Consolidated PBY Catalina.
"Flying boats," says Fred. "Floating coconuts used to have this annoying habit of poking holes in their aluminium hulls.
"So we used to get in a dinghy to collect the floating logs, beer bottles and other floating things that could damage the Catalinas. I remember that once the American pilot managed to land on the sandbank, as it was low tide. Well that ruined the hull completely."
Fred says he only repaired and looked after the engines.
"Just before returning back to New Zealand we did an overnight trip from one of the islands to New Caledonia – open seas, now you have to pay to go and see this beautiful area.
"Anyway there was something in the water and as we travelled in the night and looked at the water there was such a fluorescent glow … maybe coral reefs, above New Caledonia … it was amazing … it was like a little holiday. Three weeks later we flew back to Auckland from La Tontouta New Caledonia via Fiji and Norfolk Island, where we had to refuel."
Fred was discharged in September 1946 after two years and 284 days of service, and Overseas Service - 218 days – making the total time in RNZAF three years 137days.
His War Service Gratuity Payment was 57 pounds 8 shillings and 4 pence.
Fred's service number is NZ437399 LAC FH Johnson RNZAF, and he was awarded three medals - the War Medal 1939-45, the New Zealand War Service Medal, and the New Zealand Defence Service Medal with clasp "Regular".
Frederick Henry Johnson's life was celebrated at a service at Pyes Pa Memorial Park Chapel on Friday April 30.
More on SunLive...