NZ String quartet, four suits and a soprano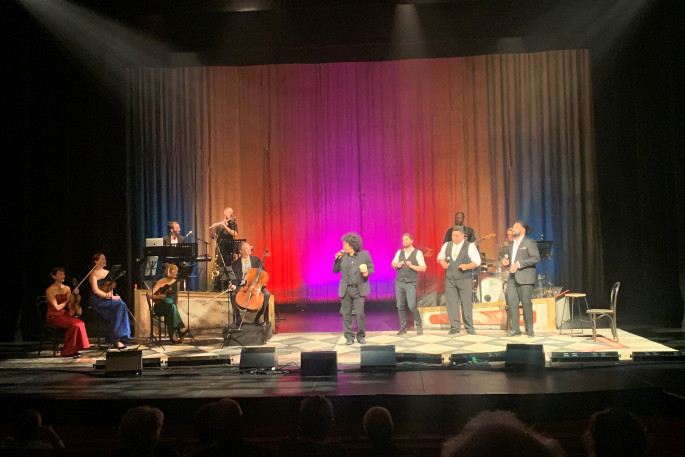 Hearing 'Purple Rain' played by a string quartet in full flight is probably something no one ever thinks to place on their bucket list, but that experience is just one of the unforgettable moments from Friday night's Baycourt show, which will be repeated tonight.
When highly skilled musicians and singers come to Tauranga to have a good time, it also means it's going to be an excellently sensational time for everyone else who crosses their path.
Last night in the Addison Theatre at Baycourt, Stars of the Stage presented 'The New Zealand String Quartet, Four Suits and a Soprano'.
The production, lighting and set design was perfect for transporting the audience through a variety of musical genres.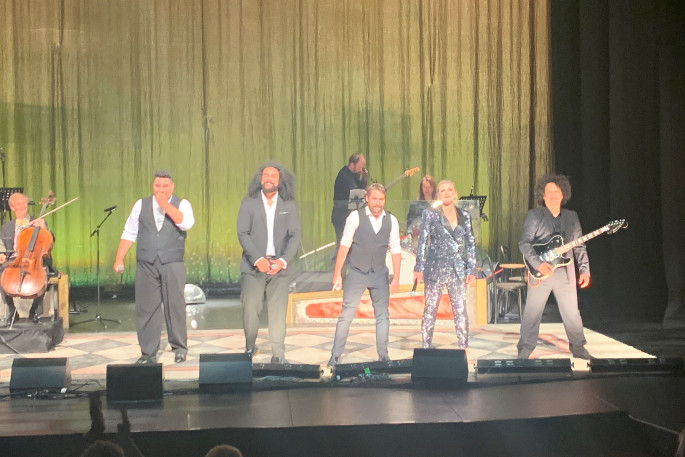 Served up by musical director Josh Clark, there was something for everyone from classical, opera, pop and rock.
New Zealand's most accomplished performers, Dame Kiri Te Kanawa protégé Ipu Laga'aia, tenor Chris McRae, musical theatre stars Sophie Morris and Rutene Spooner, and music legend Laughton Kora join forces with The New Zealand String Quartet to present a fabulous night.
"The New Zealand String Quartet, Four Suits and a Soprano is a show born from a tumultuous time in the music and entertainment industry," says Josh.
"Yet the challenges of COVID-19 have brought a new sense of imagination for us as performers and creative. And it is this social evolution that has cultivated our wonderfully distinctive ensemble of performers together for you to enjoy."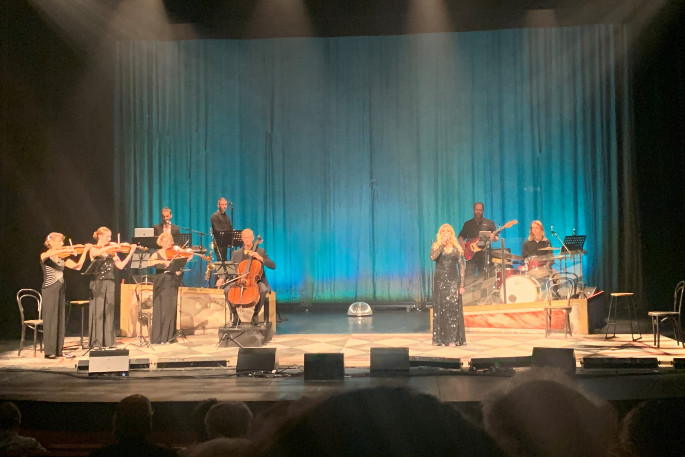 Sophie Morris singing Pokarekare Ana.
Sophie opened the night setting expectations high with her rendition of Pokarekare Ana. Samoan classical singer Ipu also delighted the audience with his Italian songs ...sung in a NZ theatre. Where else in the world could this happen at this time? A lot of humour and enjoyment flowed out from the stage as Chris, Rutene and Laughton joined in with solos, dancing and the rich harmonies as they all sang together.
Helen Pohl and Monique Lapins, both on violin, Rolf Gjelste on cello and Gillian Ansell on viola are the four that make up The New Zealand String Quartet. The quartet has established an international reputation for its insightful interpretations and dynamic performing style, and they certainly fired up the stage on Friday night.
Their playing was effortless, as they carved out the musical shapes that interwined so masterfully with the band that was also on stage, made up of Sam Jones on keyboards and woodwind, Dan Antunovich on bass, Daniel Waterson on drums, and Josh Clark on keyboards. The enthralling arrangements were done by Ryan Youens.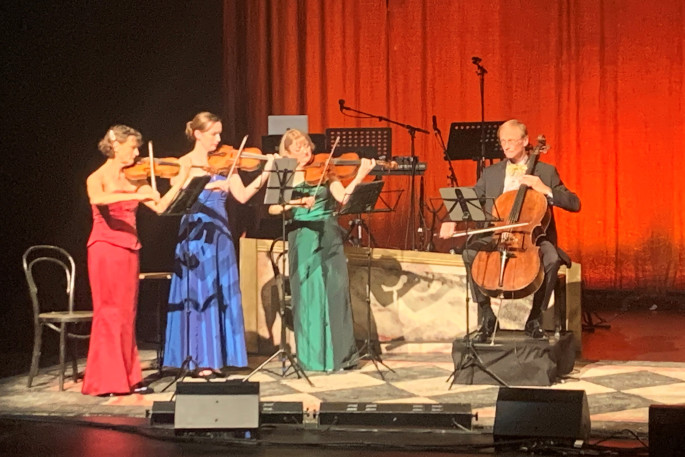 "As I combed through suitable repertoire for the tour, memories of my own life came flooding back," says Josh. "Songs revive memories in all of us. Whether your grandmother used to play it on the radio when you were a child, whether it was your wedding song, or whether it symbolises a generation that you were a part of, the stories connect us with our own narratives."
This concert which is on again tonight in Baycourt is a night of operatic classics from Nessun Dorma through to pop classics. So whether you're a fan of the classics or a lover of pop's high notes, there's something for everyone in this night of magic.
"Tonight we invite you to renew old memories as well as create new ones," says Josh.
The New Zealand String Quartet, Four Suits and a Soprano are performing again tonight at 7.30pm, Saturday May 1 at Baycourt.
More on SunLive...