What's on - gem and mineral show and pop classics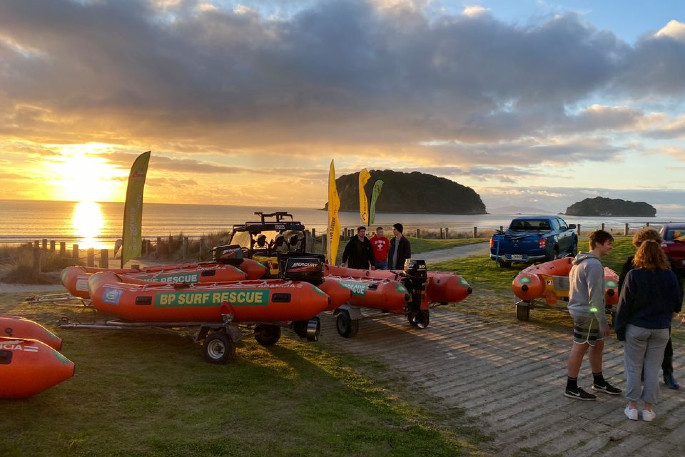 Good morning and welcome to Saturday. Ko te ra tenei i hanga e te Ariki. Ka koa tatou, ka koa hoki ki reira.
The weather today is forecast to be fine with southerlies.
It's a one to two-clothing-layer day with an expected high of 20 degrees, and an overnight low of 7 degrees. High tide is at 10.26am and low tide at 4.33pm. Sunset is at 5.29pm.
What's on today?
The Wahine on Water group are running a fun learning day providing tips for women from local surf life saving clubs about driving and crewing IRBs. This will take place on the water out from the Papamoa Surf Life Saving Club from 9am – 3pm.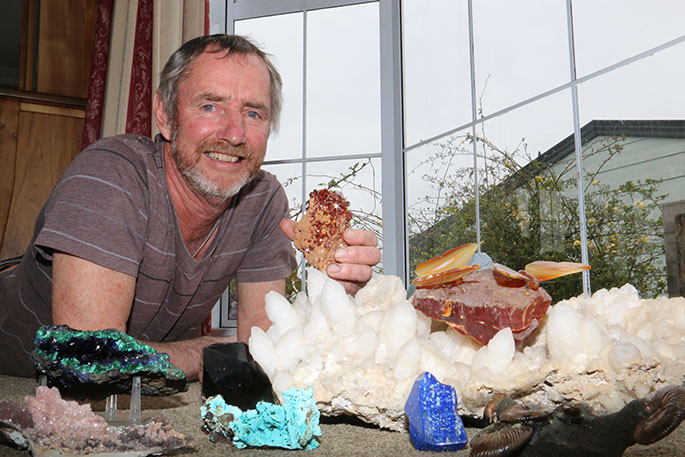 Graeme Dewhurst with some of the items that are on show at the Gem and Mineral Show. Photo: John Borren.
The Gem and Mineral Show is on at the Tauranga Racecourse today from 9am – 5pm and tomorrow from 9am – 4pm. For more information click here
Come along to the Community Open Day at Maketu today from 10am – 1pm providing opportunity for the public to feed back to Western Bay of Plenty District Council about the draft concept plan for 83 Ford Road, Maketu. Click here for more information.
For more events visit My Tauranga.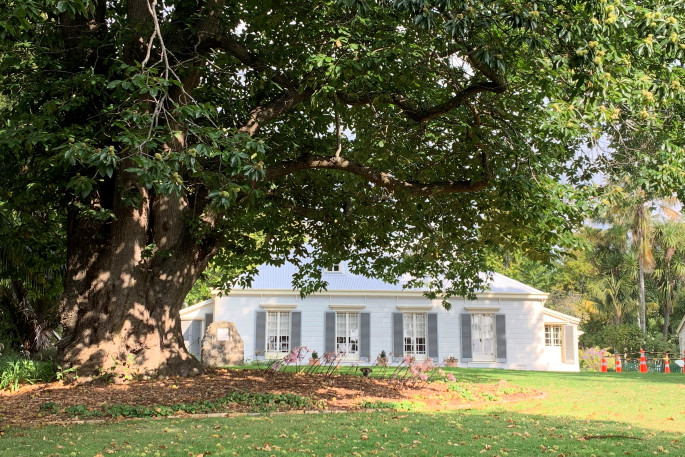 The Elms | Te Papa Tauranga in Mission St is open from 10am - 4pm. Come and view the Mission House and gardens. For more information click here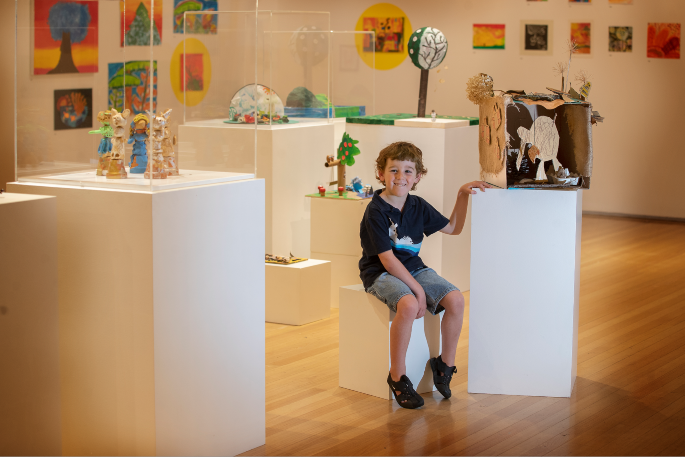 Kobe Jennings, 5, winner of the 'Innovative Use of Art Materials' award with his 'Insect and Bird House'. Photo: John Borren.
Take a walk through Tauranga Art Gallery and view the many exhibitions on display there this week, including the entries in the Acorn Foundation Youth Art Awards. The gallery, in Willow St, is open from 10am - 4pm.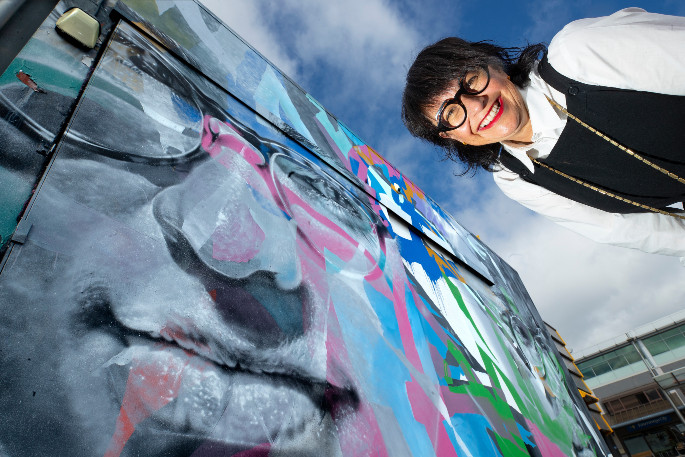 Love public art? CITY ART WALK TAURANGA app is a free to download walking tour of 20 public artworks in Tauranga's city centre. For more information click here
Enjoy workshops at ReMaker, with the community of makers, located at Our Place in Willow St. Click here for more information.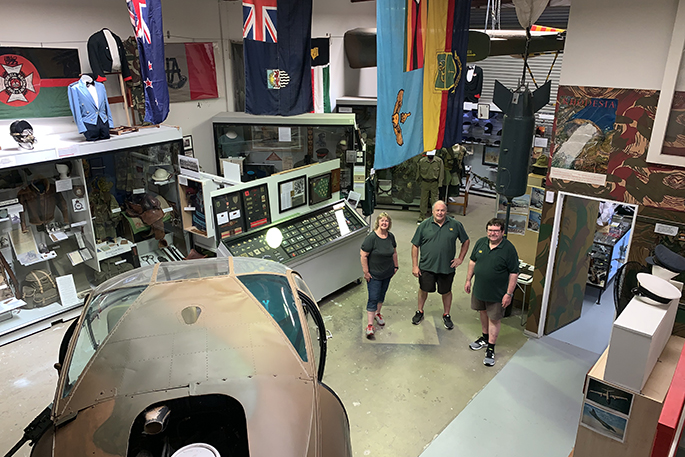 Diana Bomford, Tony Fraser and Hugh Bomford at the Lion and Tusk Museum at Mount Maunganui
Have you been to the Lion and Tusk Museum yet? It's open today from 10am - 3pm at Unit 4, 14 Portside Dr, Mount Maunganui. Come and see a massive display of Rhodesian military history records and exhibits of uniforms, medals and equipment. Opening hours are 10am – 3pm Thursday to Sunday. For more information click here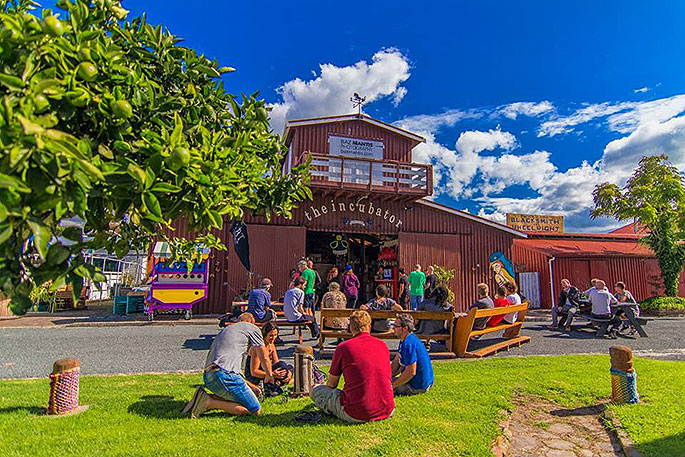 The Incubator
At The Incubator Creative Hub at Tauranga Historic Village, there are many exhibitions, workshops and events happening daily. For more information click here. Exhibition hours are 10am – 2.30pm.
What else is on today?
3-Speed Crunch Box Rebooted
World-touring, crazy stunt people are back! Hilarious story with outlandish stunt people. Expect aerobatics & circus tricks. Laugh out loud! Baycourt 10am & 1pm. www.baycourt.co.nz
---
Art Cold Wax Workshops
New art medium in NZ. Very popular overseas. Workshops at The Artery, Historic Village. Email kiwisuemac@gmail.com
---
Association Croquet
At Club Mount Maunganui, Kawaka St. Mon, Wed, Sat; 9:15am for 9:30am start. Visitors, new players welcome. Ph Jacqui 07 574 9232
---
Bay Singles Social Group
Join a bunch of over 50s young singles. Weekend dinners, pot-lucks, occasional outings. Have a go! Ph Delia 027 284 8762, Andrea 021 133 0313
---
Beth-El Messianic Family
Jews & Gentiles celebrating Messiah Yeshua (Jesus). He is returning. Be ready. You are welcome. Shabbat Shalom Otumoetai Primary @ 10am. Ph Joel 021 768 043
---
Car Boot Sale
7-11am Church, Evans Rd Papamoa. No car wash. Yes, car vacuuming, muffins, coffee, guitars, ukes. You sing/play. $5 site. Ph 021 163 7691
---
Greerton Hall Market
2nd & last Sat of month, 8am-12pm. Stalls inside/outside. Discounts for charity groups. Refreshments at kitchen. Ph/txt for site Tricia 027 908 2952, www facebook.com/greertonhallmarket
---
Invitation To Meditate
Follow your own meditation practice with friends in 1 hour of silence. 10am-12 in hall behind Brain Watkins House, 233 Cameron Rd. Refreshments. All welcome. Txt 0210 274 2502
---
Jigsaw Library St Stephens
St Stephen's church, Highmore Tce 10am-12pm. Choose from 500 puzzles. Hire for 50c or $1, for 2 weeks
---
Masquerade Dance Party
Strict tempo ballroom & Latin music. BYO drinks & bring a supper plate, $15pp. Te Puke Memorial Hall, 7-10:30pm. www.udance2.co.nz or email udance2@xtra.co.nz
---
Museum Of This Morning
Join Australian national champion improvisor & real-life museum curator Jim Fishwick for an evening of storytelling. 7pm, The Arts Junction, 36 Main Rd, Katikati. $20
---
NZ String Quartet
A night of operatic classics from Nessun Dorma through to pop classics. Baycourt 7:30pm. For more info & tickets go to www.baycourt.co.nz
---
Otumoetai Tennis Club
Adult tennis. Start 1:30pm. Bellevue Park Windsor Rd (adjacent to swimming pool). New players & visitors welcome. Ph Victor 027 577 1818 a/hrs.
---
Play Petanque
Join us for serious fun, Sat 1-4pm, Tues 1-4pm & Thurs 11am. Equipment supplied, 45 Kawaka St, Mt. Ph 022 070 8200
---
Sunrise DanceSing
Celeste Music Release Event. 4pm at Arataki Community Centre. Koha $10/$20 family. Live music/dance & sunrise pictures.
---
Synchronised Swimming
Friendly synchronised swimming club based at Baywave. Beginners train Sat mornings. First lesson free. Ph Jo 027 543 1697, www.taurangasynchro.co.nz, Facebook: @taurangasynchroNZ
---
Tauranga Farmers Market
7:45-12pm at Tauranga Primary School, 31 5th Ave. Rain, hail or shine. Direct from the producers. Support local.
---
More on SunLive...