Cameron Rd works begin amid vitriol warning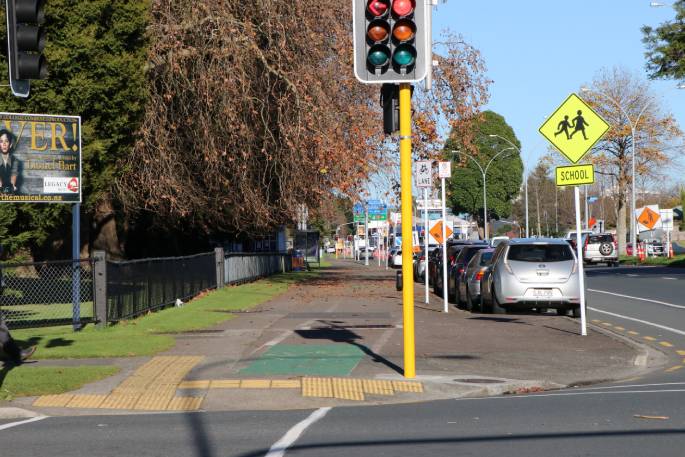 A Tauranga City Council commissioner is warning that the vision for the Futureproofing Cameron Road project must be accurately represented to the public.
His advice comes as initial works on the $45 million government-funded project get underway.
A blessing of the site took place on Tuesday morning, performed by Kaumātua Tamati Tata of Ngāi Tamarāwaho.
The Futureproofing Cameron Road project will see, among other changes, a two-way cycleway built, part-time bus lanes introduced and road layout changes to side road intersections.
The works getting underway now form the early stages of the development with main construction scheduled to begin in September of this year.
"Early works will help us prepare the area for construction and gather the information needed to create an efficient construction schedule," says TCC director of transport Brendan Bisley.
"Fulton Hogan is currently investigating where utility services are located underground between Harington Street and 17th Avenue.
"This work is mostly taking place in the footpath, with a significant portion of the work undertaken at night to minimise disruption to daily traffic flows."
Speaking at a council meeting on Tuesday, in relation to an upcoming workshop related to the project, Commissioner Stephen Selwood makes it clear Council must give a clear vision for why the Cameron Rd development is crucial to the growth of Tauranga to avoid negative reactions from the public during consultation.
"I actually think it is a really positive development that we are leading with a transport investment rather than retrofitting transport investment afterwards, which is the norm," Selwood states.
"But I don't think we have done a good enough job as a council to truly paint the vision for the development of intensified city urban development in Te Papa supported by public transport.
"Unless we do that we risk running the sort of thing we had in Greerton where the feedback was vitriolic. We certainly don't want to do that. We want to see the community coming and supporting the change in direction that we envisage for Cameron Rd and the Te Papa peninsula."
There has already been considerable opposition to the plans from some business owners in the area who believe it will negatively impact their trading ability.
Changes in Greerton detailed in the Te Papa Spatial Plan also received some negative feedback, as Selwood alludes to in his comments this week.
TCC state that further updates about early works on the Cameron Rd project will be shared once schedules are confirmed.
More on SunLive...