BOP rugby immortal among new coaching staff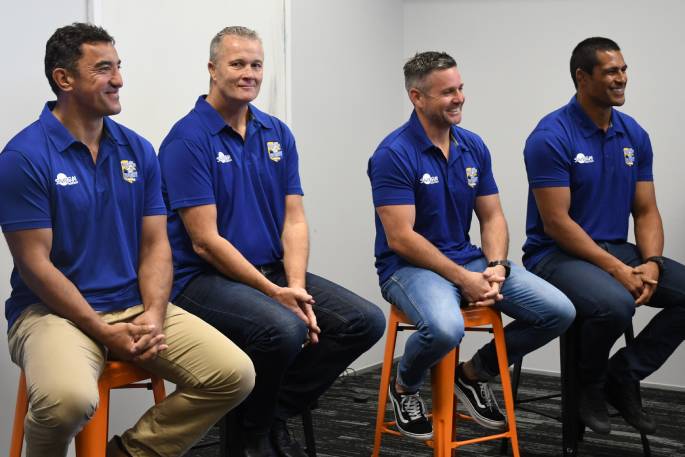 A high calibre of talent with be joining Daryl Gibson on the BOP Steamers coaching bench this season.
The addition of former the All Black and ex-Waratahs head coach may have been the missing link to establish The Bay as the potential no.1 contender for the Bunnings Premiership this season, but the ceiling has just been raised, following the official naming of the Steamers coaching staff for 2021.
Dan Cron, and Bay of Plenty rugby royalty Tanerau Latimer were named to join Gibson, and fellow All Black and backs coach Mike Delany, and Richard Watt during a packed out sponsor's breakfast this morning
"I'm excited about the calibre of coaching staff we have been able to assemble," says head coach Gibson.
"We are embarking to be the best we can be and take another step in trying to make a Grand Final and win a Premiership."
Each coach brings to the table decades of top-level experience both as players and as coaches. Richard Watt and Dan Cron, the son of legendary All Black scrum coach Mike Cron, both spent nine years with the Hurricanes as assistant coaches.
This included the Hurricanes dominant 2016 campaign, which saw them win their maiden Super Rugby Championship.
Both men also spent time as assistant coaches with Manu Samoa and were integral pieces in the Tongan side during the 2019 Rugby World Cup.
Meanwhile, Tanerau Latimer brings decades of playing experience, including 108 caps for the Chiefs and 19 All Black Caps.
The Bay of Plenty immortal touched upon the unfamiliar waters of coaching a contending provincial side for the first time.
"You know what works for you as a player, so the challenge is how do you leverage what works for you when working with different personalities and characters who have different motivations and approach the game in unique ways.
"It evolves, you get in there and show your true colours, and you find your niche with each player. You find where you sit, and you just let it roll from there."
"Toughness" was the name of the bird, and the bird was the word as the coaches shared their vision for the 2021 season.
"What is our identity? One of the things I've identified is that we have to be tougher, tougher to score against," says Gibson.
"When you want to set an identity, it has to be lead from the front and to establish that culture, you need to bring in people that epitomise the standard you are setting. I believe we have done that."
The five coaches will lead a promising Steamers outfit who will look to chase their second premiership in 45 years when the Bay beat Manawatu to win the first ever NPC back in 1976.
"It would be fantastic to deliver the region another Premiership. We have an opportunity with a pretty settled roster to go out and achieve that," says Gibson.
"I want to take this moment to thank our amazing sponsors who do so much for us as we take that extra step and deliver the Bay what would be something quite special."
More on SunLive...