Travelling Aotearoa by foot and thumb
It's taken Papamoa's Franz Oliver Lindsay to lose it all to realise that dreams stored away for later, don't get you where you want to go.
When Franz lost a close friend in a motorcycle accident earlier this year, he decided to stop what he was doing and follow a dream he has had since he was 17.
The dream: to travel around Aotearoa by foot and thumb, spreading awareness towards addiction, sexual abuse trauma and environmental concerns.
Not only has he given up a well-paying commercial fishing job and given away his vehicles and other belongings; Franz, who has also dealt with a methamphetamine addiction since he was 21, decided "enough was enough," and he gave that up too.
"I quit my job on the boat about half-way through a trip after my mate had passed away in a motorbike accident.
"I realised life is too short to have my dreams stored away for later," says Franz.
Franz hitched a ride with a truck driver to Kaitaia on March 28 before heading to the starting point of his journey, Cape Reinga on April 1.
Since then, he has created close relationships with locals from Northland, and has watched as people from around the world have tuned in to his daily Facebook lives on his page, MY GREAT adventure.
"There's a pub in Ireland that changes the channel on the television and plays my videos every day," says Franz.
"It's so cool but also quite overwhelming and scary," says Franz, who has viewers from all over the world, including America and Thailand watching the journey unfold.
"I can't believe how widely shared my journey has been so far.
"I'm only 28 days in, but I want to do this for a whole year," he says.
Franz is in no rush to complete this journey and will be heading back and forth from the Bay of Plenty throughout to see his children.
"I've just got back from Tauranga because my daughter wanted to see her daddy. My kids come first, and I will work around that," he says.
He has also decided to ask every person he comes across for just $1 which will be put towards the Anti P Ministry.
The Anti P Ministry's aim is to share awareness and resources about methamphetamine and synthetic drug use.
"When I was using methamphetamine, I would hide behind curtains and now I'm wandering around the countryside.
"It's an amazing feeling; just you and the wilderness, where you can think," says Franz.
"If I was still doing meth, I'd be staring at four walls."
Not only has giving up methamphetamine opened up a new world for Franz through nature, but it has also greatly improved his friendships with people ­– old and new.
"I've spent years, subconsciously gaining relationships with people from all over Aotearoa through work and have always told them that I would catch up with them when I get off the boat, but of course, as soon as I would get off the boat, I'd go and get high," Franz says.
"Now I have so many connections over the country, and it's great to get out there meeting new faces and seeing old mates again."
Already on his journey, Franz has rescued a hawk – using social media to get it the help it needs, gone fishing with friends he has met along the way where he caught his first legal snapper, and walked along the sides of the roads in Northland picking up rubbish for a community he is only passing through.
He hopes that when he accomplishes this dream, he will make a documentary illustrating the parts of Aotearoa he was most drawn to and affected by – whether that be the people, environment or the troubles the communities are facing.
Franz has a passion for film making, and also hopes to be a director in the future.
The original dream of walking Aotearoa by foot and thumb was first stored away when Franz was sexually assaulted at 20 years old.
"I was frozen and couldn't move," says Franz.
It wasn't until his friend began to be assaulted by the same offender that Franz stepped in.
He picked up a desk that was in the room and threw it at the man before fleeing straight to the police station.
"That was the turning point for me," says Franz.
"I went to the police to lay charges but didn't want my family, my mum, to know what had happened to me, so I dropped it.
"Looking back, I know it was the wrong thing to do.
"I should have seeked professional help, but I wasn't advised of any, so I turned to methamphetamine as my girlfriend at the time was using, and it seemed an easy way out from the pain I was feeling" says Franz.
"It was the stupidest decision I have ever, ever made in my life," says the now 35-year-old.
He believes there wasn't enough help for sexual assault victims at the time of his abuse, and especially, for men being raped by men.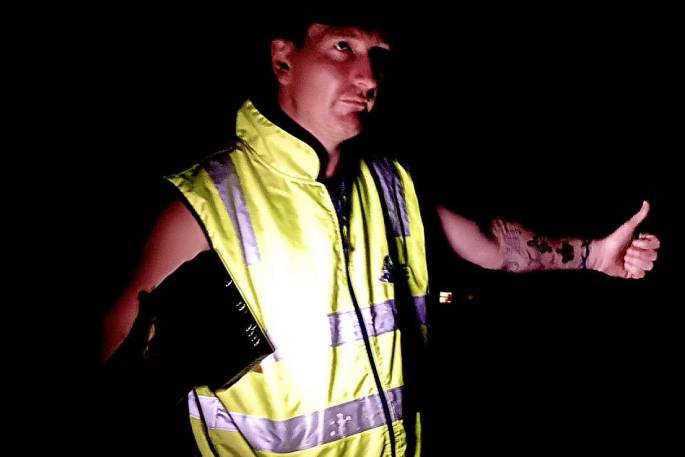 Hitching to Northland.
Franz hopes that his journey will help others to come forward and work on past traumas they may have faced.
"A lot of people that turn to methamphetamine do it because of something terrible that has happened to them," says Franz.
"We need to get people talking, so they can move on and find other ways to deal with these problems."
At 26, Franz gave up the drugs and welcomed his son Reed into the world, who is now eight years old.
"My son was the biggest part of my sobriety during that time but because of a relationship break down I relapsed again at 31."
"I remember begging my now ex-wife saying don't let me go."
Things became a lot worse for Franz during the years that followed, with an addiction that ruled his life.
He was getting into trouble with gangs and having his belongings stolen.
"I posted a video on social media last year when some important filming equipment was stolen from me.
"A local singer, PBT, messaged me and told me that I should get out of town for a while and reevaluate things.
"He told me that god has good plans for me," says Franz.
Due to being in such a vulnerable place, Franz listened to the singer and decided it was time to make a change, for himself and for his children.
"I started going to NA meetings and talking about my sexual abuse and drug addiction during Facebook lives," he says.
"I've been clean since November 22, 2020, and it feels brilliant."
In the future, Franz hopes to purchase some land and use it as a place for vulnerable people to come and stay.
"I want to welcome homeless people and people battling addiction to a safe place.
"If I could say something to people that are battling a methamphetamine addiction, I would tell them to not be afraid to go to NA meetings.
"A lot of people think NA meetings are run by the government and are documented but they're not.
"They're filled with people who are just like you struggling with addiction."
More on SunLive...