Finally at rest-soldier identified after 103 years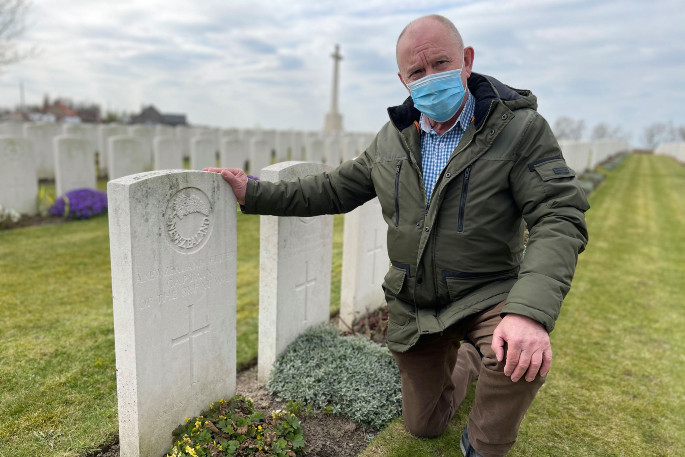 More than 5000 New Zealand soldiers lost their lives during World War I in Belgium between 1917 and 1918.
Known as one of the 'horrors' of the Great War, the Battle of Passchendaele, staged in Flanders Field, Belgium, saw many New Zealand soldiers never return home, and many never properly laid to rest. Some of the casualties are buried in France or the UK.
It is known that 4633 Kiwi servicemen still lie in Flanders Field, and there are around 80 cemeteries and memorials that commemorate these fallen soldiers – 2261 of these have a named gravestone and 2372 are still missing and are listed on the Memorials for the Missing.
Nine hundred and forty four unknown Kiwi soldiers have a gravestone that simply states: 'a New Zealand soldier of the Great War, known unto God'.
However, just recently, one was identified, thanks to research by New Zealand Pilgrimage Trust founding director Freddy Declerck, a former Belgian Navy Officer.
There are 1439 burials and commemorations to soldiers that fell during World War One at Dochy Farm New British Cemetery in Zonnebekestraat, Belgium. Forty six identified New Zealand soldiers were put to rest there, but the cemetery also houses 953 unidentified casualties, 52 of which are suspected Kiwis.
The cemetery lies opposite Dochy Farm – an area that had become a German strong point during the war; one that was taken by the second/fifth Battalion Lincolnshire Regiment on September 26, 1917, and the staging area for the Battle of Broodseinde on October 4, 1917.
Freddy has spent years researching soldiers who died in Belgium and believes he has narrowed the final resting place of an unknown captain down to one possibility.
Six captains went missing during October 1917, according to the Memorial of the Missing Tyne Cot Cemetery. After tracing all six of the captains, their dates of death and proximity to the original burial place of the unknown captain, Freddy believes this unknown captain's gravesite is the final resting place of Captain Ernest C. Parry, of Paeroa.
"The unknown captain was originally buried on the battlefield on the same spot and together with Sgt Donald McLean," says Freddy. "After the war, they were found together and brought over to Dochy Farm Cemetery. Sgt McLean is buried only seven places apart in the same row on Dochy Farm Cemetery."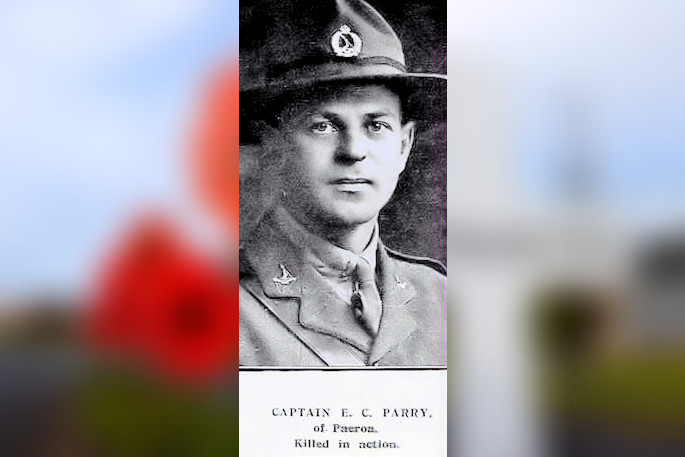 Captain E. C. Parry. Photo:Supplied.
Captain Parry, 1st Auckland Battalion, was killed in action on October 6, 1917, during the Battle of Passchendaele.
An extract from the official history of the Auckland Regiment suggests Captain Parry was killed on October 4, 1917, but Freddy says the date of Captain Parry's death is less important than the possible re-dedication of an unknown grave.
After exhaustive research, Freddy believes he has linked a grave site dedicated to an unknown captain at Dochy Farm New British Cemetery to Captain Parry.
"Grave sites are partially identified – there is no name but other facts, as rank, regiment and more," says Freddy.
"We estimate that about 50 per cent of the missing have a grave marked for an unknown soldier and that about 1130 are still on the battlefields, buried under the farm land."
But Freddy says it hasn't been an easy road getting his hard-earned research accepted.
"This research was sent to the New Zealand Embassy on July 30, 2020 who send it to the Commonwealth War Graves Commission," says Freddy.
"On August 21, 2020, I got a reply from the CWGC that the submission has been rejected and the report send to the New Zealand Defence Force. On April 2, 2021, I had an e-mail from the New Zealand Embassy with a letter from NZDF to thank me for the research and to say the submission was accepted."
From there, Freddy says, more supporting evidence was found.
"The NZDF had found more evidence: an article from the Ohinemuri Gazette and an extract from the diary of the commanding officer of the battalion saying Captain Parry was killed on October 6 at 1am.
"The article gives evidence that Captain Parry died together with Sergeant McLean when they came out the line."
Due to Covid restrictions, Freddy says there will be a re-dedication of the gravestone once it is safe to do so.
Freddy says this find is significant as it has never been done before for a Kiwi soldier.
"There is a lot of research going on by historians, but according to the CWGC, it has never lead to the identification of an unknown soldier. More than 100 years ago it was not possible to identify the soldier, so he was buried in a grave without a name."
He says this research – and research like it – is important to continue.
"You know that you are doing something very important for the family.
"Even after 100 years, some descendants of the nearest family can come to mourn over the grave of someone their family loved so much."
Freddy – who lives in Belgium – says he's had an interest in New Zealand since 2003 and decided to pursue it due to lack of available information.
"When I started, almost nobody did this. There was nothing to find online and you hardly could find a book with some history of their deeds on the Western Front.
"Here the people ware telling stories about British and German soldiers, sometimes about Canadians, French and Belgian soldiers but not so much and almost never about Australians and New Zealanders."
He started an Anzac Day Dawn Service in Belgium in 2008 and was the chairman of the Memorial Museum Passchendaele 1917 and founding director and chairman of the volunteer organisation Passchendaele Society 1917 after his retirement.
Freddy's work has been recognised by New Zealand in the form of a New Zealand Order of Merit (MNZM). He's also been made an Honorary Captain by the Royal New Zealand Navy.
The New Zealand Pilgrimage Trust is a not-for-profit organisation set up in Belgium with the purpose of assisting New Zealand schools, groups and individuals with planning and research around the Western Front battlefields.
Freddy's research is available to read for yourself on his blog: www.thebelgianshavenotforgotten.blogspot.com
More on SunLive...