Robin's etch of the imagination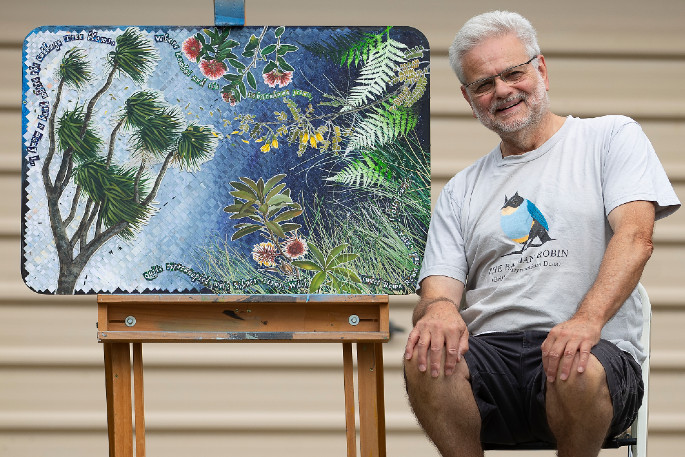 Artist Robin Purllant has enjoyed a creative summer, completing paintings in time for the Original Art Expo which began on Wednesday night and continues until Sunday.
"I have five paintings on show," says Robin, who is showing his work alongside artists and exhibitors from the Tauranga Art Society, Tauranga Floral Art Group and Bethlehem Pottery Club.
One work the mixed media artist started on January 1 was completed in April and is based on Shakespeare's Sonnet 99.
"In the sonnet he talks about plagiarism - something I have suffered from all of my creative life," says Robin. "Shakespeare also suffered from it as well - so it's nothing new. He also mentions violas which have a symbolic meaning. These grow prolifically from a small retaining wall that is just outside the window of my small studio."
Robin barely exhibits, which he puts down to two reasons, the first being that it can take him a long time to complete each painting, sometimes up to four years.
"Secondly my commercial design and illustration work has always kept me very busy and left little time for painting."
None-the-less, Robin, who was born in England and attended Hornsey Art College has had his paintings accepted for the National Portrait Competition on three occasions as well as the Norsewear Art Awards, and has exhibited in Auckland galleries.
He received private drawing lessons from the age of 11, and went on to work in advertising as an art director for two of London's leading advertising agencies – JWT and DDB. On marrying a Kiwi, he moved to New Zealand and worked in advertising for JWT, Colenso and Mojo as an art director, and had his own creative consultancy in Auckland for 10 years.
His style is representational, loosely autobiographical and combines different mediums.
"The starting point is either a literary or a musical source, both of which are combined with a personal life event to produce an artwork that is multi-dimensional, frequently metaphorical and full of memorable detail."
The Original Art Expo is running from Thursday, April 22 – Sunday, April 25, at Tauranga Boys' College. There are painting and drawing demonstrations each day, and the public is invited to vote for their favourite painting.
More on SunLive...