100-year-old presented with Anzac gift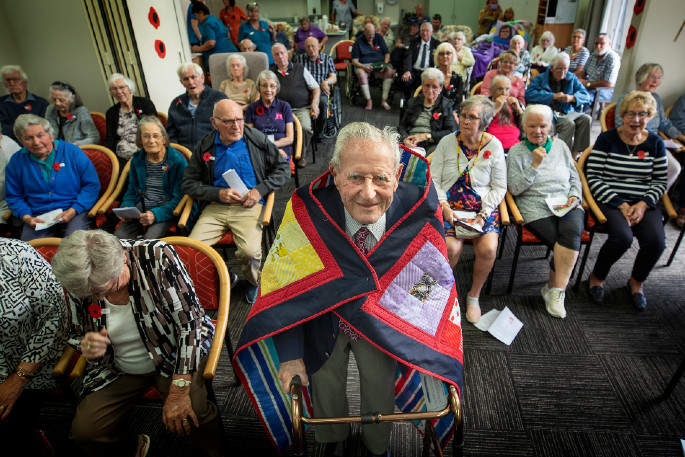 "Ich freue mich dich gesehen mach zu haben." Those words, or at least a Kiwi version of the German language, is how a young Les Marsh would greet enemy soldiers in the dying embers of his Italian deployment during World War II.
Roughly translated, the words mean: "I'm very pleased to have met you", or at least that was the sentiment behind Les' self-confessed limited grasp of a foreign tongue.
As Les, now 100-years-old, explains, the tide of the war had turned dramatically by this stage.
"I can remember, when we were in Italy, the enemy were really going backwards," Les recalls, with pinpoint accuracy for a man of his seniority. "They left half their troops behind. We all picked up a little bit of German and this was always my greeting to them.
"You can imagine the smiles that came on their faces finally to meet an enemy that was a friend."
Les was called up to the army when he turned 21-years-old. Being a devout Christian, he asked if he could join the medical core. The idea of "going around shooting other people" jarred with his faith.
Initially stationed in the Pacific he was later deployed to the Middle East, making his way into Europe.
The war, it seemed, looked determined to prevent Les from marrying his wife, Hazel.
The pair met shortly before Les was conscripted. They corresponded throughout his deployment and after his initial return home from the Pacific the two agreed to marry.
However, fate again provided a stumbling block.
"After we got engaged, I was immediately drafted to the Middle East.
"The war for me finished in May of 1945 but it was not until January 1946 that I actually got back to New Zealand. There just was not enough boats still floating to get troops moved.
"So, when I got back, the first thing we did was get married."
Les' efforts in the war are being commemorated with the presentation of a specially made Anzac quilt forged by Sheryl Farrow of Papamoa Patchers.
On average it takes about three months to construct a quilt of this nature, but Sheryl is an expert and did it in double quick time. Not that it matters to Sheryl how long it takes.
"It is for a good cause," she says. "I just don't think we thank our veterans enough. I thought this was a good way of saying thank you."
More on SunLive...