Supermarket worker gets trollied for 30 years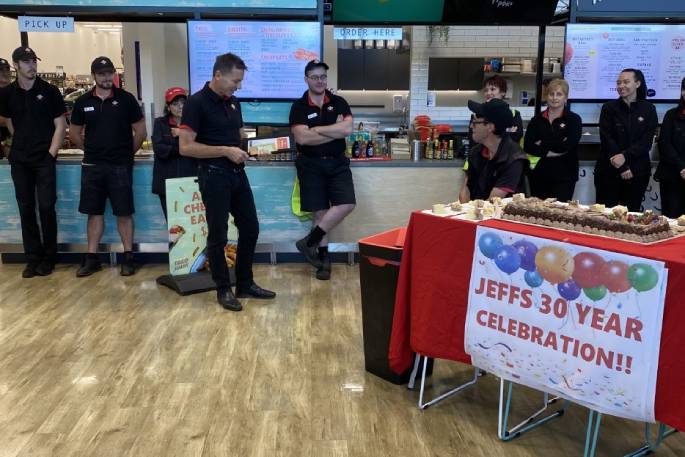 You can tell a lot about a person by the way they 'drive' their shopping cart around a supermarket. Some slowly navigate it through each aisle as though they were pushing a newborn not their groceries. Others take the corners like Lewis Hamilton.
There are those who stop their trolley suddenly with no warning to peer for ages at the nuts, causing a trolley traffic jam. Others do U-turns causing havoc. No wonder some people get road rage simply buying a loaf of bread.
Not so at New World Brookfield where the trolleys are managed with expertise by trolley handler Jeff Henwood.
If anyone knows how to drive a trolley it's Jeff, who today is celebrating his 30th year at the supermarket where he started when he was 18. Every single day he drives all the way from his home in Whakatane to Tauranga to do a job he loves, rounding up hundreds of trolleys per day at the busy supermarket.
But it is not just his prowess at trolley handling that makes Jeff a "superstar" says New World Brookfield owner Brendon Good.
"He is a much loved member of our community," says Brendon.
"Everyone knows Jeff. He has a fantastic way with people, remembers their names and makes them feel special. If someone looks overwhelmed with kids and shopping, he always lends a hand, pushes their trolley to their car and even loads it up for them. He is sensitive and notices if someone is looking a bit down, he will go and have a chat and cheer them up. His jokes are legendary.
"To complete 30 years at any job is amazing in itself. The trolley pusher is just as important as management - more so in a way as Jeff plays an ambassador role for the store. He is the one out there interacting with the customers and making their shopping experience that extra bit special."
Jeff agrees that it is the customers who make his job fulfilling.
"Because of all you customers is the reason why I have stayed and also because of the staff at Brookfield New World over the years," says Jeff.
"God Bless each and every one of you."
Keeping up the community spirit is a key role of staff always, says Brendon, but even more so in recent times when due to various restrictions imposed by Covid-19, people often were nervous at first coming to do their shopping.
"We like to think we turned it round by making it a pleasant experience for people," says Brendon. "And Jeff, being the one who greets customers at the door was the perfect person to put people at ease."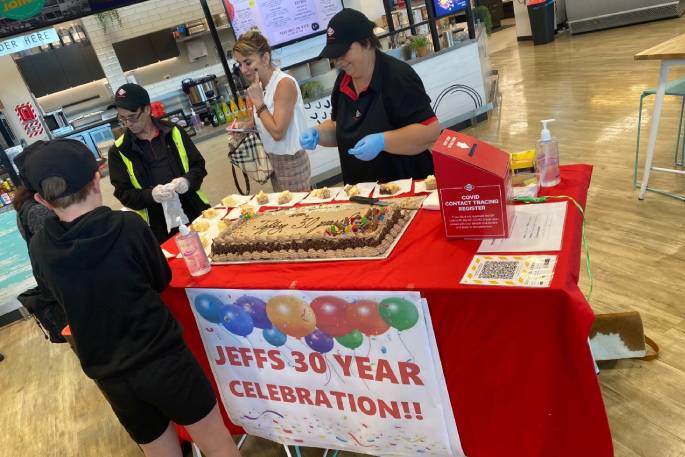 Jeff shared his cake among staff and customers.
Jeff has seen many changes to the supermarket over the years as the business has grown, with three upgrades, and the latest addition of two eateries Ha! Poke and Taco Joint.
"Even the trolleys change, with smaller more lightweight trolleys."
The most trolleys Jeff has pushed is 26, but now he tends to push ten a time.
But what is consistent is the love Jeff has for other staff in what he calls his New World family, as well as his beloved customers.
Management and staff celebrated Jeff's 30th anniversary by presenting Jeff with a huge cake which he cut up into slices to gift to customers at the door.
Customers overflowed with praise for Jeff, many mentioning his "warm smile", "friendly chats" and even his dance moves. Many mentioned that he is part of the enjoyable shopping experience and that they look forward to seeing him. He even gets Christmas presents from customers.
One local customer, Dona Martin, has known Jeff since she was 15, and like many of the customers, she considers him a dear friend.
"I have some cool memories of you," Dona tells Jeff. "Not just amazing dance moves either.
"You're awesome Jeff and make sure you save a piece of that cake for me. Thirty years is dedication my friend. So many times you offered to carry my shopping and take my trolley back in the rain. You are such a good man. Congratulations."
Lynette Henwood, his mum who he lives with in Whakatane is very proud of her son.
"He loves his job, he loves people. This is the perfect job for him."
Jeff is looking forward to more years at the supermarket. He doesn't want any other job,
"Maybe if they called me Trolley Manager or Manager of Trolleys.
"That would be cool."
More on SunLive...