Lack of life-saving devices in Tauranga suburb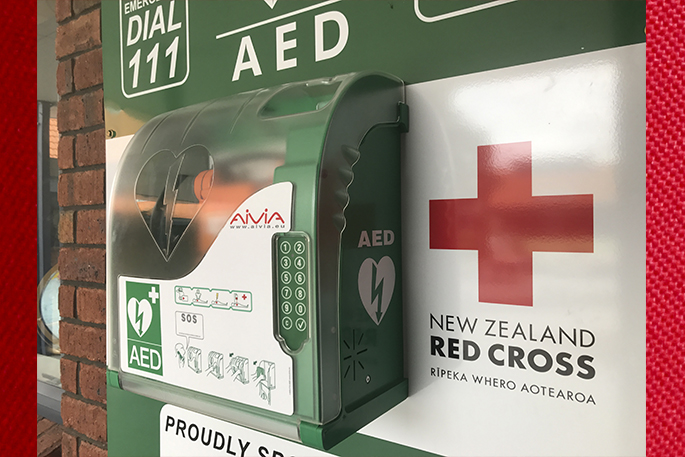 The lack of potentially life-saving defibrillators in Welcome Bay has shocked those in charge of running events at one local park.
Waipuna Park on Kaitemako Road plays host to football, rugby and cricket throughout the year and will also be a venue for this year's AIMS Games in September.
However, the pavilion at Waipuna Park, which is managed by Bay Venues Limited with funding provided by Tauranga City Council, does not currently have an Automated External Defibrillator (AED) on site.
An AED is a lightweight device that can deliver a shock to an out of rhythm heart and help reverse cardiac arrest.
Sudden cardiac arrest is one of the leading causes of death in New Zealand, according to St John's Ambulance service, and an AED can increase survival rates of someone in cardiac arrest by up to 44 per cent. Without an AED, the chance of survival decreases by 10 per cent for each minute that passes without defibrillation.
One regular user of Waipuna Park suffered a heart-related fainting incident during a football training session at the park last year.
Whilst he makes it clear the event was not a serious emergency, the fact no AED was on site later unnerved him.
"Fortunately my incident was nothing serious but it did make me wonder what might happen if it was," he says.
"Without a defib on hand the chances of survival are pretty slim if you have a heart incident. A lot of people use this park, of all ages and fitness levels.
"Hopefully it would never be needed but having it there could save a life."
Funding is a major barrier toward the provision of AEDs. They cost in the region of $3000-$4000 and require upkeep. Two new AED's placed along the walking tracks at Mauao in August last year were donated by a local company who will also perform ongoing hardware maintenance. Often AED's sit unused but can be vital in the prevention of sudden death.
Christine Brown, community halls administrator for Bay Venues, who manage events at Waipuna Park, expressed her relief that the syncope incident at the park was minor.
However, the lack of an AED at the sport fields and surrounding area was a concern.
"I'm glad to hear that they have recovered from what must have been a traumatic event," she says.
"I did search for the location of defibrillators on the website aedlocations.co.nz and was shocked to find that there are none in close proximity to this sporting venue."
The website highlights public and private AED's across Tauranga. Other public parks where sporting activity is common, such as Morland Fox Park and Pemberton Park in Greerton, Fergusson Park in Matua, and Gordon Spratt Reserve in Papamoa have AED access. These are often run and operated by the clubs involved with regular use of the facilities.
The devices are also found in various shopping malls in the region and at the reception of Trustpower Baypark. As Tauranga City Council point out, there is plenty of provision regarding AED's across Tauranga, especially on Council property.
"We are seeing an increase in publicly available AEDs across our city, many of which are provided by private businesses and third parties," says TCC general manager: people and engagement Susan Jamieson.
"Council also provides AEDs in our workplaces, including locations frequently visited by the community such as council offices, libraries, Beachside Holiday Park, Tauranga Airport, The Historic Village and more.
"We also provide first aid training for staff, which includes how to use an AED."
However, only two AED's are currently located in the Welcome Bay area, both of which are in private locations and are not freely available.
Council confirm that providing AED's in community open spaces is not their responsibility and, at present, they have no intention of installing an AED at Waipuna Park.
However, they are supportive of any community driven initiatives to install a device at this location and others across Tauranga.
"Many of the buildings on council reserves are owned by sporting codes and often they provide first aid facilities, including AEDs for their users appropriate to their event or activities.
"Council is supportive of these initiatives."
More on SunLive...