Greerton kids mix it with the Chiefs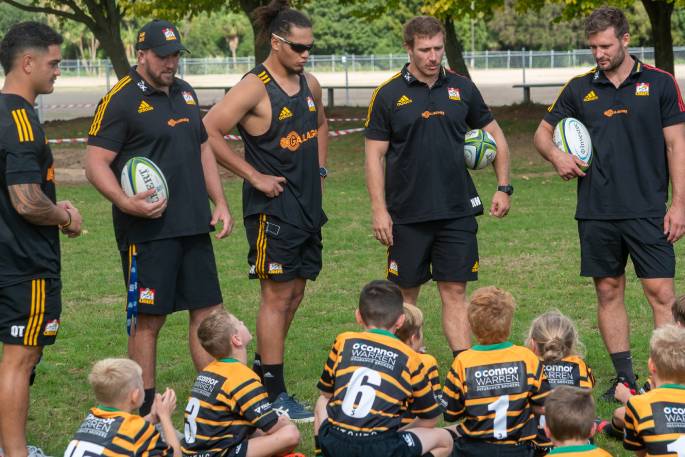 The boys and girls of Greerton Marist Rugby Club have been mixing it with the Chiefs this week.
As part of a joint venture with the Waikato Bay of Plenty Magic netball team the Super Rugby club have been at Te Rapa Primary School in Hamilton for a combined training event.
Greerton Marist under 9s headed to the Waikato and have left quite an impression on one All Black.
Tauranga's own Nathan Harris was left impressed by the talent on show, especially from the girls.
"They were the first to put their hands up when we were playing Bullrush," says the Chiefs star.
"It sort of surprised me a little bit but man they made some really good tackles. It's pretty good to see girls getting amongst rugby and they are in the midst of it playing tackle this year.
"It is very cool to see and very promising."
The kids got involved in some skills and drills with Chiefs players Harris, Lachlan Boshier, Aidan Ross, Naitoa Ah Kuoi and Quinn Tupaea putting them through their paces.
A BBQ and some signed photos made the day even more special for the Greerton youngsters.
Former Tauranga Boys' College student Harris is pleased to see that youth rugby is still going strong back in his home patch. However, is there a future Chiefs hooker amongst them?
"I don't want them to take my position so I will have to say no," Harris jokes.
"There were some really good kids out there."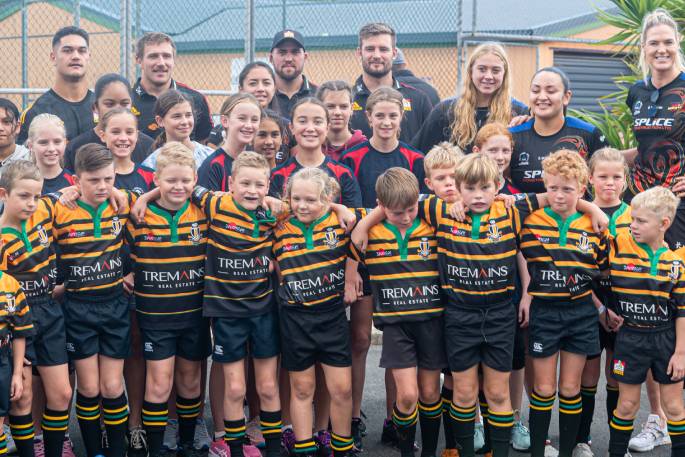 The joint training event was held at Te Rapa Primary in Hamilton with the Splice Construction Magic netball team also on hand. Photo. Supplied.
One of the Greerton boys, 'Tommy Turbo', gets a namecheck from Harris. His speed, undoubtedly, was helped by a lockdown haircut that in form Chiefs and All Blacks star Damian McKenzie would be proud of.
"A lot of speed and haircuts that have obviously made it through lockdown that have come into fashion. A few mullets going on making these kids look very fast.
"Tommy, or Tommy Turbo we called him, was absolutely sprinting down the sideline whenever he got the ball."
However, Harris suggested his Chiefs and All Blacks teammate had some catching up to do with the Greerton lad.
"His mullet was an actual mullet. Damian's just looks like a sheep that has been curled up for a couple of weeks."
More on SunLive...