"Extremely scared" Blackcap vaccinated in Tauranga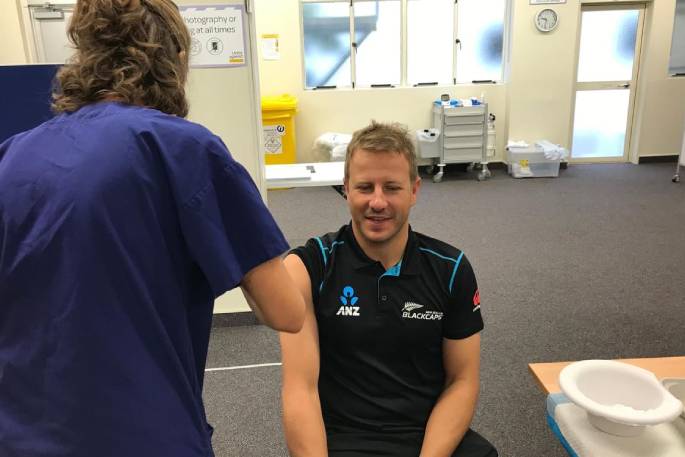 New Zealand cricketer Neil Wagner has become the last of the Blackcaps to receive his Covid vaccination ahead of the upcoming tour of England.
The 35-year-old received his vaccination at Tauranga Hospital earlier today.
When doing so he had no trouble deciding which arm should get the needle.
"As a left-arm pace bowler and with training later today, I naturally decided to have the shot in my right arm," he says. "It was all over pretty quickly and to be honest I didn't really feel a thing. It's reassuring to know that if I do get Covid, my body will know how to fight it."
The touring Blackcaps party will depart for London in mid-May to face England in two tests, with the first at Lords in London starting on June 2, and the second at Edgbaston in Birmingham from June 10.
They will then take on India in the inaugural ICC World Test Championship final at the Ageas Bowl in Southampton on June 18.
Fifteen members of the 20-player squad have been vaccinated at different district health board clinics around the country over the past week. Four players are already at the Indian Premier League, so left too early for the vaccine, and one player is in the UK playing county cricket.
The team has received early access to the Covid-19 vaccines under the government's 'reasons of national significance' category.
Wagner thanks the government for making the vaccine available ahead of the tour.
"We're really grateful for everything the government has done to this point, firstly in helping us host a safe and successful home summer of international cricket, and now assisting us to access the vaccines in time to tour," Wagner says.
"We're all hugely appreciative of the fact there is a category for international events that are in the New Zealand's national interest. This is awesome for both us as players and our fans, and we're determined to make the country proud on the world stage."
Wagner went on to train later on that day at the Bay Oval in Mount Maunganui.
"We are extremely lucky to train at an amazing facility at the Bay Oval. It was quite nice because it actually isn't raining today so it was nice to get on grass and get a full practice in."
He did however make an admission.
"For a guy who is extremely scared of needles I was pretty happy with it, it was quite easy," he jokes.
"I am feeling really good. I had a training session straight after so yeah obviously extremely grateful for the government for helping us out."
More on SunLive...