Tauranga helmet design winners announced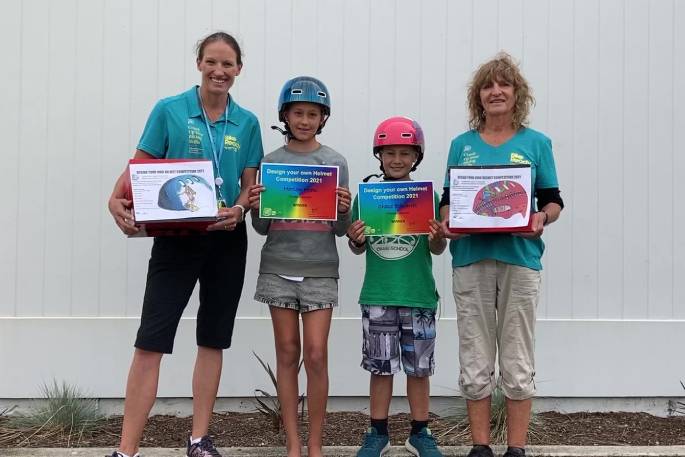 The winners of the 2021 travel safe 'Design Your Own Helmet' competition will have their artwork professionally airbrushed by local artist Anthony Brodie.
The six winners were announced at presentations made this week at local school assemblies.
The annual helmet competition celebrates the efforts of local students and teachers, striving to make their communities safer.
The competition, now in its eighth year, attracted 644 entries from students and teachers across 15 Tauranga and Western Bay schools.
Encouraged to be creative, students and teachers have had free licence to dream up their very own unique helmet design.
As a final touch, the winning creations are professionally airbrushed onto blank helmets by local artist Anthony Brodie.
It is important to wear a correctly fitted, safety approved helmet when riding a bike, is the message from Travel Safe.
"We are very proud of all the winners, and our newest ambassadors who are supporting cycling," says Tauranga City Council's Russell Troup, acting director of transport.
"It's great to see so many young people using their creative skills for such an important message, and we are looking forward to seeing them out and about on our local roads. The support by students and teachers show we can be safe but fashionable at the same time."
Sonia Lynds, team leader of the Travel Safe programme was impressed with the interest and support that the competition received this year.
"The helmet competition aligns nicely to our bike safety programmes," says Sonia. "It provides the Travel Safe team with an opportunity to generate some fun for students and their teachers in a creative way.
"This supports conversations in the classroom and at home about the importance of wearing a safety helmet when riding a bike."
2021 Design Your Own Helmet Competition winners
Year 1 & 2: Chloe Eagle, Arataki Primary School
Year 3 & 4: Chase Edwards, Omanu Primary School
Year 5 & 6: Harlow Horn, Omanu Primary School
Year 7 & 8: Emma Hurley, Otumoetai Intermediate
Year 9 -13: Karla Wilken, Otumoetai College
Teachers category: Renee Thurston, Mount Maunganui Intermediate
More on SunLive...