Awards for Mount scout group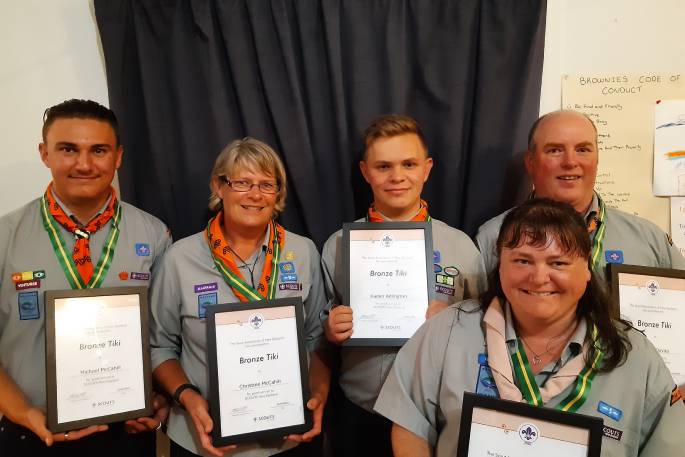 Arataki Omanu Scout Group is celebrating after several of their members achieved big milestones this week.
Michael McCahill has been awarded his Queen's Scout Award, whilst also receiving a Bronze Tiki alongside Christine McCahill, Kaden Adlington, Shane Davies and Nicole Adlington.
With another two scouts well on their way to receiving the Queen's Scout award this group of about 50 scouts is punching above its weight.
"The Queen's Scout Award is the highest award in the venturer section a youth can achieve," says Christine, assistant zone leader and venturer section leader for Arataki Omanu Scout Group.
"It is a nationally recognised award and is pretty full on. It is a lot of commitment from the kids to get that reward."
Christine explains how the award requires 50 hours of community service.
"Michael went to jamboree which is a major scouting event with 6000-7000 kids rocking up to it, with what they call a VST, venturer support team, and worked on the waterbase for 10 days on a purely volunteer role."
Other modules include outdoor skills, enviro skills and services to the zone.
"The kid's favourite thing is an exhibition with no adults in tow, nothing," Christine explains.
"The venturer one is four days. So they have to organise themselves and walk off and do whatever they want to do for four days. It is pretty full on for them."
The Bronze Tiki awards are a Scouts New Zealand national award for outstanding service to scouting within your group, zone or nationally.
The current venturer group contains kids aged 14-18, who meet up once a week in term time and occasionally on weekends for outdoor activities.
A core group of longstanding scouts and leaders has helped the Arataki Omanu Scout Group thrive and after the impact of Covid-19 they are doing better than ever.
"During Covid obviously we had to do online scouting and it was not why people ultimately join scouting," says Christine.
"So we were quite concerned whether our group would survive or not.
"Once you have gone a significant amount of time online, people might think this is not what we want.
"But we had so many kids rocking the door after Covid. It was almost like everyone was looking for outdoor stuff to do. We are a very active group with the kids, bike riding, walking, water skills. I think a lot of parents were looking for something like that, outdoorsy stuff, especially after Covid lockdown.
"We have thrived as a group and it has been amazing."
More on SunLive...