Students rally for climate change march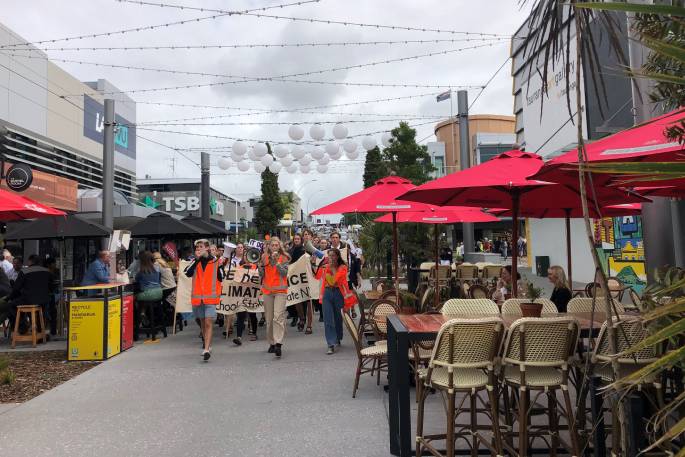 The dreary weather today hasn't stopped students from gathering in Tauranga city to make their voices heard surrounding the issues of climate change.
The protest is part of a nationwide movement of school students called School Strike 4 Climate.
The group of students, who marched from The Strand starting at 12pm today, through Devonport road, before circling back to the Tauranga City Council building all had one thing in common.
Their futures are more important than missing a few hours of school.
Signs were held high as the group moved through the city, gaining toots and cheers of encouragement from passers-by.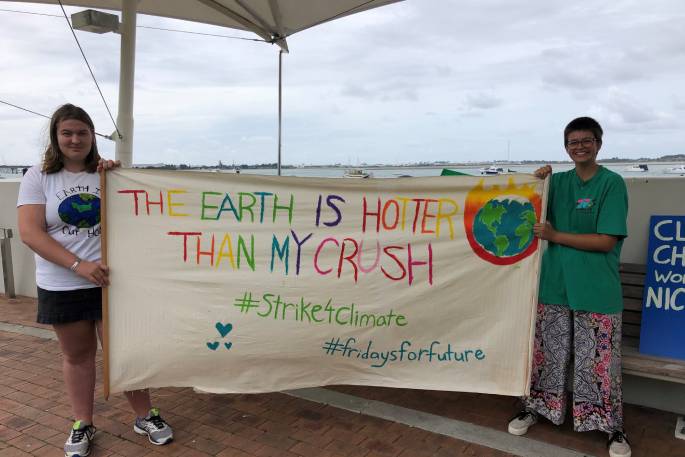 Students, Maraea Schuurmans, left, and Natalia House with their recycled sign from the last march.
One sign read: "The earth is hotter than my crush," with another reading: "Don't leave us your leftovers."
A megaphone heightened the voices of the young students, who recited chants to be heard all over the city.
High school student Natalia House says she doesn't want our world to become a post-apocalyptic world from a movie.
"Our time is running out, and it's scary," says Natalia.
Fellow peer, Maraea Schuurmans adds that this march means a lot to her.
"Our future lies in their hands," says Maraea.
Green Party co-leader James Shaw says the party fully supports the demands of the climate strikers.
"Today the climate strikers have provided a set of demands that would help meet the scale of the challenge we have ahead. And their message couldn't be clearer: we need to act; and we need to act right now.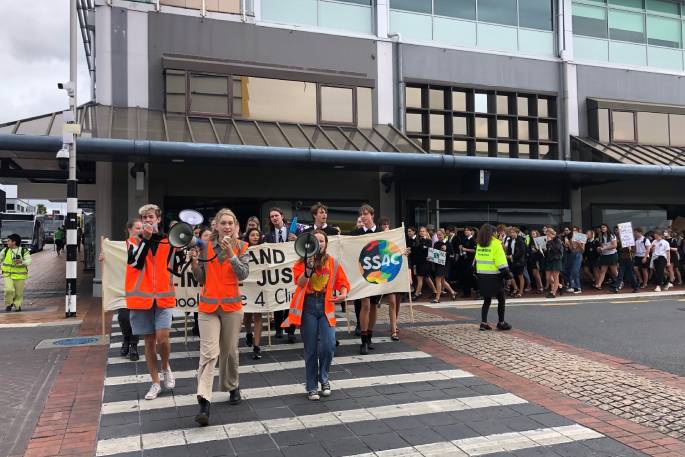 Students marching outside the Tauranga City Council building.
"The decisions this Government takes will shape the type of world the climate strikers inherit from us. This is the world of their friends, classmates, brothers, sisters, and cousins.
"If we want their future to be safe, prosperous and stable, then we will need to do more to rapidly bring down emissions, whilst ending inequality, and making life better for everyone.
"Later this year the Government will publish an Emissions Reduction Plan setting out how we plan to meet our climate targets. The climate strikers' demands will form an important part of this work.
"Not least their demands to ensure a just transition, an honouring of our Pasifika neighbours, and more climate education in schools," Shaw says.
More on SunLive...