Tauranga volleyball stars on Olympic path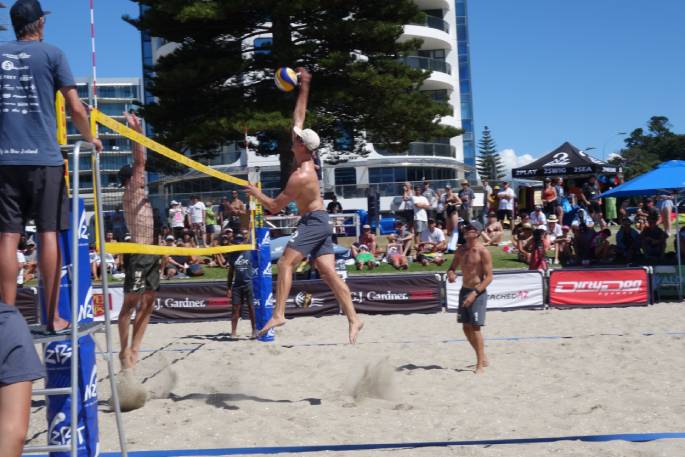 Tauranga's beach volleyball super team Sam and Ben O'Dea have left New Zealand to embark on their final push for a place at this summer's postponed Olympic Games in Tokyo.
But before heading off on their Olympian quest, the brothers had one last task. Defeating domestic rivals Alani Nicklin and Tom Hartles on home sand at the men's final of the New Zealand Beach Tour at Mount Maunganui.
After previously winning 35 consecutive sets, the O'Dea's found themselves in unfamiliar territory, going a set down.
However, they roared back to claim the next two sets and a hard-fought victory. The challenge was welcomed.
"I actually went into that game thinking this one might be weird," says Ben.
"It is good to actually have a good test where you are put under pressure. That is going to happen overseas because there is better competition over there. So it was actually good."
For Sam, the tough nature of their final domestic clash made one thing clear.
"It just became obvious that we need to head overseas," Sam admits.
"We were away for a tour came back and we punished everyone when we came back and were really dominant.
"It just then becomes hard to keep punishing teams. The good thing about it is that we ended up getting pushed and came back and won the game.
"It is hard to train for those situations. So to come out of that situation after trusting the process, trusting each other and to win that game, that was cool. I couldn't have scripted it any better."
Sam and Ben are now in Florida before heading to Mexico for the Cancun Hub which will see nearly 70 teams competing in a carefully managed bubble to avoid Covid 19 issues.
Covid remains a risk for the brothers. Both were offered the vaccine as elite sportsmen, but unfortunately the timing simply did not add up.
Both admit it will be a strange experience. However, they are taking Tom Reid, another Tauranga native, along as a training partner and potential buffer to any brotherly tension and ensure the dynamic remains fresh. Ben is looking at the positives.
"Sam and I, obviously we go there to train. Outside of that Sam likes photography."
"We like to party," Sam interjects with a laugh.
"We like to try things. New food, drink local beers, go to local cafes and stuff," Ben elaborates. "Now it is going to be like we are just going to this training camp. To the court, back home, to the gym. No sight-seeing. You are in your room or training. It will be cool to have that focus."
Covid could still prove a dampener for the Olympic hopefuls. Not only is there the very real threat of contracting the virus, potentially harming their training schedule and health, but even the qualifiers could be an issue.
Sam explains that China has been due to host the final qualifiers later this year but it remains up in the air. If that plan sticks, visa issues could see the siblings missing out on the Olympics through no fault of their own.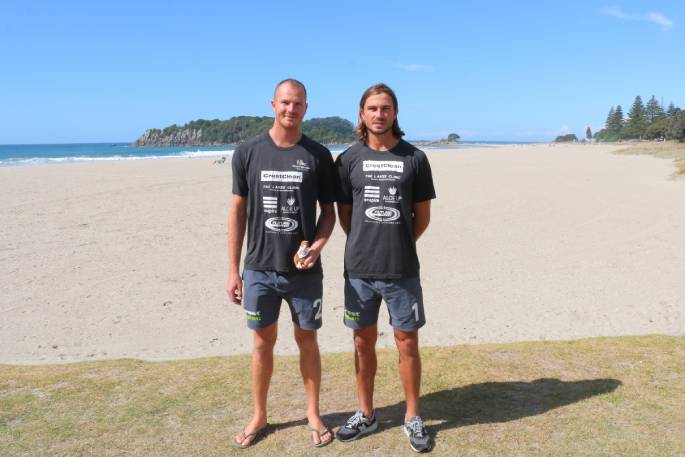 Sam and Ben O'Dea with their RecycleKiwi mascot. Photo. Mathew Nash.
Staying in New Zealand and trying to sneak a qualification might have been seen as the safer option. But Sam makes it clear he and his brother need to test themselves.
"It is cool being the best in New Zealand but I don't really care to be honest," Sam says. "What I want is for us to be one of the best teams in the world.
"To do that, you have to go play against the best teams in the world."
Their hopes are now helped by Ben's recovery and continued management of a shoulder injury that he admits almost ended his beach volleyball career.
Finding the right physio and treatment has helped but it has not come cheap. Increased sponsorship is certainly helping the pairing maintain an elite athlete lifestyle.
With modern sportstars often having to moonlight as 'influencers' to get sponsorship opportunities both Ben and Sam have had to be selective in who they work with.
"Sponsorship has been wicked," says Sam. "We don't sell ourselves out though. Every sponsor that we have is either someone that we know personally or there is a cause behind it."
That goes for their main sponsor, CrestClean, for whom the O'Dea's are ambassadors for the RecycleKiwi campaign.
Having travelled the world they have seen the good, the bad and the ugly with regards to waste management across different nations.
On their latest adventures across the globe, they will be accompanied by their cuddly toy RecycleKiwi mascot, as they aim to raise awareness about recycling ad reducing waste.
With the beach and the ocean their office, as well as their playground, both brothers are passionate about keeping it clean and education is, in their opinion, the key.
"It is about awareness," says Sam. "We travel a lot and around Europe recycling is second nature to them because they are brought up with it. Here in New Zealand we are not really brought up with it so that is where you kind of need to hit people. So it just becomes normal."
Ben agrees.
"Travelling the world we see places where they know nothing about recycling and waste management. Waste management for some places is just throw your rubbish on the ground. We get to see both sides of the spectrum.
"We get to learn a lot to. What has been eye opening for me is what I didn't learn in school. I have started to learn a lot more about the industry now. When I grew up I kind of didn't know."
Right now, the focus is on training and competing in order to secure the Olympic qualification they have been aiming for.
But Sam makes it clear that he and Ben have no intention of going to the Olympics as tourists.
"We are doing the best thing we can now," he explains.
"Qualifying is one thing but you don't just want to go to the Olympics. I don't care what anyone says. I want to go to the Olympics and I want to compete for medals."
More on SunLive...