Men's rugby in the BOP to get a revamp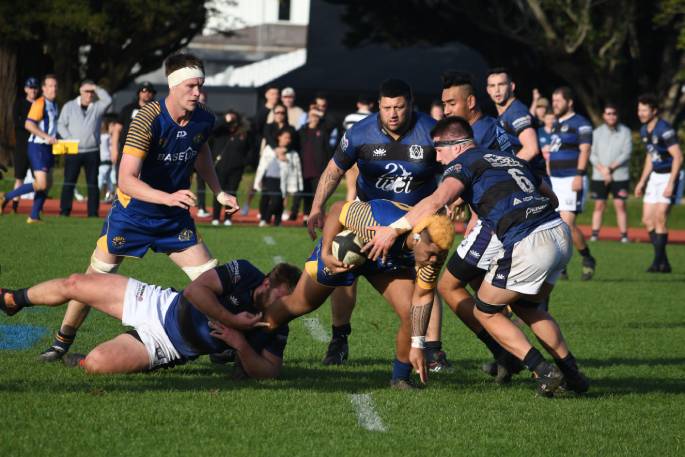 Bay of Plenty Rugby Union have announced a major revamp of the community game in the area, with seasons to be shortened in line with player feedback.
Last year's Baywide men's competition was played regionally over a shorter timeframe due to the impact of Covid 19 but it soon transpired players were happy with the drop from the 20-week season.
The basic concept of the 2022 competition format for Senior Men's rugby was decided at a Senior Club Working Group meeting last Wednesday.
The 12 best teams across the region will play one round of rugby with some form of finals before the best is crowned Baywide Champions.
"We learned through last year's Covid shortened season that our players want a significantly shorter season than the current 20 week format," says Bay of Plenty Rugby Union board member and working group chairman Craig Sandlant.
"Our players want to play more local rugby and our players want to play in a Baywide competition that pits them against the best in the region. This new format ticks all three boxes."
The major changes to next year's format include an 11 week round robin with finals meaning the season will be, at least, five weeks shorter.
There's no requirement for the Premier clubs to have their 2nd team following their Premier team.
The shortened Baywide competition allows for sub unions to organise a local round of competition before the Baywide round and the hope is it will leave plenty of room for sub unions to reinvigorate sub union representative teams after the Baywide competition is finished.
"Our players enjoyed the shorter season," says BOP Rugby Union community rugby manager Pat Rae.
"The current format that we are playing has been around for a little while and everybody knows it is past its use by date.
"We think we have landed on a concept or a structure that ticks all those boxes. If you talk to the players they tell you three things. They want to play local, they don't want to play for 20 weeks now because other life things get in the way, life, kids, work. But they still want to pit themselves against the best."
Some clubs have seemingly shown some resistance to the plans as they fear they will lose revenue from the reduction in home games.
"This may be true," admits Craig, before suggesting how the potential shortfall can be managed.
"We want to work more closely with our clubs to identify other opportunities for our clubs to derive income not specifically around being open for home games.
"The union's two new departments; Bayland Recruitment and Education Pathway Trust are both geared towards supporting our clubs in both recruiting players for them and also retaining them through creating employment and educational opportunities."
Pat agrees, highlighting how clubs can use their facilities for other events such as darts, as social clubs or even potential live streaming of away games if possible.
"The working group has been working on concepts and formats for the best part of 18 months," says Craig.
"There's still a lot of detail that needs to be finalised and we will continue talking with our players, coaches, and other rugby stakeholders, but at least all our clubs will go into this week's round one action with absolute clarity as to what they need to do to be playing Baywide Premier rugby next year."
The Baywide season gets underway this weekend for both men and women.
Waikite and last season's Eastern winners Opotiki have both chosen to participate in the Division 1 section of round 1 and Eastern Districts have chosen to participate in the Western Bay Senior Local competition for round 1.
The final make up of all grades of 2021 Men's and Women's Senior Rugby are as follows:
Toi Ohomai Premier Women's
1. Rangiuru
2. Rangataua
3. Mount Maunganui
4. Rotoiti
5. Opotiki
6. Waikite
Farmlands Co-Operative Society Premier Men's (each with a development team)
1. Te Puna Western Bay
2. Tauranga Sports Western Bay
3. Te Puke Sports Western Bay
4. Greerton Marist Western Bay
5. Mount Maunganui Sports Western Bay
6. Whakarewarewa Central Bay
7. Rangiuru Western Bay
8. Rangataua Western Bay
9. Marist St Michaels Central Bay
10. Arataki Western Bay
11. Ngongotaha Central Bay
Farmlands Co-Operative Society Division One
1. Waikite Central Bay
2. Te Teko Eastern Bay
3. Opotiki Sports Eastern Bay
4. Kahukura Central Bay
5. Judea Western Bay
6. Murupara Central Bay
7. Reporoa Central Bay
8. Rotoiti Central Bay
9. Katikati Western Bay
10. Eastern Pirates Central Bay
Round Two will see:
• The top eight of Premier compete in Premier 1 (development team required)
• The bottom three of Premier will be joined by the top five of division 1 for Premier 2 (development team required)
• The bottom five of division 1 will continue in division 1 for round 2.
Farmlands Co-Operative Society Eastern Bay Senior Local/Senior Reserves
1. Opotiki Sports Senior Reserves
2. Whakatane Marist
3. Ruatoki
4. Ruatoki Senior Reserves
5. Paroa
6. Poroporo
7. Edgecumbe
8. Galatea/Waiohau
9. Matata
10. Waimana
Farmlands Co-Operative Society Western Bay Senior Local/Senior Reserves
1. Eastern Districts
2. Papamoa
3. Tauranga Sports Senior Reserves
4. Greerton Marist Senior Reserves
5. Te Puna Senior Reserves
6. Rotoiti Development
Farmlands Co-Operative Society Baywide Colts
1. Katikati
2. Greerton Marist
3. Judea
4. Papamoa
5. Mount Maunganui
6. Kahukura U85 kgs
More on SunLive...