Tauranga business owner left in limbo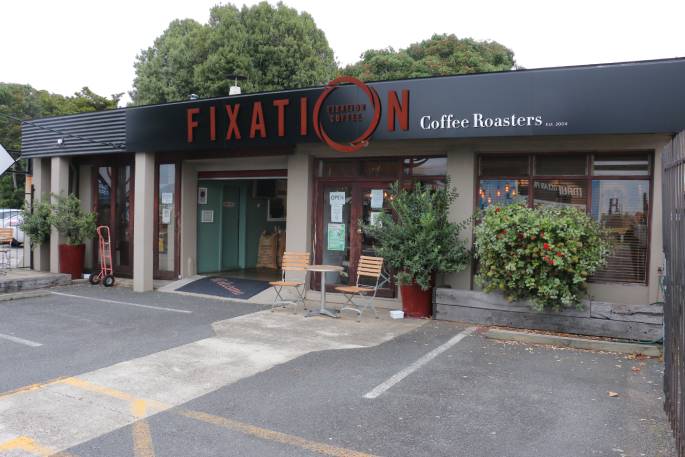 A business owner in Tauranga is desperately on the hunt for a new location as Tauranga City Council commence with plans to demolish his currently leased property.
Gregg Thompson opened the doors to Fixation Coffee Roasters on Dive Crescent in 2007.
He was always aware that, eventually, he would have to move.
An original rolling monthly rental agreement with council was changed by former Mayor Greg Brownless to ensure that Gregg and the team at Fixation received a six-month notice.
That was issued in December and Gregg will have to vacate the premises by the end of May.
"We have been tentatively looking for a new spot to shift our plant and equipment for the past two years but have been very seriously looking for the last six months," says Gregg.
"We have driven all commercial real estate agents nuts and we still are."
Unfortunately, any suitable units do not currently line up with the current timeframe, leaving Gregg in limbo.
"There are a few places that are suitable that might be coming up but they are few and far between," he says. "Unfortunately the time they are going to be available doesn't line up."
Tauranga City Council has confirmed that the building is set for demolition by the end of June. The plan is to use the area to increase the capacity of the current car park adjacent to the Fixation lot. However, TCC stated the decision is not related to the recently aborted car parking plans at Harington St.
The building has failed its seismic strength test and was issued a notice to confirm it is an earthquake prone building in 2011, according to TCC.
Other properties along the same stretch of road, previously occupied by Iron Design and Makz Gear, have also been served seismic issue notices. They have since relocated.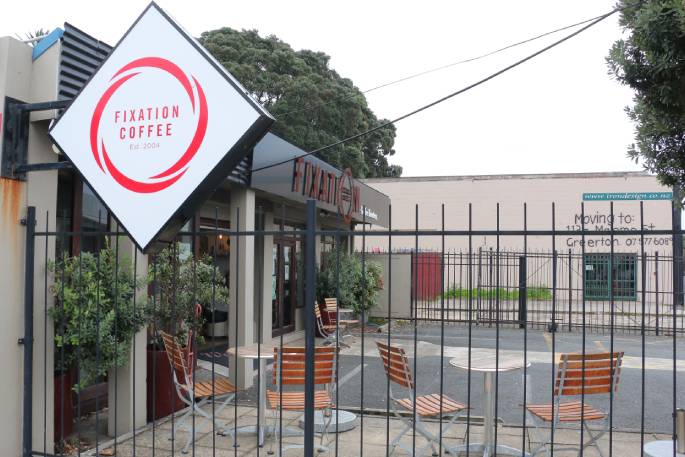 But Gregg feels the seismic issues are being used as a means to rush the businesses out of the council owned properties.
"I feel they are using that as a way to get rid of us," says Gregg, who states he has even offered to pay for seismic strengthening and an increase in rent to remain in the current location, but were denied.
Tauranga City Council states that the building only meets 13 per cent of the earthquake standard and would therefore require "significant repair" to meet specifications.
"The decision was made by Council to demolish the building rather than repair it, as the repair costs were not considered an efficient use of funds," says TCC director of spaces and places, Paul Dunphy.
As Gregg makes abundantly clear, he has always been aware that his time at the current location would be coming to an end and is not disputing that fact.
Fixation, which sells wholesale, online and runs as an espresso bar, has unique needs which require a certain type of unit.
Gregg states that the roaster itself cannot be out of use for more than a few days, at a stretch a week.
Finding a suitable commercial space for the business's requirements is proving difficult and Gregg was hoping the council would be flexible enough to allow him a short extension.
"We are not trying to refuse to move, we never have," says Gregg.
"We have literally begged council to let us stay another couple of months but they have said flat out no.
"They told us that come June 1, if we are not out, they will change all the locks, we will not be allowed in, their people will take the equipment, dismantle it, store it all and I'll be liable for reparation costs."
Unfortunately for Gregg, TCC have confirmed there is no chance of an extension to Fixation's current lease.
"Under the original notice, demolition must be completed by June 22," Paul explains.
"The building has been tenanted by Fixation for some time, and their lease has been extended on short-term agreements because of the building's imminent fate. They were aware that the building would be demolished. The current end date of the lease is May 30."
For Gregg, the hunt for a new location goes on and he is hopeful something that fits his needs becomes available in time.
"Hopefully somebody knows of the perfect spot for us and can help us out.
"At the moment we are faced with an urgency measure to shift the roaster to a temporary location just to keep the business going."
In the meantime he remains frustrated with what he perceives as "dogmatic bureaucracy" from council.
"They are just digging their heels in," he says. "That is what it feels like.
"They are potentially threatening the business that we have built up since 2007. There's three people's livelihoods here."
More on SunLive...