A "lifestyle" mine in Waihi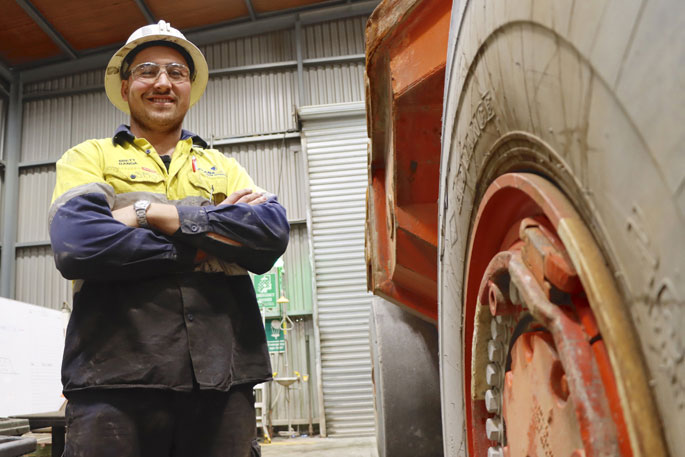 OceanaGold Waihi has a reputation for being a 'lifestyle mine'.
There's no need to fly into the desert for weeks on end and workers can enjoy living in a small town that's a 10 minute drive from the beach.
That's why 29-year-old Brett Ranga decided to work below the ground as a 'nipper' – miner talk for someone who "nips around doing different jobs" like working alongside underground drillers.
His house is just a 12 minute bike ride from the mine, and his one week on, one week off roster, which rotates between day and night shift, leaves plenty of time for family.
"That's the main reason I applied for the mining role last year," says Brett.
"My boy, Brynn, is three years old.
"The roster means I can spend more quality time with him and be there for the little things like dropping him off at day care.
Changing roles
"A lot of people have negative reactions towards shift work, but for myself, it's way better than working Monday to Friday. You have more days off and pretty much work six months of the year and earn just as much."
Brett worked for OceanaGold for a year above ground. He started in the processing plant before becoming a workshop trades assistant.
"The workshop put me in a good position to see what happens underground and see if it's for me."
His team in the workshop were sad to see him go, including his boss, underground maintenance super intendent Lindsey Heaton.
"It's really positive to see such a hard working young fulla come through," says Lindsey.
"He was only in the workshop for several months and showed a lot of growth, so he'll do a great job underground."
A different pace
OceanaGold underground mining engineer Jimmy Lu can vouch for the Waihi mine's good work life balance – he trained and worked in mines in Australia.
"The lifestyle is much easier here, and people in New Zealand are really friendly," says Jimmy.
"Kiwis from small towns may dream about living in a busy city, but growing up in a metropolitan area in China, I think I'm the opposite."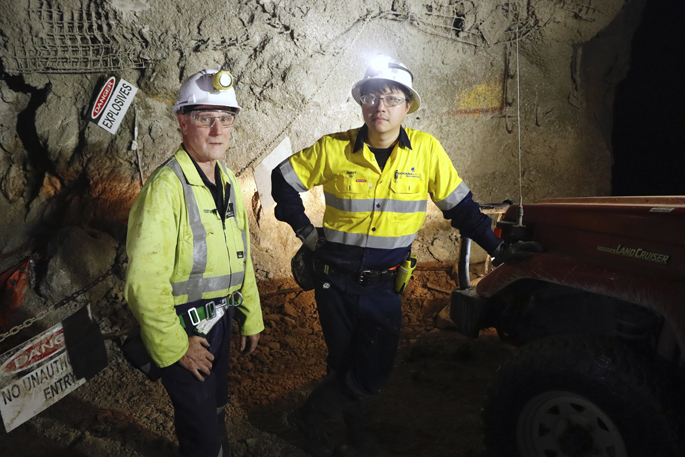 OceanaGold senior communications advisor Kit Wilson and underground mining engineer Jimmy Lu. Photo: Daniel Hines.
It's common for Kiwi mine workers in Australia to return to New Zealand to settle down, says OceanaGold senior communications advisor Kit Wilson. "It is incredibly hard for the guys working on the fly in, fly out operations in Aussie to maintain relationships, because they spend such a long time away from their partners," says Kit.
"Many go to Aussie, earn the big bucks, and then come home."
In saying that, the pay packet for mining in Waihi is nothing to be scoffed at – the average salary is $110,000.
"That's way more than you get working anywhere else in Waihi," says Brett.
"I was a supervisor at my old job doing aluminium joinery and I still jumped up a good couple of bucks coming here as a new starter.
Hometown opportunities
"My wife Audrey and I have lived in Waihi for most of our lives. We met at school.
"I like that we can stay in our small town and raise our son surrounded by his extended family, because there are the job opportunities here to do so."
The mine is specialised work. Many underground operational roles can't be obtained with an external qualification and, as a result, workers have the opportunity to work their way up.
"It's encouraging to see a career path going forward in the mine.
"The eventual goal for most people who go underground is to become a drilling jumbo operator, which is definitely what I'd like to do.
"Getting to that stage takes about five years."
Possibly the only downside to Brett's shift roster is that he won't be free every weekend to play rugby.
He's the Hauraki/Thames Coromandel district's Sportsperson of the Year for 2019, and wore the black jersey for the NZ Heartland XV team in 2018 and 2019.
He was named NZ Rugby's Heartland Championship Player of the year in 2018, and captained the NZ Heartland XV team the following year.
But, true to his relaxed and optimistic personality, Brett isn't too bothered about hanging up his rugby boots.
"I guess I can still play on my weekends off.
"I'm 29, so I'm probably close to retirement anyway," he laughs.
More on SunLive...