Climate change march planned for Tauranga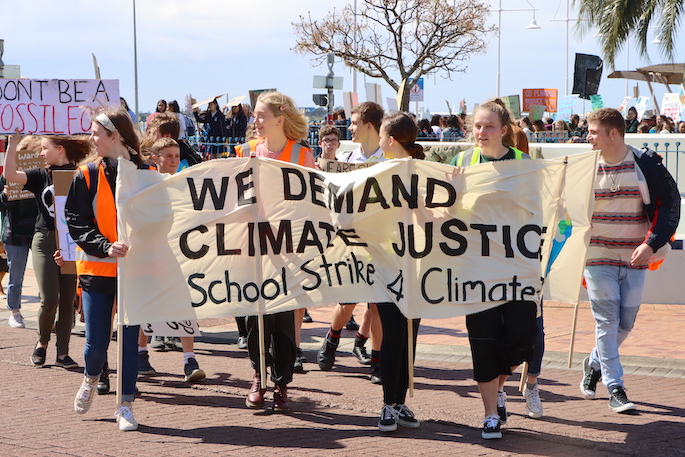 Students from colleges across Tauranga are planning to hold an intergenerational march on Friday, demanding climate action.
"As climate change affects every New Zealander and every part of society, we are inviting everyone to join us," says School Strike 4 Climate NZ spokesperson Ash Putt-Fallows.
"This rally will be intergenerational. Parents, teachers, aunties, uncles and grandparents are asked to join youth on April 9 to stand up for climate justice, and the many issues that follow such."
Aquinas College student and SS4C NZ spokesperson Isaac Jarden and Mount Maunganui College student Zara Barlow are coordinating the Tauranga march which will be held as part of a nationwide "strike" on Friday.
"We want to create a statement that climate action has to be taken," says Isaac. "We are sacrificing a day of education, because this is more important. As people who can't vote, we are getting out into the streets to make sure our voices are heard."
The Tauranga march will leave from The Strand, go up Devonport Rd to Elizabeth St where the Bay of Plenty Regional Council building is located, then along to Grey St, and through the Tauranga City Council building by the Tauranga Library Arcade and back to the Tauranga waterfront. The march has been officially lodged as an event with Tauranga City Council and Maori wardens will be assisting with traffic management.
"The march will go near to both councils," says Isaac. "Tauranga City Council have responded to us thank us for alerting them to the strike, but we haven't heard anything back from the Bay of Plenty Regional Council yet.
"We are fed up with seeing government take insufficient action. We are getting the word out to as many students as possible to join us and demand that government take climate action."
The event will take place on Friday from 12pm to approximately 3pm, with the march from 12.30pm – 1pm.
In 2019, hundreds turned up for the third School Strike 4 Climate NZ intergenerational climate change march. Last year, the march was unable to go ahead due to the Covid-19 lockdown.
"COVID-19 may have stopped us in our tracks in the past. However, I tend to ask myself, why we can't respond to this Climate Emergency, in the same way that we responded to COVID-19?" says SS4C NZ spokesperson Ethan Reille. "Why can't we direct such a 'can do' attitude towards this crisis, and why can't we unite behind climate change, the same way we united behind COVID-19?"
Isaac says that health and safety will be their main priority on Friday.
"Organisers will be wearing masks and we will be encouraging people to wear masks and to stay home if unwell," says Isaac.
"We need everyone to come together and make their voices heard," says Ash. A sustainable future isn't just about stopping climate change or creating a greener environment, it's also about ensuring a sustainable economy and jobs. We need everyone to come as a collective to create this for future generations."
Ash says they have collated a list of demands from people across New Zealand which reflects the urgency and need to act to stop climate change.
"Our demands focus on what climate action New Zealanders want from our government," says Ash.
The demands include prohibiting the implementation of, and phase out the use of fossil fuels nationwide; investing in a 100 per cent renewable energy economy; investing and implementing in a just transition; honouring its [the Government's] responsibility to our Pacific Island neighbours; decreased agriculture emissions; and investment into climate education.
"I'm striking as a last resort. It shouldn't have come to this but we must make our voices heard and demand action be taken by the government for the sake of our planet and our future generations," says Isaac.
More on SunLive...