House help for Homes of Hope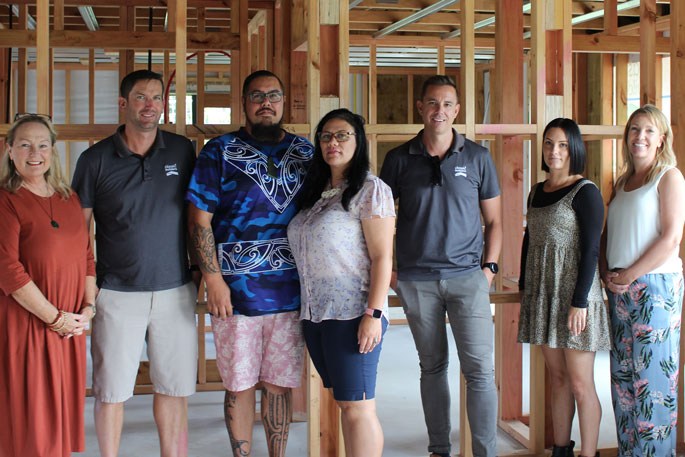 It was more than Hilary Price could have hoped for.
The Tauranga Homes of Hope chief executive says she's feeling "stunned" at the community support the organisation has received to build a brand new $380,000 home that will benefit the children her organisation cares for.
Homes of Hope provides foster care to abused and/or neglected children and, thanks to a Design & Build offer from Classic Builders along with a tonne of additional help from other local individuals and businesses, that caring net can be spread further.
The home's floor was laid in December on the Greerton site that is already home to three Homes of Hope dwellings – one being an office, and two for the children to live in.
Hilary says it's the first time the organisation has had a purpose-built house, tailor-made to specifically suit the children's' and carers' needs.
She says the project still seems surreal.
"For this to come to fruition is epic and really great timing because of the reality of the needs out there in our community. To have a quality home where we can provide excellent care, within our existing community setting, is incredible.
"Having another home also gives us greater flexibility to be rapidly responsive to the needs of the children as they are placed with us. It will certainly help us achieve our goals and mission," she says.
Classic Builders Tauranga Regional Manager Nathan Watkins says his team is calling the build The Home of Hope and it's a very special project to be involved in.
"Classic Builders is about getting more New Zealanders into homes, but this project has a different spin for us. It's about helping our small Kiwis –providing a safe place for them to come to. We're pretty excited to be helping with this initiative."
He says Classic Builders has presented the initiative to local and national subcontractors and suppliers and the response to provide support and get involved has been quite overwhelming. Thanks to their contribution, the build cost has been significantly reduced. Classic Builders is not only donating the design and build component but is assisting with the project management and facilitating the consent process.
The four-bedroom home, including two bathrooms, three toilets, and a large kitchen and open plan living area, will enable the housing and care for an additional six children and will be ready to house these special residents by July this year.
An important philosophy for Homes of Hope is to keep sibling groups together when they come into the community setting of homes and provide every child with wrap-around therapeutic support.
The Tauranga Classic Builders team has been supporting this caring organisation for a while now.
A fundraising initiative they ran in November 2019 when four staff members sweated it out, tackling a gruelling 13 repetitions of an F45 class - 585 minutes of intense exercise. Remarkably, the $26,000 raised that day became the catalyst for the Homes of Hope team to take on this build project, teaming up with Classic Builders again.
A black-tie event is planned for Saturday, April 10, generously organised by the teams at Cashmores Real Estate and Farmer Autovillage.
The event will be held at Farmer Autovillage and entertainment for the evening includes guest speaker Nigel Latta, one of New Zealand's leading psychologists.
There will be a range of impressive items available, which will be auctioned by Blair Cashmore throughout the night.
Tables of 10 are available to purchase now for $2500. Contact Taylor Parbery for more information at taylor@cashmores.nz.
The public can also support The Home of Hope build.
A Givealittle page has been set up – www.givealittle.co.nz/cause/homesofhopenz, or you can check out the Facebook page for more ways of getting behind this endeavour – https://www.facebook.com/thehomeofhopetauranga
The home is due to be completed and handed over to the Homes of Hope team late June.
More on SunLive...