Vacant spaces transform into creative pop ups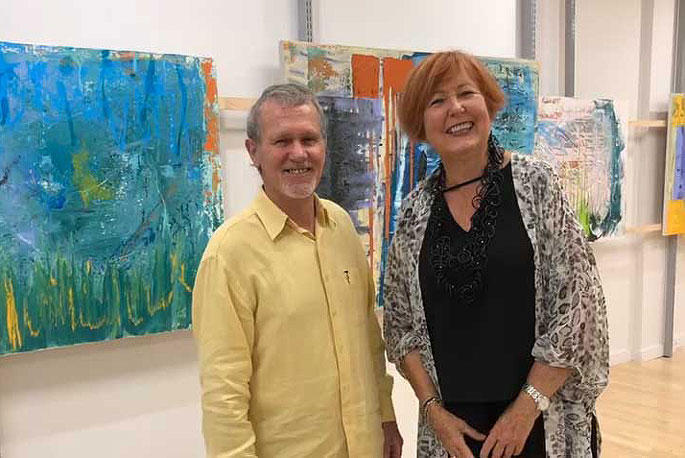 Two new pop-up galleries have opened in Devonport Road in Tauranga, with more set to open as an initiative to transform vacant spaces into vibrant spaces adds life to the CBD.
In just the last week, the Laval Collaborative Pop Up Studio and the Pop-Up Art Gallery have opened under the Activate Vacant Spaces programme and spokesperson Sally Cooke says there's more to come.
"As we all know there's a number of vacant spaces in the city centre right now, but the good news is that we have a queue of amazing creative talent and ventures waiting to come into these vacant spaces.
"If we can add vibrancy and diversity of offerings in these spaces, while our city centre goes through transformational change, we will be achieving our goal."
The Activate Vacant Spaces programme is a collaborative approach by Mainstreet Tauranga with property owners in the city centre and Sally says it's quickly gaining momentum.
"This programme wouldn't be possible without the amazing generosity of property owners who are open to working with us to host pop-up ventures in their vacant spaces, while we wait for more permanent tenants.
"Having said that we have also been able to deliver permanent leases under the programme as pop-ups find their feet, become viable and are able to then take on a lease with the landlord. It's a win, win."
Just open on Devonport Road is the new Laval Collaborative Pop Up Studio in the former Hannahs store site.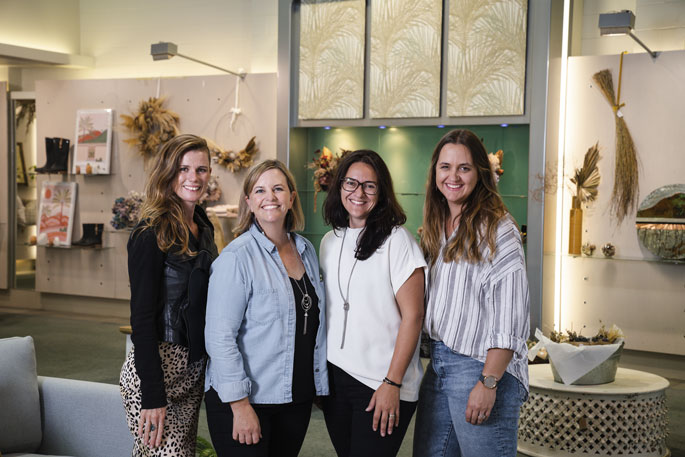 Tami Hansen (Flowers by Tami), Jane Ward-Able (Blue Baobab New Zealand), Olivia Schwarz (Spacefully Yours) and me Vanessa Laval-Glad (LAVAL Photo & Video).
Described by instigator Vanessa Laval-Glad as a photography studio reimagined, the space features irresistible home decors by Spacefully Yours, dried flowers by Flowers by Tami, stylish boots from Blue Baobab, exquisite artworks by Re.Work.It, creative prints by Pinch & Punch and studio headshot sessions by Laval Photo & Video.
They also offer fresh flowers on a Friday.
Vanessa says the space is invigorating for the collaborative partnership.
"It's great being in the city centre and trying a new collaborative approach. We all work so well together, and our offerings complement each other," says Vanessa.
"Being able to trial this new concept under the Activate Vacant Spaces programme is awesome. It feels good to also be contributing to increasing the diversity of offerings and vibrancy in the city centre and we are looking forward to more creative pop ups joining us on the street."
Alongside the Laval Collaborative Pop-Up Studio is the new Pop-Up Art Gallery, in the former Just Jeans store on Devonport Road. Just opened the gallery features works by two well-known abstract artists.
Sue MacDougall is recognised for her bold and colourful work in different mediums that create structure, depth, movement and texture.
An abstract – Acrylic & Encaustic & Cold Wax Artist, Sue has exhibited in Greece, Italy and London, won the Top Tiee Award at Exhibeo – France, exhibited at the Parallax Art Fair, Chelsea, London and represented NZ in the Exhibition for 100years anniversary of WWI Gallipoli in Thessaloniki and Lemnos island where the NZders had their hospital.
Joining Sue in the pop-up gallery space is Shaun McLean.
Well known in the art sector in Australia Shaun now resides here and is exhibiting a collection of his latest abstract expressionism paintings 'Reef Moments' using acrylics and mixed media.
Sue and Shaun replace the paintings on offer with new work every 5-10 days, keeping the gallery constantly changing.
Shaun will also be painting new works within the Pop-Up Art Gallery and Sue will be hosting workshops in the space.
Sue says opening a pop-up gallery in the city centre is a great opportunity for them to bring their works to the public, together.
"This simply wouldn't have happened without the support of the Activate Vacant Spaces Programme. They found us the space and are hosting us to be here. It's an exciting opportunity for us to profile our work together and we're really grateful for that."
The two new pop ups are just up the road from the Ceramics Gallery which opened as a pop-up gallery under the programme in December last year and is still going strong.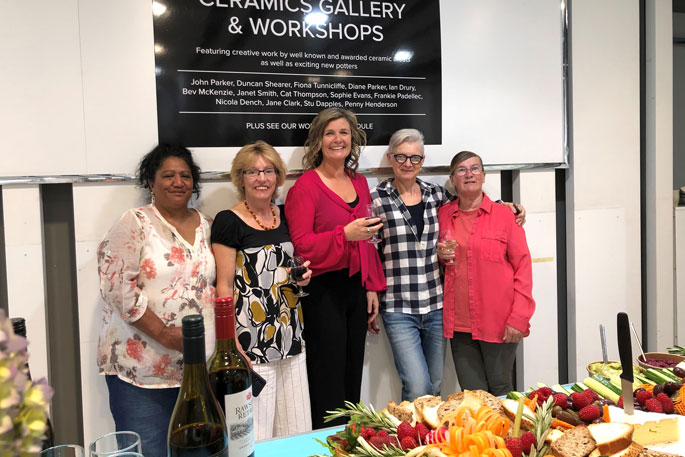 Penny Henderson and artists from The Ceramics Gallery.
Led by artist Penny Henderson the gallery features ceramics by over 14 artists and hosts sold out clay making workshops.
Penny says the initiative has gone from strength to strength.
"Like the other pop-ups we are only here because the Activate Vacant Spaces team made it happen. We are so very grateful for that. What started as a one month trial pop-up is just growing and growing and we want to stay," says Penny.
"We have been able to invest in the supplies and equipment necessary to operate, and ceramics produced by local artists have an outlet that has been applauded and is generating interest both locally and further afield. We do foresee a business ultimately able to be independent and this programme gave us that opportunity."
With more pop-ups scheduled to open and the curated programme of works promising to continue to excite and surprise Sally Cooke says the Activate Vacant Spaces Programme is vital for the city centre. "We need more creative expression in our city centre, we have vacant spaces and we need to support the existing businesses in the cbd by increasing the offerings and encouraging more of the public to come in. This programme allows us to do all of those things and get some great outcomes for all."
More on SunLive...