Tauranga's average house price still on the rise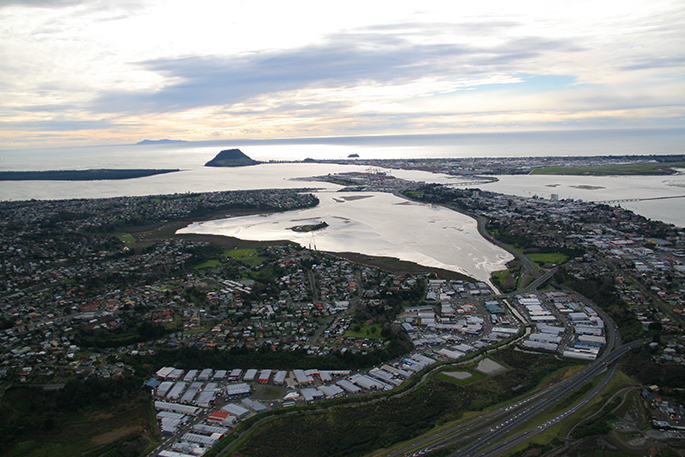 Tauranga's house prices are still on the rise, with prices increasing 3.9 per cent in March alone.
Last month, market valuations company QV predicted a cooling off in the market.
However, QV says that announcement may have been somewhat premature.
The average house price rose 3.9 per cent in March alone, up from 0.7 per cent in February.
The average house price is now $963,026, which is a remarkable 21.4 per cent higher than at the same time last year.
The majority of that price growth (17.2 per cent) occurred during the last six months.
QV says the Government's new initiatives to quell the rocketing housing market were announced last week, just as house prices hit a new high for the end of March.
The average value increased 7.8 per cent nationally over the past three-month period, up from the 6.8 per cent quarterly growth we saw in February, with the national average value now sitting at $884,447.
This represents an increase of 18.2 per cent year-on-year.
The average value in the Auckland region now sits at $1,268,509, up 7.2 per cent over the last quarter, with annual growth of 16.1 per cent, up from February's year-on-year growth of 14.2 per cent.
All the major urban centres are showing strong gains in value, with the twin Hawke's Bay cities of Napier and Hastings leading the way on 15.2 per cent and 10.6 per cent value growth respectively over the past three months.
Palmerston North prices also continue to rise at a rapid rate with quarterly growth of 10.3 per cent.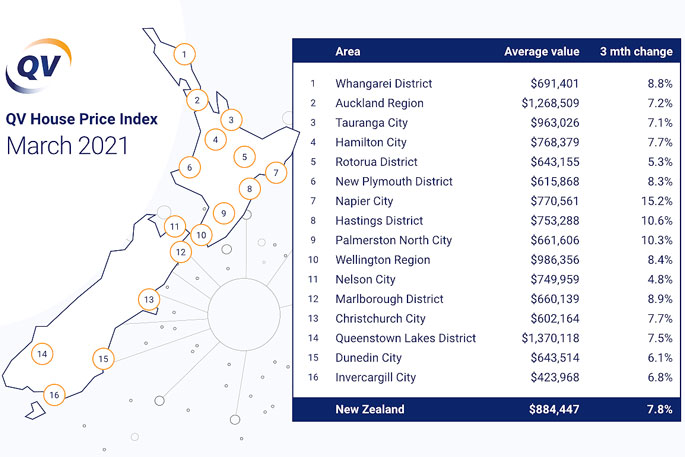 Time will tell whether the new measures announced by the Government last week will have an impact on rising house prices.
Buyers, sellers, politicians and commentators continue to debate the merits of the changes and the likely impacts on house values and rents.
"This is not going to be a quick fix, but certainly the changes will impact the buying and selling habits of some investors," says QV general manager David Nagel.
"But any fall in activity from investors will likely be backfilled by increased demand from first-home buyers in the short term, so it's hard to see prices coming down in a hurry."
"It certainly sounds like it's been a tough year so far for investors, with new Healthy Homes legislation impacting compliance costs for landlords in February, followed by the return of LVRs in early March. Last week's announcement to extend the bright-line test to 10 years, as well as phasing out interest deductibility will certainly make residential investment less attractive in the future. However the capital gains for seasoned investors have been quite exceptional for the past couple of years," says Nagel.
"March 2021 is a really great time to take stock of all the predictions and opinions on how the market will react to the Government announcements. It is exactly 12 months since the country went into level four lockdown, and everyone, including ourselves, feared for a catastrophic drop in the property market. Twelve months on, we have seen record breaking growth in many locations, which has led to the government taking action to try to moderate this growth.
"This week, many commentators have given their opinion on how the market will react in the medium and long term, but the truth is – we don't actually know. Any evidence of quiet open homes, empty auction rooms or values already on the turn is purely anecdotal at this point. The reality is that many investors will simply be taking stock of the new guidelines, digesting what it means for their property portfolio before making their next move or looking at alternative investments."
Of the 16 major urban areas QV report on, all except Queenstown reached double digit annual growth. But even the Queenstown market, which was forecast to struggle after Covid-19 hit, has increased 9.7 per cent over the past 12 months, which corresponds to the time of our first lockdown.
The biggest mover was Palmerston North with annual value growth of 26.8 per cent, followed by Hastings and Marlborough with 25.9 per cent and 25 per cent respectively.
The Wellington region performed best of the main centres with annual growth of 24 per cent.
"Property has been a proven investment performer and one would expect a certain inevitability that residential rents will rise over time, to at least partially counter the changes, which is no doubt an unintended consequence of the government announcements," he says.
"The extension of the bright-line test probably won't have a huge impact on investor behaviour given the majority already have a buy-and-hold approach to property investment. But the removal of interest deductibility will impact many investor appetites to grow their portfolio and may also deter new investors from entering the market."
More on SunLive...