Golfing royalty in Tauranga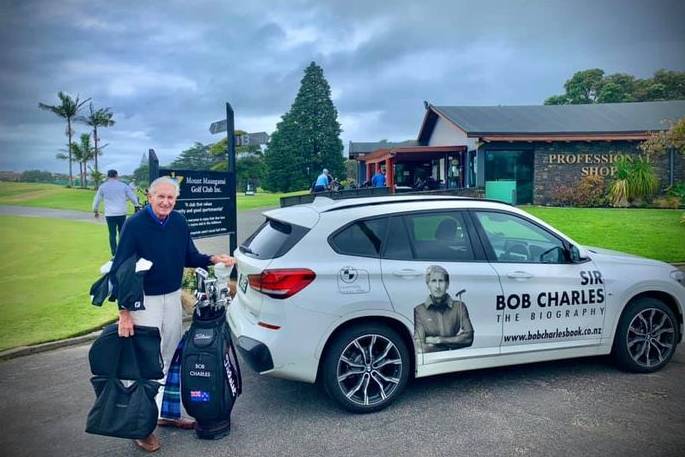 A New Zealand golfing legend is in Tauranga to promote a comprehensive biography about his life and career in the sport.
Sir Bob Charles will be playing a round of golf at the Tauranga Golf Club today and spent yesterday at Mount Maunganui Golf Club.
As he did yesterday, Sir Bob will be taking part in a Q&A session at the 19th hole, to answer any questions from awestruck enthusiasts.
Written by Geoff Saunders, 'Sir Bob Charles - The Biography' tells the story of one of the greatest left-handed golfers of all-time and the winner of the 1963 Open Championship.
The one time "best putter in the world" was knighted in 1999 and was elevated to the Order of New Zealand 10 years ago and now seems the right time for a story of his life to hit the shelves.
Complete with over 160 photographs the book is an in-depth study of the life and times of a true New Zealand sporting great.
Weather depending, Sir Bob will also be playing a round of golf with Tauranga Golf Club board chairman Paul Gartner, club sponsor Tony Ford and junior golfer Tania Ellis.
"I am looking forward to it," says Paul. "He's a legend of the game."
Sir Bob has been all over the country promoting his book and Paul has heard through the grapevine that the 85-year-old looked sharp at Wanaka earlier this month.
"I am a bit worried and a little bit nervous," Paul admits. "You never know I might be able to take some money off of him but I doubt it very much. He's still pretty sharp I imagine."
As well as playing with golfing royalty Paul is looking forward to getting a chance to see one of the club's rising stars in action.
"I am also really excited to have Tania, one of our top female juniors, with us as well," he says. "It will be awesome. I am looking forward to spending time on the course with her as well, just as much to be honest."
Paul is just hopeful as many members as possible will brave the potentially problematic weather to see Sir Bob, who is due to tee off at 12.30pm, in action.
"Hopefully the weather holds and we get a good turnout of members there to watch because there are not many legends of the game from New Zealand and he is probably the biggest."
'Sir Bob Charles - The Biography' is on sale now.
More on SunLive...