Man to become squatter on his own land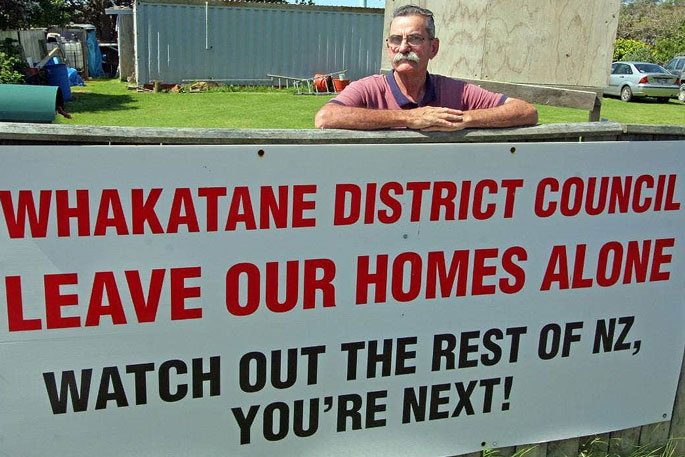 Today is the day Greg Fahey becomes a squatter on his own land.
Fahey is the last resident in Matatā's debris flow red zone refusing to sign up to the controversial and precedent-setting managed retreat process.
Today, a Bay of Plenty Regional Council plan change will snuff out Fahey's right to continue living on his land.
But Fahey has no plans to budge from the shipping container that is his home.
"What has gone on here is totally wrong, so what are you going to offer me? If it's not compensation, you might as well hop on your bike and go, because you've got 15 years of stress and anxiety."
The plan change – believed to be the first use of the Resource Management Act to extinguish existing land use rights – is the last chapter in a years-long and fiercely contested managed retreat process.
Following a 2005 debris flow which took out multiple homes, Whakatāne District Council promised to build a barrier, and residents built back.
But when that plan failed, in 2012, thirty-four property owners in the Bay of Plenty beachside settlement were left unable to build, borrow or sell, after their homes and sections were red-zoned as too dangerous to live in.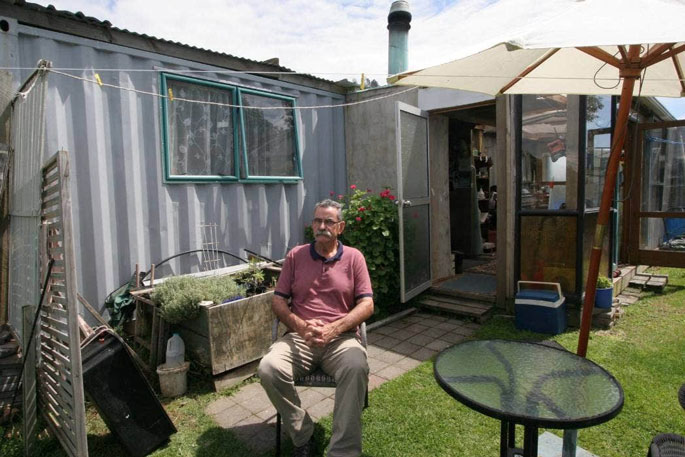 Fahey is refusing to leave his Matatā container home without compensation for the 15 years of stress the managed retreat process has caused.
In 2016, the council started a "voluntary" managed retreat process. In 2019, the district and regional councils and central government each contributed to a $15m fund to buy out the residents.
While Fahey is the only resident who rejected the buyout, three other properties also remain occupied.
Rick, Rachel and Pam Whalley got an extension to remain in their house until next year.
Vocal opponents of the managed retreat, they planned an Environment Court case to test whether the plan change was legal.
However, they felt pressured to take the managed retreat deal, as if the court case failed, their beachfront house could be taken under the Public Works Act, for as little as $67,000.
Rachel Whalley says now most houses had been removed, the place feels weird and empty. Boulders and two phoenix palms are all that remained of her neighbour Marilyn Pearce's home.
"It's really quite sad ... Of 16 houses affected, only three stayed in the Matatā area. It just shows how they have destroyed a community to save one."
Greig Thorby reluctantly accepted the $210,000 buyout offer for his section, but will not leave until he can find an equivalent property.
The market is "insane" and in three months of looking he'd failed to find a section in the Bay of Plenty.
He has also been unable to sell the shipping containers that were his home.
"They have sold me into poverty. I have to live somewhere. I have got one foot on the property ladder, now they're kicking me off the ladder.
"I'm between a rock and a hard place. I can't move forward, I can't move back, I can't move anywhere."
Lyall Magee's two rental properties also remain, after he requested an extension to remove them. They were his retirement plan.
"I'm just trying to move on," says Magee.
"It does leave a sour taste in your mouth."
Bay of Plenty Regional Council policy and planning manager, Julie Bevan, says while the plan change is now in force, the council is still working with Fahey.
"We are looking for a way forward that is respectful of the owner who has not engaged in the managed retreat process but that also moves people out of the high-risk area."
The Matatā managed retreat process was being closely watched by other councils and researchers, as a potential template for dealing with climate change threats.
However, any precedent could be overridden by the government's planned Climate Change Adaptation Act, which is expected to include a specific process for managed retreat.
The law is expected to be passed by the end of 2022.
More on SunLive...