New Zealand's favourite meal revealed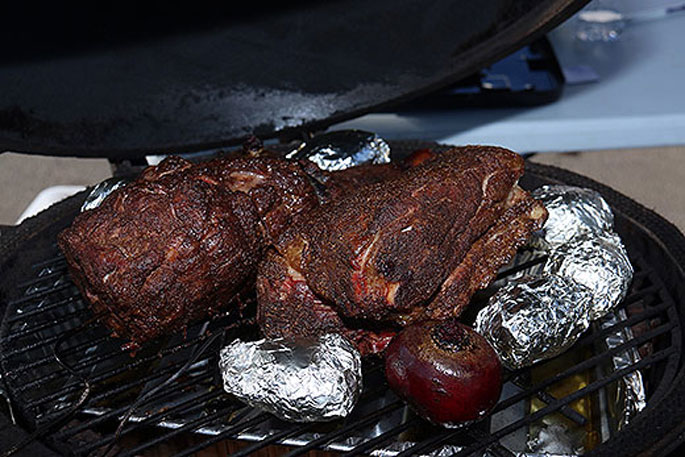 Easter dinner is sorted with a nationwide survey revealing New Zealand's favourite meal is a classic roast lamb with potatoes.
1900 Kiwis were polled on their mealtime preferences and after all the votes were tallied, roast lamb has emerged triumphant with 33 per cent of the vote.
The result comes as part of Recipes.co.nz 'Dinner Debate Survey' who also discovered that 60 per cent of Kiwis prefer to have mint sauce, rather than gravy, accompany their lamb.
Kiwi tastes are becoming increasingly international, and in the Bay of Plenty, as well as Southland, Auckland, Nelson and Wellington, Italian food is the cuisine of choice.
Canterbury and Northland prefer Thai food; traditional British fare is the go-to for Otago, Waikato, and Hawke's Bay; Gisborne and Marlborough prefer Chinese; Tasman wants a taste of the Mediterranean; while the West Coast prefers the flavours of Japan, and the most loyal of the bunch, Taranaki, will stick to their trusted Kiwi favourites.
Dinner is the nation's favourite mealtime, with 77 per cent of respondents making that clear. Wine is the drink of choice with 43 per cent of the vote with 29 per cent saying they preferred water instead.
Kathy Paterson, one of the nation's most loved food writers was quick to point out that lamb has always been a delicious culinary treasure.
"New Zealand lamb is worthy of its reputation as our favourite meat for feasting," says Kathy.
"There is an abundance of accessible recipes on how to cook a leg or shoulder of lamb but my go-to is simply roasted in the oven with a sprinkling of herbs until sweet, tender, juicy and jam-packed with flavour. A feast in every sense of the word."
The poll also served to answer some long-standing dinner table debates, such as whether pineapple belongs on pizza with 65 per cent of participants agreeing that it does. Lovers of the Kiwiburger united with 74 per cent of participants agreeing that egg does in fact, belong on a burger.
The most unanimous vote of the survey belonged to mince on toast with a whopping 78 per cent of respondents believing it is always a winner.
Kiwis are sure to blow on their Steak & Cheese pie, which took out the pie battle with 32 per cent of the vote. Mince & Cheese (21 per cent), Potato Top (16 per cent) and Steak (13 per cent) pies followed behind.
The nation is all curious where Hilary Barry sits on the pie spectrum, as a close vote saw that most respondents would want to invite her over for dinner.
More on SunLive...