Covid update here and around the globe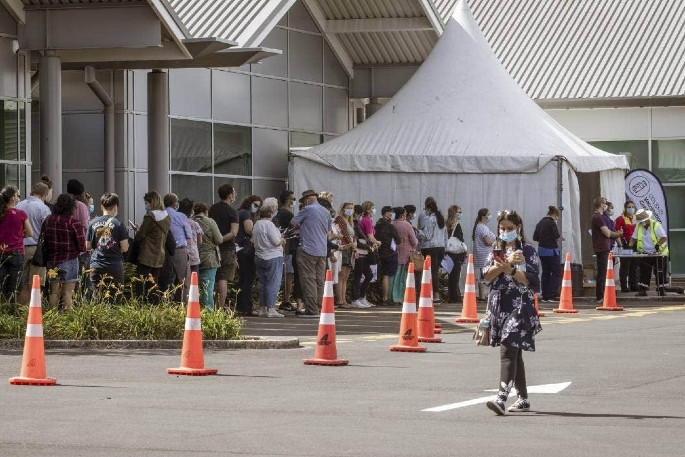 Dozens of people waited in line for hours to get Covid-19 vaccines at an Auckland medical centre on Saturday, with some asked to return another day due to a "last minute rush in bookings".
There were long queues at medical centre The Dentist, on Highbrook Drive in East Tamaki, with staff handing out water to those waiting.
Family members of border workers who were waiting for their vaccine said they had faced delays of up to five hours.
A Northern Regional Health Coordination Centre – NRHCC - spokeswoman said delays were caused by a surge in bookings.
The NRHCC offered people the opportunity to get vaccinated at another location or rebook their vaccination.
On Saturday, one new case of the virus was reported in managed isolation, along with one historical case, who is considered recovered.
The new case was a person who returned to New Zealand from India, via United Arab Emirates, on March 23. They tested positive during routine testing on day three of their managed isolation and quarantine (MIQ) stay in Auckland.
Meanwhile, Canterbury DHB has apologised after a software error potentially allowed people booking vaccinations to view details about others also making appointments.
The issue was brought to the DHB's attention after a member of the public discovered a security vulnerability in the code which allowed them to view the details.
No private health information had been shared, however the service was suspended on Friday night and an investigation is underway.
The initial investigation found no evidence the breach was malicious.
The global number of cases has reached 126.5 million, according to John Hopkins University.
Global deaths have now surpassed 2.7m.
The United States continues to record the most cases and fatalities - 30m infections, and 548,533 deaths.
Brazil and India have had the second and third most cases, with 12.4m and 11.9m infections, respectively.
Anyone who wants to get tested can find their local testing centres by visiting the Ministry of Health website.
New Zealand, including Auckland, is at Covid-19 alert level 1, with masks still mandatory on public transport. People should continue to use the Covid-19 Tracer App.
If you are sick, call your GP before you visit, or Healthline on 0800 358 5453.
To avoid contracting and spreading the virus, wash your hands properly, cough and sneeze into the crook of your elbow and throw tissues away immediately.
Reach out, find support from people who care, connect with your community or help a neighbour in need.
More on SunLive...