Tauranga Girls' College rowers' double celebration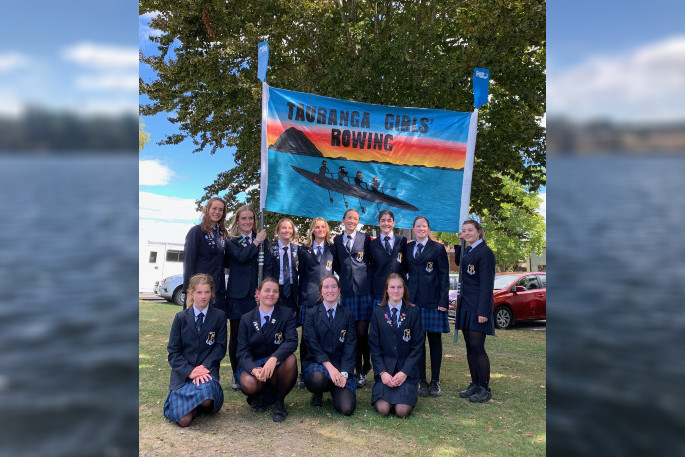 The Tauranga Girls' College rowing team is celebrating great results at the Aon Maadi Cup in Karapiro, Cambridge.
For one senior rower, Lia Chalmers, it is also a celebration of beating the cancer she had been battling since she was 15.
The annual regatta began last Monday and concluded with the final races today.
All five of the Tauranga Girls' College senior rowers made two Maadi finals and Danielle Nielson made three.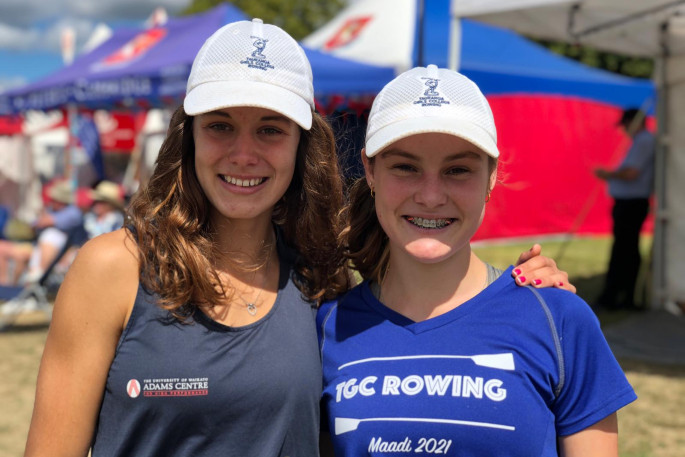 Senior Rowers Danielle Neilson, who raced three finals, and Brooke Poutawera who raced two finals. Photo: Tauranga Girls' College.
The school's under-18 crew in the coxed quadruple sculls finals ended up winning sixth place overall, and fourth place in the North Island in today's final.
"This is a really amazing result for the senior girls,'' says Tauranga Girls' College Rowing Club secretary Brenda Poutawera. "This puts them in the top six in New Zealand.
"They were the only team in the Bay of Plenty in that final. When you consider that there are 2,623 competitors from 123 schools, it's a great achievement."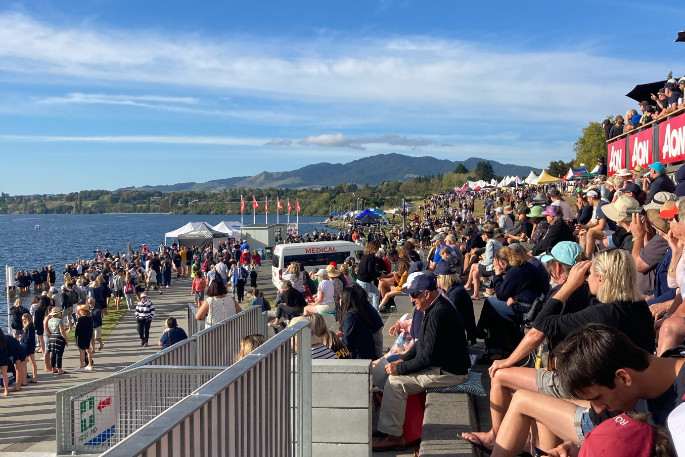 More than 8000 spectators cheered on the competitors at the Maardi Cup in Cambridge. Photo: Tauranga Girls' College.
The Aon Maadi Cup regatta is the National Championships for secondary school rowing in New Zealand. The regatta is a New Zealand Secondary School Rowing Association - NZSSRA - and Rowing NZ event and is NZ's largest rowing regatta. It is hosted by Karapiro Rowing Inc and South Island Rowing on alternative years.
The 2021 Aon Maadi Cup, held at Lake Karapiro from March 22 – 27 has had over 2,623 competitors from 123 schools compete, making this year the event's biggest in history.
The five Tauranga Girls' College students in the A final were Lia Chalmers, Brooke Poutawera, Maya Wells, Holly Ramsden and cox Riley Andrew, and their coach is Andrew Ede.
"All our coaches are volunteers unlike some of the private schools we compete against who pay for professional coaches," says Brenda.
Brooke, who is Brenda's daughter, also came second in the single scull under-18 B final, placing her tenth overall in this category.
Danielle Nielson and Holly came second in the B Final for the Double Sculls, putting them tenth in New Zealand for this category.
Maya and Lia rowed to first place in the Double sculls C final, making them 17th overall in New Zealand for the category.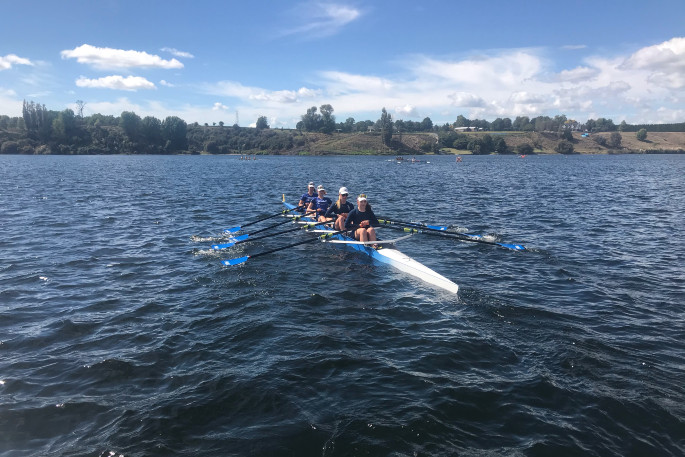 Tauranga Girls' College U18 coxed quadruple sculls rowing out to A Final. Photo: Tauranga Girls' College.
Double celebration
For 18-year-old college student Lia in particular these results are extra meaningful, as since she was 15 years old she has battled Hodgkin's Lymphoma, a rare form of cancer.
"When I was 15, I was in the middle of rowing season when I noticed I was having more difficulty breathing and my lymph glands were a bit swollen...but I was shocked completely when they told me it was late stage 2 Hodgkins Lymphoma," says Lia.
Lia had months of chemotherapy, losing her long blonde hair.
"It was pretty hard at that age, as I guess that is tied up in self-image."
It was her rowing team and rowing that got her through the dark times. She continued rowing even through treatments, until she found she was feeling too much pain, so then she switched to coxing.
"Keeping rowing definitely kept my spirits up and made me feel better. I love the camaraderie we have, because we spend so much time training. I would just stick on my beanie and cap and get out there. I love the discipline of rowing- it's a sport you have to be dedicated to and it gave me great motivation to get through this."
Lia and her parents Jill and Dane Chalmers of Te Puna were overjoyed in 2019 when doctors told them Lia's cancer was in remission. Lia was determined to compete in the 2020 regatta but this was cancelled due to Covid-19, so this week's races were the first time she was racing cancer free.
Lia says she will keep having fun with the sport and hopes to join her university rowing team. She plans to study health science at Otago or Auckland.
The regatta has been extra special this year not just for her, but for all who took part, she says.
Brenda agrees and says the 'weather gods' have blessed them with perfect conditions the whole week, the best she has ever seen.
"It has been an amazing regatta. The atmosphere was buzzing, especially given last year's one was cancelled due to Covid-19, and there was even some uncertainty this year when Auckland went back into lockdown. I think all the teams and supporters were just so happy to be here."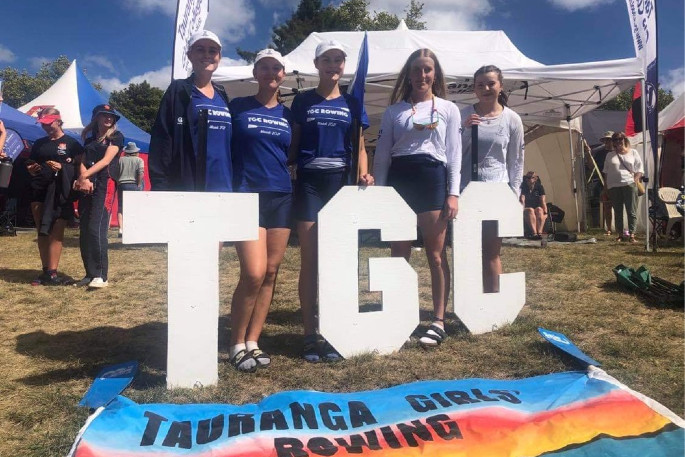 Tauranga Girls' College U18 coxed Quadruple Sculls, Riley Andrew (Cox), Lia Chalmers, Brooke Poutawera, Holly Ramsden and Maya Wells. Photo: Tauranga Girls' College.

Brenda says 13 rowers from Tauranga Girls' College came to Cambridge to compete in the races.
They have been training so hard, eight times a week, getting up at 5am before school for their first session," says Brenda.
A group of volunteers and parents had rented out some nearby lodgings where tonight they will celebrate with a pizza party.
"I am sure there will be a bit of dancing too."
The Tauranga Girls' College Rowing Club's Facebook page will have an upcoming open day event listed in the near future for anyone interested in taking up rowing.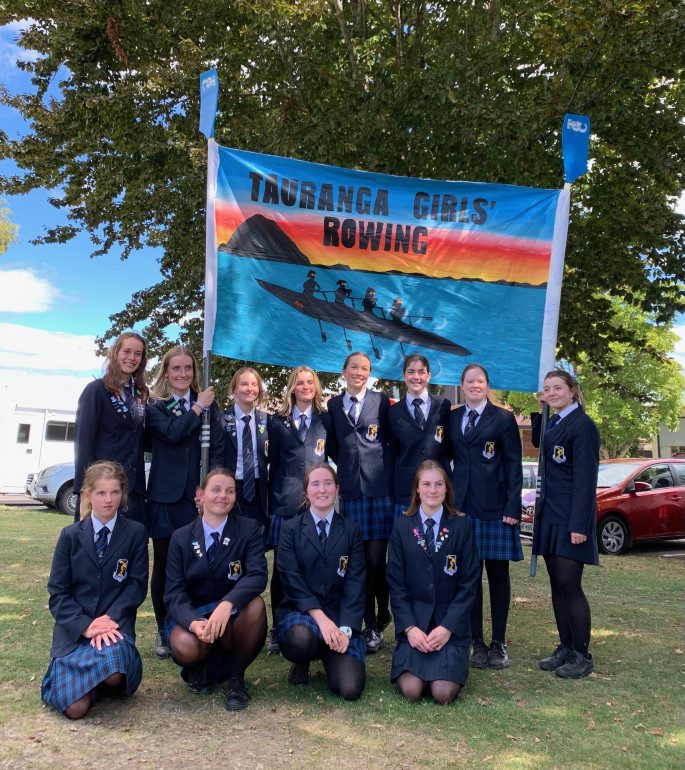 Tauranga Girls' College Rowing Club team. Photo: Tauranga Girls' College.
Back row: Danielle Neilson, Holly Ramsden, Lia Chalmers Lottie Hale-Short, Ava Dickison, Hayley Forlong, Hannah Ross Evans, Maya Wells
Front row: Anna OConnor, Haylee Mora, Grace Hutchinson, Brooke Poutawera.
Missing from photo: Riley Andrew
More on SunLive...