Flying a poppy around NZ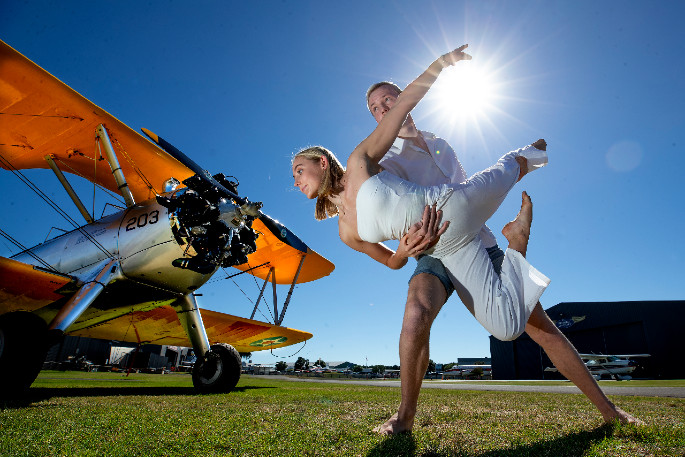 The Poppy Flight will be landing on Saturday to a fabulous welcome of poppies, dancers and stars at Classic Flyers.
Bringing together remembrance and hope for the future, 34 volunteer pilots will carry a knitted poppy and star on their leg of the flight of a nationwide itinerary of 30 locations, with the town of arrival hosting a welcome party.
Pilot Warren Butler will fly the Whitianga to Tauranga leg of the journey, arriving at 11am on March 27 at Tauranga Airport, before taxiing around to the museum.
Classic Flyers CEO Andrew Gormlie and fellow pilot Roger Van der Zanden will then fly the artworks on to Gisborne on Sunday in a Harvard.
At each stop on their journey, hand-knitted poppies and stars from local knitters will be added to the giant poppy and star masterpieces, with local communities and schools joining in the fun before they are flown on to the next location.
Dubbed The Poppy Flight Project, the mission is to raise funds for the RSA, NZ Warbirds Association and The Starship Foundation.
The packed day of events runs from 11am-1.30pm and includes a dance showcase by KJ Studios, fire engine rides, lots of kids' learning activities and plenty of fun, with entry by gold coin donation.
There will be five performances from the KJ Studios dancers, and Ultimate Sounds DJ Bob will also entertain the crowds.
"Our senior jazz troupe, Vixen, will be performing," says Kelsey Andrew from KJ Studios. "It is their last year of dancing. We've also got Kit, which is our four-to-six year olds, then our hip hop group Artic. Next will be Swift, our junior jazz crew, then John Tetley-Jones and Tazmyn Newman will perform something self-choreographed specifically for this event."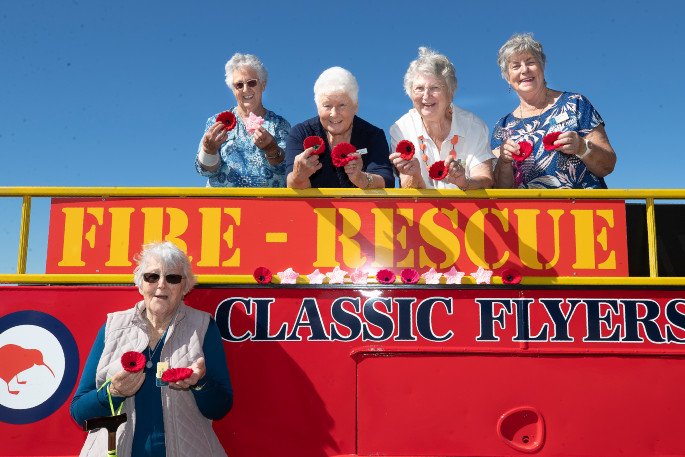 Sylvia McGrath, Heather Pearce, Elaine Paterson, Cecily Williams and Lorraine Hart from Bayswater have knitted poppies and stars to be added to the artworks.
The day will also feature a group of five knitters from Bayswater Village, who have been knitting poppies and stars for the artworks.
"We've been patiently waiting to do this since last year," says Elaine Paterson from Bayswater Village.
The knitters have produced around 100 red, black and white poppies, as well as pink stars, and will be adding them to the artworks, with the poppies supporting the RSA and the stars supporting Starship.
It is the brainchild of travel broker Melanie Salisbury, who plans and escorts aviation tours through her business Aviation Tours NZ. The giant poppy and star will be flown around New Zealand for four weeks in the lead up to ANZAC Day 2021.
"Our project got shut down last year," says Melanie. "The knitters have been knitting poppies for a long time now. It was originally planned for the lead up to ANZAC Day 2020, but was cancelled the week before departure due to lockdown. So the project was moved forward to ANZAC Day 2021."
Melanie is passionate about the reasons behind the project.
"It's about bringing together remembrance and hope for the future," she says.
"It will encourage our children to remember those who fought for our freedom, many of whom paid the ultimate price, and encourage them to think about returned service men and women who need our help and support now.
"It will also encourage them to think about and support children and their families who are dealing with illness and challenges we can only imagine.
"Everyone who fought for our freedom did so for our children, and we need to give everyone the best chance we can. The Starship Foundation can do that.
"Our collective fundraising will help the RSA and the Starship Foundation continue to provide the care needed in many areas. The Poppy Flight will also help to keep our aviation history alive through the NZ Warbirds Association, without whom the flight would not be possible."
The public, including schools and local RSAs, are invited to attend the event. The finished poppy and star will be presented to the charities, along with donations, on ANZAC Day 2021.
More information about The Poppy Flight Project can be found at: www.poppyflight.co.nz
More on SunLive...