Japan and Tauranga celebrate 50 years of racing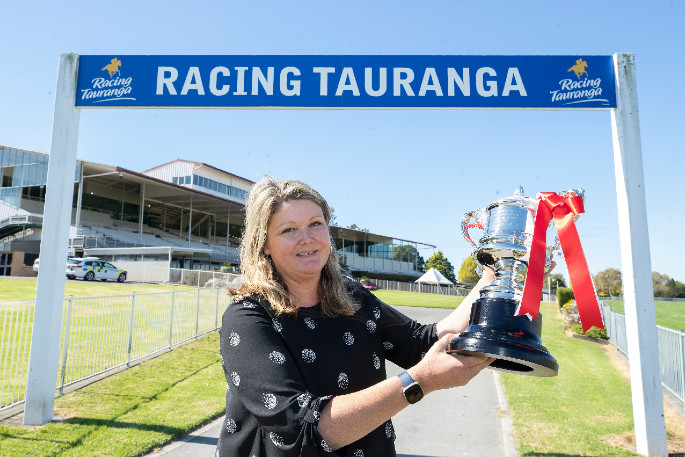 The Ambassador of Japan, H.E. Mr Koichi Ito, will present the Japan Trophy on the race's 50th anniversary at Tauranga Racecourse on Saturday.
His Excellency has been invited by Racing Tauranga and will be accompanied by Mr Yohei Fujitani, chief of the economic section at the Embassy of Japan in New Zealand.
"Before Covid, representatives from the Japan Racing Association would travel to Tauranga with the large silver trophy to present to the race winner," says Racing Tauranga general manager Louise Dean.
"In exchange, Racing Tauranga would present the JRA with a trophy for the winner of their race at Nakayama.
"Last year and this year, the trophy has been sent from Japan. This year is the 50th trophy the club has received; each one is identical."
Originally called the Japan/Bay of Plenty International, some of the very best have triumphed since Spectre, ridden by Melbourne Cup-winning jockey Ron Taylor, won the inaugural race in 1971.
The Group 2 Ultimate Mazda Japan Trophy - the longest-running and highest-profile race at the Tauranga Racecourse - is run over 1600 metres, for a stake of $100,000.
The seed for the Japan/Bay of Plenty International was sown when Bay of Plenty Racing Club president Bob Silson first travelled to Japan in 1966. The trip's primary focus was to explore the possibilities of meat exports to Japan, but a secondary mission was to investigate a computerised totalisator system.
While the Japanese tote system never got off the ground in New Zealand, a strong relationship was formed between the two countries' racing fraternities, resulting in the Japan/New Zealand Trophy. Later discussions with the Japan Racing Association resulted in an inaugural reciprocal race run at Nakayama racecourse. The New Zealand Trophy race is held at Nakayama Racecourse in April each year.
On Saturday, the Tauranga Intermediate Te Whanau o Te Maro Hauhake group will perform a powhiri for the Ambassador, and Millie Beech, a 13-year-old student from Otumoetai College, will sing both the Japanese and New Zealand national anthems.
"We are very honoured to have a strong and enduring relationship like this, and our friends in Japan are understandably disappointed that they cannot make it to this year's historic race," says Louise.
"Likewise, our delegates are unable to travel to Nakayama to present the New Zealand Trophy in April."
The Tauranga Crossing Fashions in the Field competition will also run on Saturday, with more than $6000 in prizes. Entries are taken on the day and categories are Tauranga Crossing Classic Racewear, Tauranga Crossing Contemporary Racegoer, Tauranga Crossing Best Dressed Man, the Bernina Design Award, which is open to all amateur designers, the Belinda Green Millinery Outstanding Headwear Award, and the Tauranga Crossing Supreme Winner.
The first race will be held at 12:23pm on Saturday, March 27, with the Japan Trophy Race at 3:20pm. Admission is free.
More on SunLive...