Waka Kotahi to spend large on road safety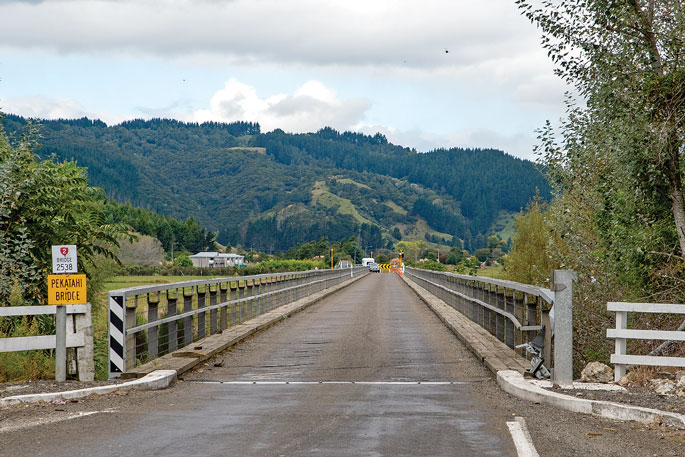 Waka Kotahi will be spending some big money to improve safety on several dangerous roads around the Eastern Bay – including $26 million between Wainui Road and Opotiki.
Three Waka Kotahi New Zealand Transport Agency regional managers presented to Whakatane District Council yesterday about the various safety measures they will be undertaking to prevent crashes and potential deaths on roads in the region.
These include several stages of works on State Highway 2 between Opotiki and Wainui Road, including a roundabout at the dodgy intersection of the two roads.
The agency is also looking at upgrading the Pekatahi Bridge near Taneatua, constructing a new shared path underneath the Whakatane Bridge, a new open/close sign for the Waimana Gorge and new speed limits on key roads.
Senior network manager Melissa Clare says the first section of the state highway between Wainui Road intersection and Opotiki to be upgraded, will be between Wainui and Waiotahe Valley Back Road, at a cost of $7.6 million.
She says the next sections would be Waiotahe Valley Back Road to Appleton Road, Appleton Road to Woodlands Road and then the roundabout at the Wainui Road state highway intersection.
Clare says the agency will also be upgrading the Pekatahi Bridge and she expects it will be closed for two days in the next three weeks for this to happen.
She expects the entire bridge will be replaced in the next 10 years.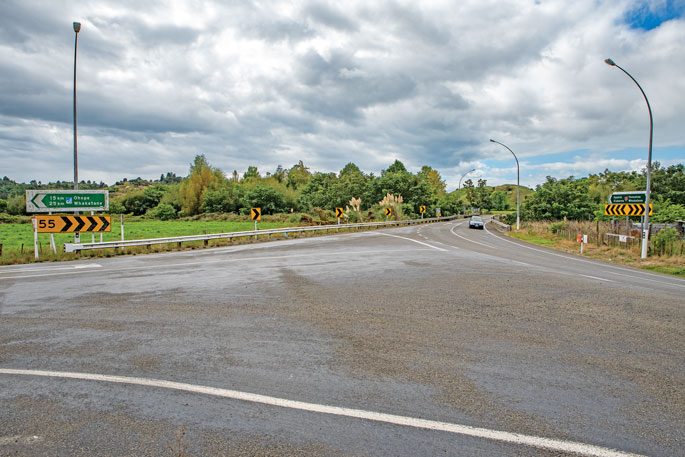 This intersection at Wainui Road and State Highway 2 is earmarked to have a roundabout constructed. TROY BAKER/ WHAKATANE BEACON.
Several of the wooden planks on the bridge are broken or missing and Clare says those in good condition needed to be screwed down tight again.
The seal over the wooden boards of the bridge was also "rough and patchy," says Clare, but it is "doing what it needs to".
Deputy Mayor Andrew Iles says kiwifruit being transported from the coast is often damaged as trucks "clip cross" across the bridge.
He expects the replacement of the bridge will be done with plenty of notification and in consultation with Tuhoe.
The agency also expects to have built a new 2.5-metre-wide shared use path underneath the northern (Hub) end of the Whakatane Bridge by the end of August.
Clare says directional arrows will be painted on the bridge pedestrian and cycle lane, and it will be expected these users will move in the same direction as traffic.
They could then use the path underneath the bridge to move safely to the other side of the road.
"This will prevent conflict amongst users like mums with prams and people on bicycles," she says.
The possible new speed limits on roads surrounding Whakatane caused the biggest debate in the council chambers.
Speed management project manager Tim Kidd says the agency is looking at possible new speed limits on the state highway between Whakatane and Awakeri, SH2 from the Tauranga toll road, and SH30 between Tiketere and Awakeri.
He says the state highway between Whakatane and Awakeri is a prioritised corridor nationally.
Councillor Gavin Dennis says the Eastern Bay Road Safety Committee asked for the speed limit for that section of road to be reduced from 100kmh to 80kmh over a year ago and he was disappointed action had taken this long.
"Since then, we have had a death on that road, which may or may not be related to speed," he says.
"We have several busy intersections coming off that road including Huna, Thornton, Mill and Shaw."
Dennis is the Matata Volunteer Fire Bridge chief and is often first on the scene to serious crashes.
He says he, with the Te Teko and Matata communities, had written letters to Waka Kotahi asking for traffic calming measures as people would often speed through these small towns.
Clare says the issue with these towns was that they often presented as rural to motorists and it needed to be more obvious there were pedestrians in this area.
She says it's something Waka Kotahi could investigate.

More on SunLive...