Calls to stop bagging Tauranga city centre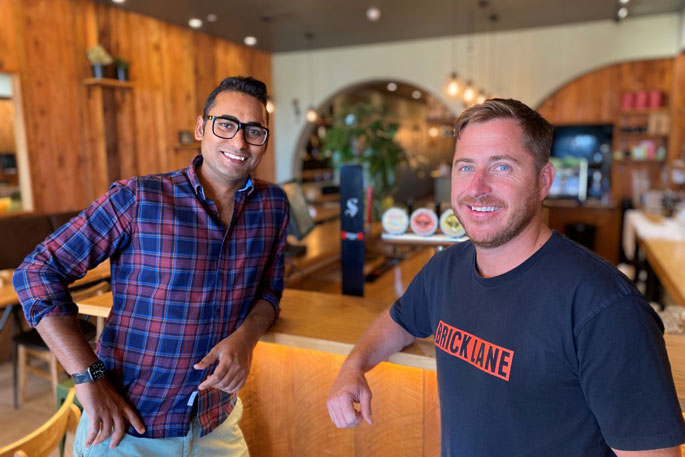 Tauranga restauranteur Billy Emeny is proof of the growing confidence in Tauranga's city centre with his latest new joint venture.
Billy and business partner Moh Sawroop have opened Norris & Bell on The Strand, and Billy says they're proud to be adding to the unique offerings in the CBD.
"I've been a restauranteur in the city centre for several years. I love it. I believe in it and I get sick of people bagging it.
"We have some of the best dining options in the region and tonight we've just added to the mix with our latest venture."
With a beautifully crafted interior fitout, Norris & Bell is appealing to those looking for a stunning spot to catch up with friends for a drink or for a top-level dining experience.
It will be the first wood fired eatery in the city centre that focusses on meat and seafood.
"We wanted to do something unique. Often people think pizza's when they hear a restaurant is offering wood fired flavour," says Moh.
"We wanted to do something unique so instead we have created a new dining experience featuring selected steak cuts, oysters, prawns … a beautiful combination of meats, seafoods and vegetarian offerings."
Both Billy and Moh are no newcomers to the restaurant business.
Billy owns CBK Craft Bar & Kitchen Tauranga and Moh owns CBK and Leonardo's, both on Eat Street in Rotorua.
Both are strong believers in the Tauranga CBD and Billy says it's time for the public to take a fresh look at the city centre.
"There are a heap of business owners here, like me, who are immensely proud of what we do.
"There are exclusive shopping options and great dining experiences. Yep, there's a lot of transformation going on and we have a lot of vacancies.
"Covid hasn't exactly helped either.
"But we just want to continue to create unique experiences for people who come to the city centre so that they have a great time."
Billy has a simple final message that he wants to share with the community.
"You can find fault with anything if you look hard enough. But hey we're hard-working business owners who believe in this city centre," says Billy.
"We've got stuff in the city centre that you can't get anywhere else and in the hospitality sector I get to work alongside some of the most incredible restaurants."
Moh agrees.
"When you stop and think about it we have better and more dining options in the CBD than anywhere else in the region," says Moh
"We're pretty proud of that and excited for the future…so come and join us, you might just have some fun."
More on SunLive...