One million milestone for Memorial Park Railway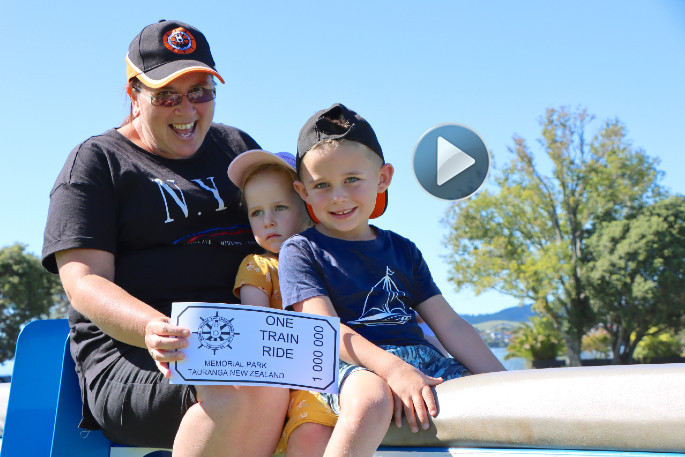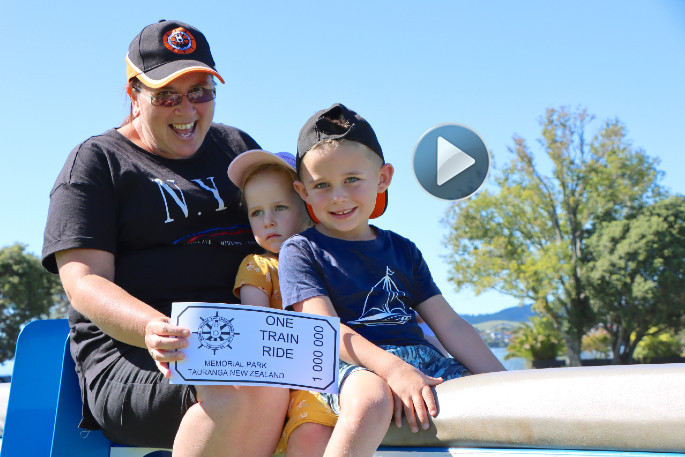 Click the image above to watch the video
It came as a complete shock to Sheree Davy when she found herself and her grandchildren the centre of attention on Sunday.
Unbeknown to her, club members at the Memorial Park Railway ticket office had been excitedly waiting for the one millionth passenger to turn up.
"It was so unexpected," says Sheree. "I had no clue that was going on."
Sheree, from Papamoa, had her two grandchildren, three-year-old Aliyah Davy and four-year-old Rylan Davy, staying for the weekend, and decided to take them to Memorial Park.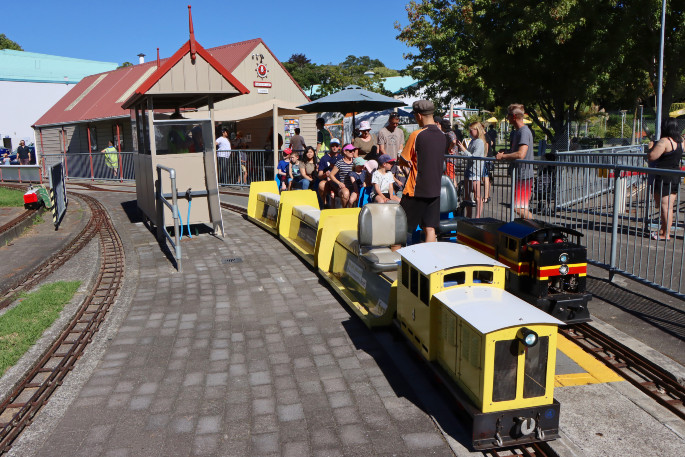 Palmerville Station was named after Harry Palmer, a former GP and dental surgeon, who built a steam locomotive and a steam traction engine, and regularly took children for rides. Harry died in 1988. Photo: Daniel Hines.
"The kids wanted to go there and play," explains Sheree. "We drove around and saw that the trains were running so decided to cruise over there.
"I had a concession ticket for TECT customers that I'd purchased some time ago, so I went to see if I could still use it. There was just this one lady ahead of us buying a ticket, so we thought we may as well get on a train as there wasn't much of a wait."
She noticed quite a lot of people in the ticketing office but still didn't realise a historical moment was unfolding around her.
"After we got to the window, I looked behind me and there were loads of people. I said sorry because we were holding everyone up, but I was still not aware there was something happening."
A club member then apologised to the crowd for the delay.
"He then said: 'and the lucky winner is…' and he pointed me out. It was such a shock."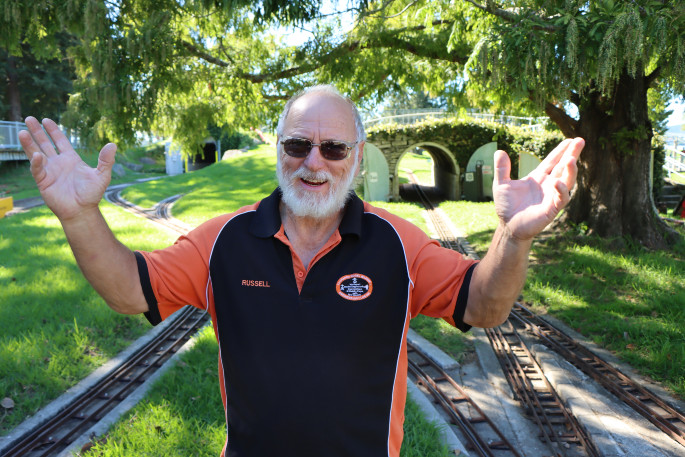 Club member Russell Prout says the club has been counting down to the one millionth ride since last year. Photo: Daniel Hines.
The Tauranga Model and Marine Engineering Club has been running rides at the Memorial Park railway for more than 40 years. Leaving from Palmerville Station, trains come and go on Sundays, circling around between the trees, through the tunnels and across the viaduct.
"It was an exciting moment," says club member and past president Russell Prout about the one millionth ride. "We've been counting down since the middle of last year. We put a note around club members saying that sometime on Sunday we'd hit the milestone."
The club was first started in 1979 by the combining of two clubs, the Tauranga Model Marine Club established in 1974 and the Tauranga Model Engineering Club established in 1976.
In July 1979 a meeting was held with Tauranga Model Marine Club and the Tauranga Model Engineering Club, which was a group of people who had recently completed the overhaul of a steam locomotive for the Tauranga Historic Village and decided to build model steam locomotives.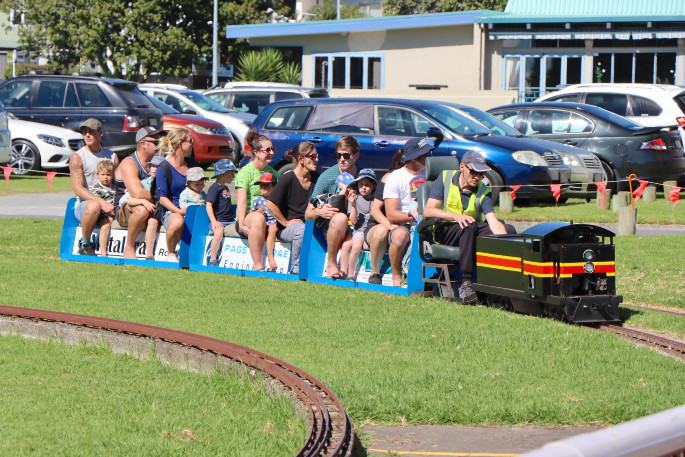 Riding the trains is a perfect outing for parents with young toddlers. Photo: Daniel Hines.
By Christmas 1983 the club had moved to Memorial Park, Tauranga.
This move enabled the building of more permanent facilities and with the help of the Lions Club, by 1984, 254 metres of 2- 1/2", 3-1/2" and 5"' gauge raised track was completed. The same year the first club locomotive was completed as a club project. It was an 0-6-0 loco, based on a NZR DSA class loco, powered by a 50cc Honda motor cycle engine. This locomotive was named Pioneer.
The need for a permanent base was soon evident. By the end of 1987 a station building was erected. In 1989 saw the first tunnel was constructed across the raised track. In 1991 the first ground level 7-1/4" and 5" track started. This was completed and opened in 1992 by then Mayor, Noel Pope who went on to become the club's patron. A second tunnel was built with the new track and landscaping over the tunnels was completed.
During 1994 the club put in a submission to hold the International Model Engineering Convention in January 1998. This was accepted and by 1996 a track extension of 330 metres running completely around the existing two tracks was proposed. The council gave it's approval and by June the extension was completed. Preparations for the 1998 Expo were well underway.
The International Model Engineering Convention was a huge event with visitors from all over the country and other parts of the world. Displays were set up around the station area with traction engines and stationary engines as well as an extensive display of modelling of various kinds, in the QE2 hall close by. The public were able to ride behind some of the finest examples of miniature steam and other motive power locomotives seen in New Zealand. The convention was over five days and proved a great success for Tauranga.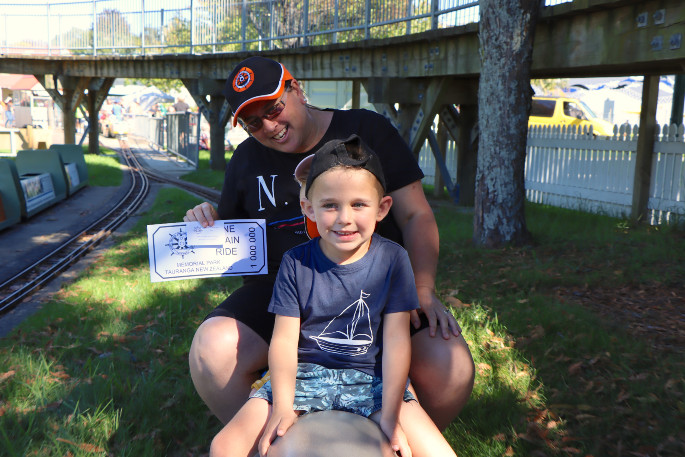 Sheree Davy with her grandchildren Aliyah Davy, age 3, and Rylan Davy, age 4, enjoying the one millionth ride through the tunnels and over the viaduct at Memorial Park. Photo: Daniel Hines.
The 25th year of the club was held in 2004 with appropriate celebrations held in conjunction with the annual open weekend in November. Again visitors from other clubs with their locomotives joined to celebrate the occasion.
On Sunday June 2, 2014 the milestone of 750000 rides was achieved. All eyes were now on the one millionth ride sometime in the future. This day finally dawned on Sunday March 14, 2021.
Smiling volunteers wearing bright yellow hi-viz vests and working as conductors, drivers, ticket sellers and safety maintainers turned up for the historical event.
"We've been averaging 25,000 customers per year, but it's been a lot stronger in the last 10 years," says Russell. "Pre-Covid it wasn't unusual to have 1000-1100 rides a day. This last Sunday were we up around the 900s."
in 2019, the Tauranga Model and Marine Engineering Club celebrated their 40th year with a range of activities and events, and hundreds of people wrapped up in their winter woollies to catch a twilight steam train from Palmerville Station.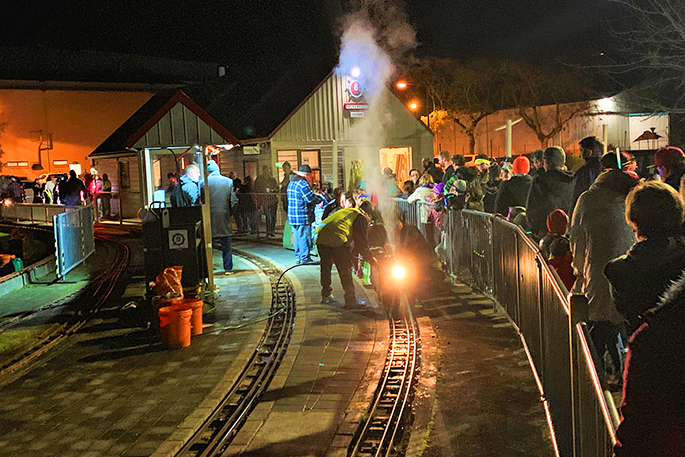 Taking a steam train ride at night has proved very popular at Tauranga Model and Marine Engineering Club's Palmerville Station. Photo: Rosalie Liddle Crawford.
The whole ride takes more than six minutes and can take nine minutes depending on who is driving.
The railway and station at Memorial Park is much loved by the Tauranga public. In 2015, the club won first place in the Tauranga Santa Parade for their outstanding floats and in 2016, the club won the 2016 Trustpower Supreme Award for community groups.
Weather permitting, the club usually runs every Sunday from 10am-4pm in summer, and 10am-3pm in winter.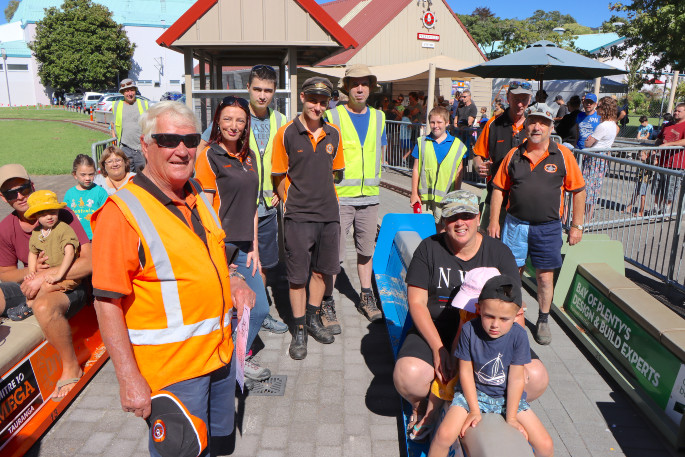 Tauranga Model and Marine Engineering Club volunteers celebrating the one millionth ride at Palmersville Station, Memorial Park. Photo: Daniel Hines.
More on SunLive...