St John & ASB honour schoolboy with bravery award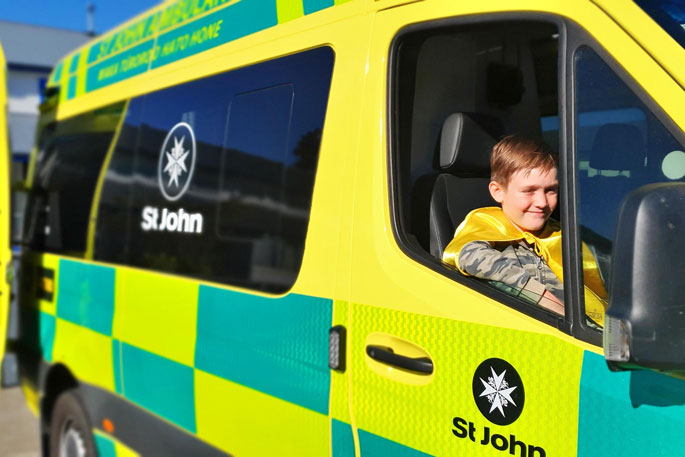 A Bay of Plenty schoolboy has been honoured for his bravery and quick thinking when he helped his grandmother who suffered a stroke at home.
Year four Otakiri School student Jaeden Priestley was presented with an ASB Super Saver Bravery Award in front of his peers on Friday.
The award was presented by St John ambulance officers Karina Ashby and Dave Porter and ASB Whakatane Branch Manager, Tim Newby, in recognition Jaeden's courage during the emergency.
The incident occurred on a Friday evening in January, when eight-year-old Jaeden Priestley was home with his grandmother while his parents were out for a date night. His grandma collapsed suddenly and was unresponsive. Although still breathing, she was unable to move or speak. Unbeknown to him at the time, she had suffered a stroke – a time critical medical emergency, with only a 90-minute window to get her the right care.
Located in a rural property near Lake Rotoma, without neighbours nearby to call for help, Jaeden quickly phoned 111 for an ambulance. In a show of initiative, he picked up the landline rather than his grandma's mobile phone – which would not have worked given a lack of reception. In what was a terrifying circumstance for anyone, he bravely and calmly answered the St John emergency call handler's questions over the phone and when he was unsure of the property number, he raced outside to the letterbox to confirm.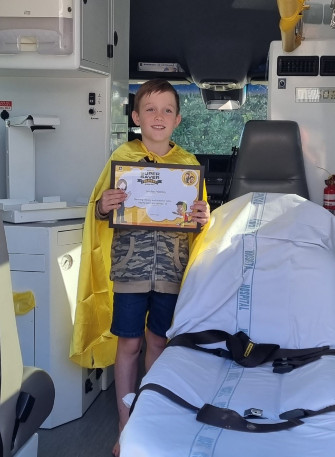 Jaeden Priestley called 111 for an ambulance when his grandma suffered a stroke. Photo: Supplied.
Jaeden gave the emergency call handler a detailed description of the property including the colours of the house and roof. But it was his description of the family's letterbox that helped St John ambulance officers Karina Ashby and Dave Porter identify the correct address.
"The notes we were given said the mailbox was shaped like a turkey. When we saw it, we knew it must be the right place," says Karina Ashby. "When we got the call out, I was looking at the notes coming through from the emergency call handler, and we were blown away.
"Jaeden had called 111 after recognising his grandma wasn't well and wasn't just asleep. The biggest thing was the bravery that he showed. His instructions for locating the property was a relief for us and meant we were able to be hopeful for his grandma, knowing we could save time not having to search for the house."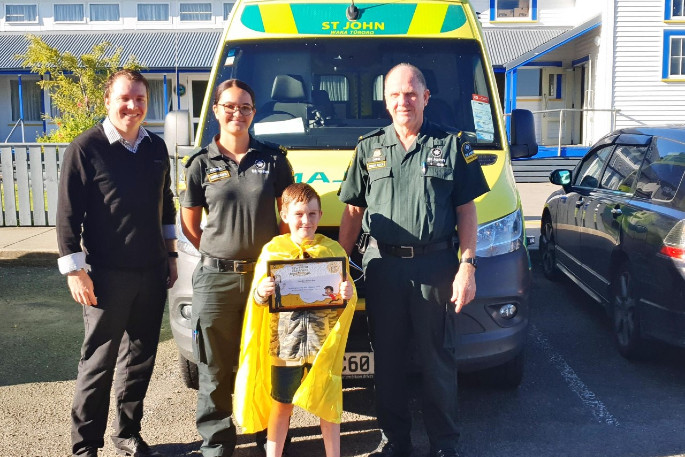 Tim Newby - ASB, Karina Ashby - St John, Jaeden Priestley, Dave Porter - St John. Photo: Supplied.
As they arrived on scene, Jaeden met the ambulance crew at the door.
"He was cool, calm and collected," recalls Karina Ashby. "He stayed out of the room but he helped us to grab things we needed and he found phone numbers to let his mum and dad know we were going to the hospital."
"Jaeden exemplified bravery and maturity beyond his years," says Karina.
"Not only did he put the dog away, he wrote a note for his parents before departing the house, switched off the lights, locked the door, and left the key somewhere safe for his parents to find. Jaeden's valiant and swift call for an ambulance ensured his grandma was transported to hospital in a timely manner."
"I was in disbelief when I discovered what Jaeden did. He didn't just call 111, he went into a full description of where we lived," says Jaeden's mum, Natasha Priestley.
"Then to see him on our security cameras keeping cool, calm and collected at eight-years-old.
He is a caring boy who loves his granna so much and showed strength, courage and bravery during such a shocking and scary event. He was alone to sort help in a rural area without neighbours nearby to run to. We are proud of him beyond words! He gave me time with my mum which I will be forever thankful for."
St John Head of Community Education, Jacci Tatnell says Jaeden is an example of how tamariki from a very young age can play an important role in building resilient communities and helping people to live stronger, healthier lives.
"This is why every child in Aotearoa should learn first aid, and why we are committed to delivering our ASB St John in Schools programme to tamariki throughout the country, to equip them with the skills and confidence to take action in an emergency," says Jacci.
"Every month our Ambulance Communications centres can receive as much as 50 111 emergency calls from children who are often calling in traumatic circumstances where a loved one has fallen or is unconscious, and there are no other adults in the house."
To date, more than 800,000 students have completed the ASB St John in Schools programme since 2015. With support from ACC, the common goal is to deliver to a total of one million New Zealand students (pre-school through to intermediate) by 2023.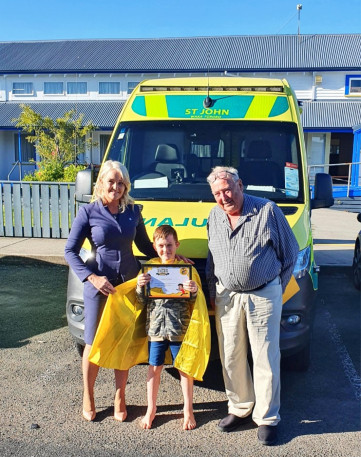 Jaeden Priestley with his mother Natasha Priestley, and grandad Roger Phillips. Photo: Supplied.
About ASB St John in Schools:
The ASB St John in Schools programme provides pre-school and school-aged children with the skills and confidence to take action in response to an emergency situation.
St John community educators teach young people first aid basics and knowledge to take responsibility for their own health and wellbeing, along with those around them.
Different skills are taught to different age groups, with four modules offered: Responding in an emergency, Keeping safe, Clued up camper, and Weaving wellbeing.
For more information, visit https://www.stjohn.org.nz/what-we-do/community-programmes/asbst-john-in-schools-programme/
More on SunLive...