A melon in a million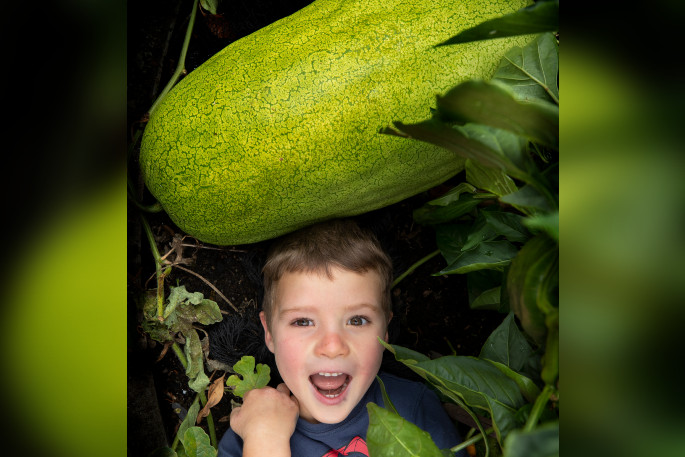 A four-year-old with a fascination for all things green has grown a watermelon that is nearly as long as he is tall.
Liam Olsen's watermelon is 74cm long with a 64cm circumference. He currently gets out in the family veggie patch every day to check on it; and grab some raspberries while he's there.
Mum Sarah says he's an avid gardener. He goes out every morning to collect fallen avocados from the tree and loves gardening with his poppa.
The giant melon has been growing since November, and the secret to getting it so big is plenty of poppa's homemade compost.
Liam is looking forward to feasting on it with his friends at his fifth birthday party on March 28.
Sarah jokes: "We'd rather have lots of smaller watermelons, because the sheer size of this one isn't very practical. It will only fit in the fridge if we empty it out."
Although Liam's watermelon isn't quite a large as the current world record of 159kg, it's yet to be weighed and they are keen to know how heavy it is.
The family grows all of their own organic fruit and vegetables at their Tauriko property. "The only produce we buy is bananas," adds Sarah.
She also sells a lot of what they grow to the Tauranga Co-op each week as well.
Liam's nana, Heather Jones, says they're lucky to have the space to grow everything themselves and admits it's great that he's so keen on gardening.
"Fostering that interest at this age has got to be good," says Heather. "We don't know how lucky we are really."
Liam's been gardening since he was in nappies and his mum would often take him out to crawl around while she tended the beds.
"He's always been an outside kid," says Sarah.
At three he'd fetch carrots and other veggies from the garden for the family meals.
Liam doesn't only have green fingers - he's also interested in creepy crawlies and rushes off from the garden to show us the jar of cicada shells he's collected.
It's one of his many jars, and he also loves finding worms to feed to the chickens.
Sarah and Liam are planting their winter crops of cauliflower, broccoli and cabbage at the moment, and at this stage they don't have any plans to try and grow the biggest brassica.
More on SunLive...