Pickleball taking off in Tauranga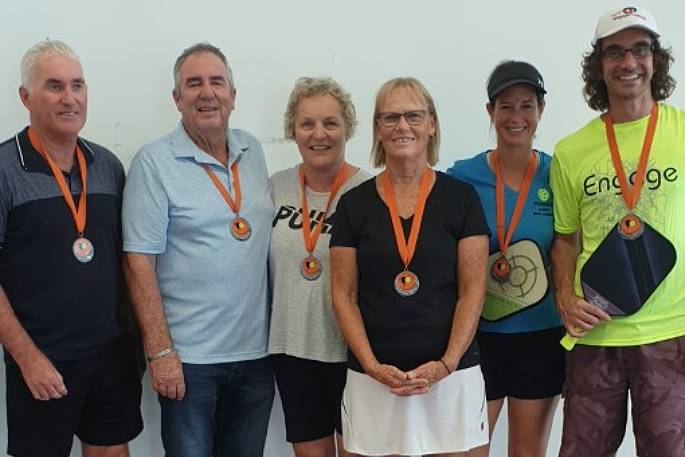 Mount Pickleball Club players have been the surprise package of their first outside tournament, bringing home five medals from Auckland.
The club's only being going 18 months, but at the Te Pai Pickleball Open members made light of their inexperience.
Steve Brennan and Alan Russell powered their way through to finish runners-up in the Super Men's Division, while Sue Wild and Gay Blythe also finished runners-up in the Super Women's Division.
Completing the medal haul was Paul Cubitt, one of only two recognised pickleball coaches in New Zealand.
Paul and his partner from Kerikeri were runners-up in the Open Mixed Division.
More than 60 players from around the North Island competed at the event, which was one of a growing number of pickleball competitions throughout the country.
Pickleball is now being played three times a week in Tauranga, at the Mount Sports Centre, Baypark and at the Queen Elizabeth Youth Centre.
Inaugural President of the Mount Pickleball Club, Bob Smith, says the sport has taken off.
"We started with just six players. A year and a half later we have nearly 70 people on our books – and it's getting bigger all the time", he says.
"We're even starting to get enquiries from schools, so look out for a whole new generation of pickleball addicts."
Anyone wanting to try one of the country's fastest growing sports can contact Bob at 0274786282, or just check out the Mount Pickleball Club's Facebook page for details.
More on SunLive...