Marine Parade boardwalk extension to be examined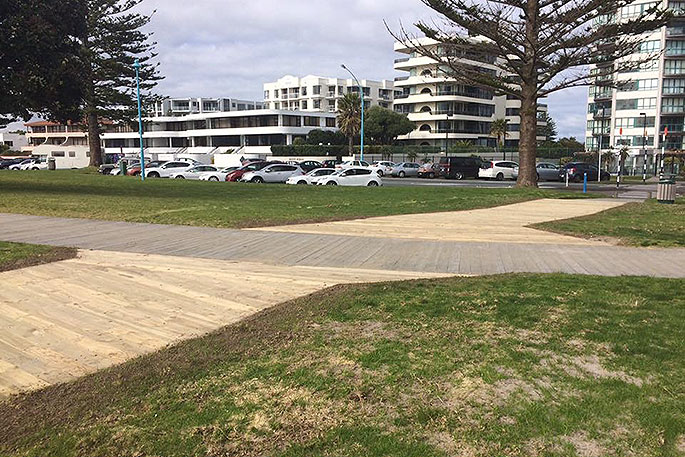 The feasibility of an extension to the Marine Parade boardwalk, from the cenotaph to the Oceanbeach Road roundabout, will be investigated.
This comes as Tauranga City Council agreed to adopt the recommendation at its meeting on Monday morning.
The boardwalk option was adopted as an alternative to 'Innovating Streets at the Mount', a community project funded by Waka Kotahi to make streets more people friendly.
In relation to the community engagement process last year, Tauranga City Council urban designer Guy Protheroe says it's great to get the community involved.
"I guess we were keen to work with our community in a different way and give it a go, which is why we did the co-design process and I think that delivered a pretty good outcome."
Funding for the boardwalk is not available through the Waka Kotahi innovating streets project because it does not meet the criteria.
Council decided not to go ahead with the trial for a temporary shared path and altered traffic arrangements for the section of marine parade from Pacific Avenue through to the Tay Street intersection.
Waka Kotahi NZ Transport Agency announced the Innovating Streets for People Pilot Fund in April 2020 and invited councils throughout New Zealand to apply for part of the $7m that was initially made available.
The maximum any project would be funded was $1m.
Four trial areas were submitted to Waka Kotahi for consideration.
These four areas were endorsed by resolution at the May 5, 2020, council meeting.
The areas were the areas are The Mall, Marine Parade between Adams Avenue and Banks Avenue, Marine Parade between Banks Avenue and Tay Street and Banks Avenue and Salisbury Avenue.
The option of extending the boardwalk will be included in the draft Long Term Plan, which will be open for public consideration in May.
More on SunLive...