Tree causes carpark chaos at Te Puna store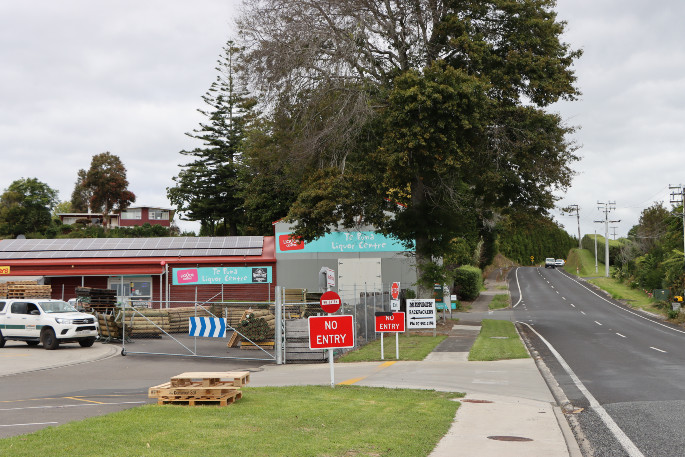 A well-established pin oak tree is causing confusion at a carpark in Te Puna.
The tree is blocking the entry sign to Farmlands Te Puna, and the Western Bay of Plenty District Council and Farmlands can't agree on what should be done.
As a result of the blockage, people are entering the store carpark via its exit, which then leads to the carpark being clogged up as drivers attempt to turnaround.
Farmlands employee Gabriel Fisher says they get a lot of people coming through the exit.
"We're getting quite annoyed with it. We tell them off if we notice it… I had a customer the other day that didn't know where to come in.
"It's annoying because it clogs up the carpark. They have to do a weird manoeuvre and end up taking up two parks.
He says the problem happens at least three times a day.
But customers say they do it because they don't know where the entry is.
Farmlands Northern General Manager Waynne Dodunski says they will investigate whether there is a way to make the sign more visible.
"While the 'No Entry' signs have been a good deterrent to stop people arriving at Farmlands through this access point, we want anyone – staff, shareholders and customers alike – to be safe when they visit us."
He says they had previously identified the benefits of removing the tree when they made changes to the site a few years ago and while they were able to lift the crown of the tree, they were unable to come to an agreement with council on its removal.
"Farmlands does not own the land the tree and sign in question are located on. The size of the sign was as large as was permitted given it is not located on our property.
Western Bay of Plenty District Council's Roading Engineer (West), Ashley Hall, says it's not council's policy to cut a road side tree down, to accommodate commercial roadside signage.
"Council appreciates roadside signage installed within the roading corridor maximises exposure, however, it is Farmlands responsibility to relocate the sign to a more appropriate location."
Hall says the tree is well-established and was planted prior to Farmlands' entrance and sign being installed.
More on SunLive...