Parents raise Links Ave safety concerns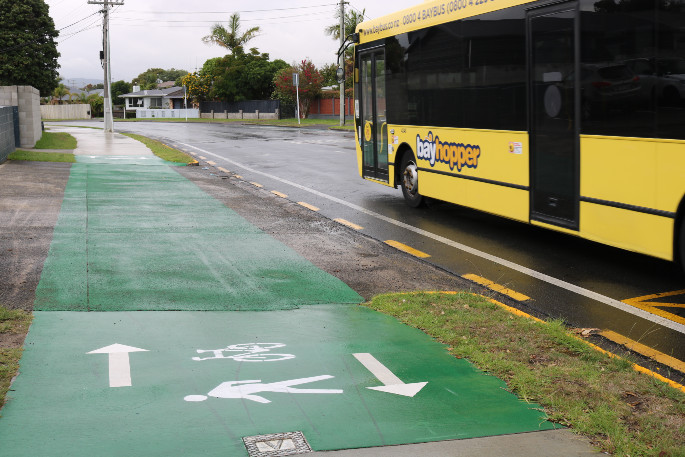 A group of parents are raising concerns with Tauranga City Council for the third time about safety on Links Ave.
James Petterson, Michael Dance and Karen Laidlaw are presenting a petition claiming the road is too narrow.
Karen says it's frustrating to be in this position for a third time and being unsure if anything will change.
"We need to find a way for segregation, there's no room for error."
She says she sees near misses most days she uses it.
"In the past they've painted road markings on the roads, but she says but she says a visual barrier is not enough.
The group are hopeful that with the commissioners now in place, they will look at it with a fresh pair of eyes.
According to the NZTA guidelines, a road to footpath separation should be 150cm, but on Links Ave it is only 30- 60cm.
Jason Rendle, whose 11-year-old daughter was knocked into a bus on Links Ave, says there needs to be a barrier.
The road is so narrow that his daughter Ruby was riding her bike when her handlebars hit another bike. She went over the handle bars and hit her head on a passing bus, while her bike slid underneath it.
"If she'd been two seconds later she would have been run over."
But he wants to make it clear it is not the buses fault.
"The whole school comes through one gate. There's nothing to stop the kids coming out onto the road."
He says he wasn't aware of the issue until it happened to his own daughter, and it was disappointing to hear it had been going on a while.
"We'll end up having to fundraise something illegal that the council will tear down. It doesn't feel like they've listened."
In a report by Tauranga City Council in 2019, council identified a "heightened risk of collision if users leave the path".
Despite this, a city-wide review of speed limits in 2020 made no recommendation to lower limits on the streets around Omanu, Mount Maunganui College or Mount Maunganui Intermediate.
While presenting the petition at last week's council meeting, commission chair Anne Tolley said the council had already conducted an independent assessment.
In addition to installing a barrier, other solutions the community are suggesting are the bus lane to be removed, re-direct heavy vehicles onto wider roads, reducing the number of buses on Links Ave, and reducing the school hour speed limit to 30kph.
More on SunLive...