Blackcaps star's 5 wicket haul in Greerton clash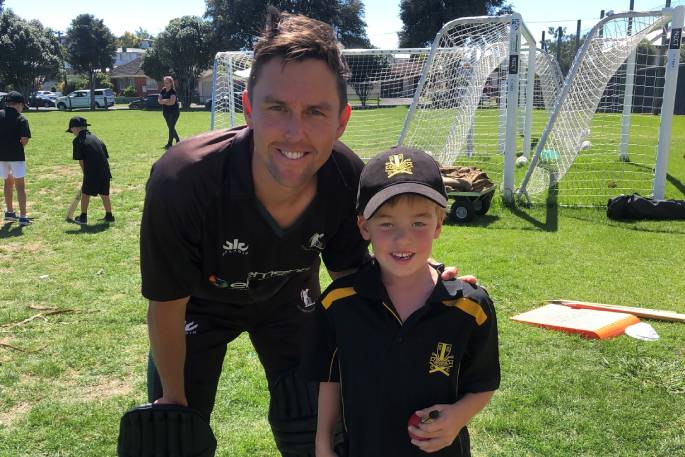 Those in attendance at Pemberton Park at the weekend were rewarded as a current Blackcaps star put on an exhibition of bowling prowess in the Greerton sunshine.
Trent Boult turned out for Element IMF Cadets cricket club against the previously unbeaten Eves Realty Greerton side, duly helping his club to an upset win in the Versatile Tauranga Williams Cup.
Trent took five wickets for just 38 runs as Greerton were skittled for 109 after brother Jono Boult had previously top-scored with 47 runs in Cadets' 182.
Trent was enjoying time out from his busy Blackcaps schedule to play some club cricket, something brother Jono says is roughly an annual occurrence.
"He normally plays once a year," says Jono.
"Which is good. Most guys in the Blackcaps don't want to play club cricket but he likes to come back and play. It is where he learnt his trade you might say and made him what he is today I guess, playing for Cadets. He likes to give back by playing when he can."
Dave Kawan's son Toby was at the game with his grandparents.
The six-year-old plays junior cricket on Saturday mornings for the Greerton Kobras and Trent was more than happy to pose for a photo.
"The Greerton bank was full of spectators with Trent signing the kids bats and hats," says Dave.
But it was not just the youngsters watching on that were hopefully inspired. As Jono points out, Trent mucking in with his old club shows the talented players in the Cadets line-up what it takes to become a first-class cricketer.
"It is good for the young guys in the team to get to play with a world-class cricketer and see what it takes to be that sort of thing," says Jono. "It was good. Just a shame we can't have him for the finals."
Although Jono also made it clear that it is only with the bowl that his little brother has the edge.
"He got five wickets, obviously, so did pretty well. I did alright, not too bad. Couple of wickets and 40 odd runs. He thinks he's a better batter than me, but he's not."
But was everyone happy to see the 31-year-old Northern Districts star in action?
"Everyone in our team was and none of the opposition," Jono jokes.
With the cricket season coming toward its conclusion both Cadets and Greerton are looking for any budding Blackcaps out there to sign up for the 2021/22 season.
Head to otumoetaicadets.org and facebook.com/GreertonCricketClub for more information.
More on SunLive...