Diving into the backyard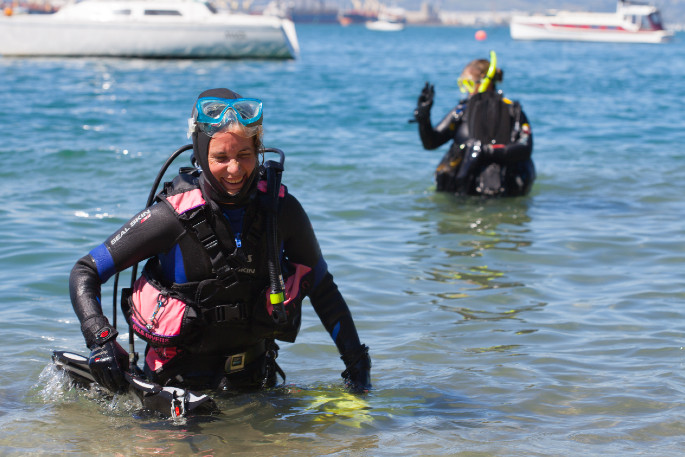 A festival in Pilot Bay next Sunday will have a high fun factor and hopefully a low waste factor.
While divers jump into the harbour to go diving and hunting for any rubbish and waste, back on land there will be free live music and entertainment for those who want to come and help clean up the beach.
"Come and join us for a day on the water's edge and underwater, to thoroughly clean up our harbour," says Envirohub projects manager Liesel Carnie. "There will be kids' games, live music, educational stalls and activities, and entertainment.
"We will be having a beach clean-up happening at the same time as the dive, to clean up the waste that blows into the ocean from our city.
"There will be a sand sculpture competition with a twist for the kids, and we have fantastic prizes up for grabs."
The last harbour clean-up event was held in 2019, as it had to be cancelled last year due to the Covid-19 pandemic. In 2019, divers collected 300kgs of rubbish from Pilot Bay, with debris found including old dive tanks that may have fallen off boats, to coathangers, watches and general household rubbish. Rubbish can come from the local area, or end up in the harbour after being blown or carried across the ocean.
Only qualified divers can participate in the underwater clean-up, and must pre-register with Dive Zone Tauranga via: www.divezonetauranga.co.nz while anyone can come along to the free festival on the beach.
The event is just one of many Sustainable Backyards events planned for March.
As well as beach and reserve clean-ups, there are forums on climate change; workshops on topics like making kombucha, waste free parenting, water quality monitoring and worm farming; tours of backyards, marine life, holistic pet and wildlife care, and learning about trapping.
The Underwater and Land Clean Up Festival will be held from 12–2pm on Sunday, March 21, at Pilot Bay. The event is free. For more information visit: www.envirohub.org.nz
More on SunLive...