Keen kayakers champing to race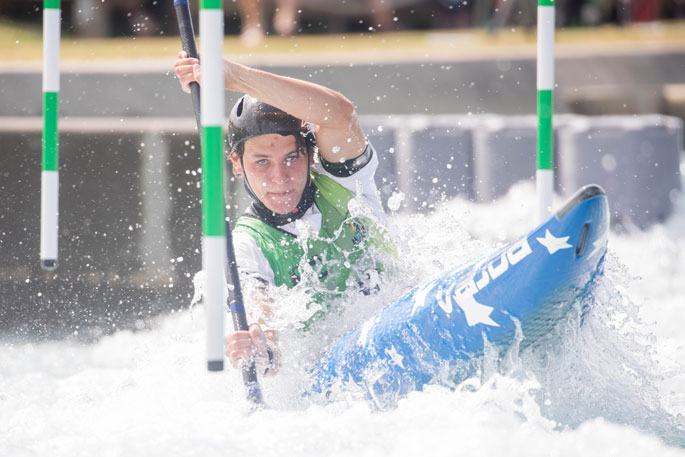 It's been a season unlike any other for New Zealand's top canoe slalom paddlers but Callum Gilbert has no complaints heading into this weekend's Oceania Championships in Auckland.
Two weeks ago, the final day of the New Zealand Open at Manukau's Vector Wero Whitewater Park was cancelled with the sudden Auckland Covid-19 lockdown.
The Kiwi kayaking summer, usually bolstered by an array of Northern Hemisphere paddlers training through their winter, has been hit hard by border restrictions, while there are also lingering doubts on what the rest of the international season will look like.
That hasn't fazed Gilbert, however. The 25-year-old, who qualified for the Tokyo Olympics before the global pandemic last year, has relished just being able to get on the water and is looking forward to lining up with New Zealand's best this weekend.
"it has been tough not having any international competition to get a feel for my progress but we've been pretty lucky to have had so few disruptions, compared to the rest of the world," says Gilbert.
"I feel very fortunate to have been able to train properly for the vast majority of the last year and I'm super-confident that I'm progressing well and pumped to get overseas and compete."
Gilbert got through the qualifying of the New Zealand Open in good shape, fastest in K1 qualifying with a clean 80.06sec time, just 0.16secs ahead of Otago's Finn Butcher, with Rotorua's Zack Mutton third-fastest with an 85.16 effort.
With the finals day cancelled, the qualifying results became the overall standings, with the event doubling as the opening selection event of the season.
The Oceania championships would usually entice Australia's best across the Tasman as well, but the quarantining requirements have prevented that, meaning the event will no longer be counted as an ICF ranking race.
"It will be great to get back on the start line and race under a bit of pressure - it's a shame the Australians can't be here to provide another level of competition but Finn in particular was racing well two weeks' ago and the result was super tight."
Three-time Olympian Luuka Jones will lead the female contenders this weekend, having got rid of some rust a fortnight ago. Jones led qualifying in both the women's K1 and C1, although Auckland's Hannah Thomas pushed her close in the C1 with a 101.61sec time just 0.64secs behind Jones.
Racing starts at 9am on Saturday, though if Auckland remains at Level 2, the course will just be restricted to athletes and officials.
More on SunLive...