Tauranga property market cools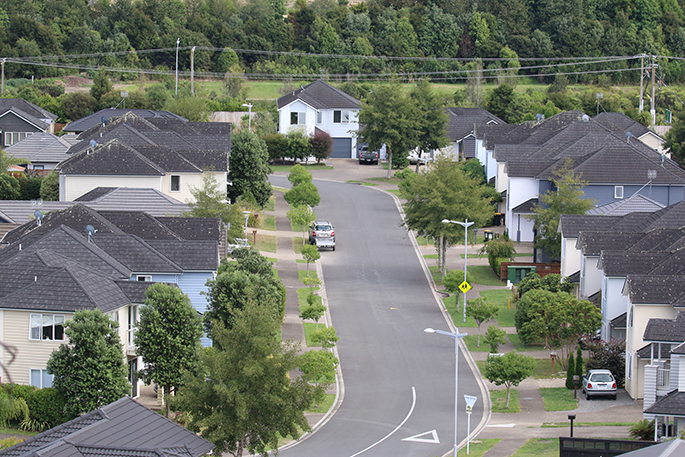 Investors will remain a significant player in the housing market as the LVR speed limits imposed by the Reserve Bank kick in this month.
This is according to the latest release from QV.
The LVR speed limits returned at the start of March, but it might be quite some time before we see these significantly impacting the market.
Most investors are now required to stump up a 30 per cent deposit to grow their portfolio.
Owner occupiers now require a 20 per cent deposit from the start of March.
"With capital gains averaging over 15 per cent for the past 12 months, we're still seeing many investors restructuring their finances to get around these restrictions," says QV general manager David Nagel.
"Investors will need a 40 per cent deposit from May 2021, which could finally dampen their ability to compete with the first-home buyers for the very limited affordable housing stock."
The average value increased 6.8 per cent nationally over the past three-month period, up slightly from the 6.3 per cent quarterly growth we saw in January, with the average value now sitting at $856,835.
This represents an increase of 15.9 per cent year-on-year, an increase from annual growth of 15.1 per cent last month.
The residential property market cooled in Tauranga last month.
The city's average house price increased by just 0.7 per cent to $927,022 − but it remains a staggering 17.8 per cent higher than it was 12 months ago.
QV property consultant Derek Turnwald says there's a real sense that the market may be nearing its peak, which could cause some investors to sell the properties they had been holding onto while the market was rising.
"Agents are receiving less enquiries from New Zealanders living overseas now, possibly as a consequence of vaccine rollouts and increased confidence that there is finally an end in sight to the worst effects of the Covid-19 pandemic," he says.
"Recent indications that the Government wants to reduce investor activity − particularly speculator activity − and restrictions on lending to investors could help to curb investor interest and activity, and therefore slow value growth across Tauranga."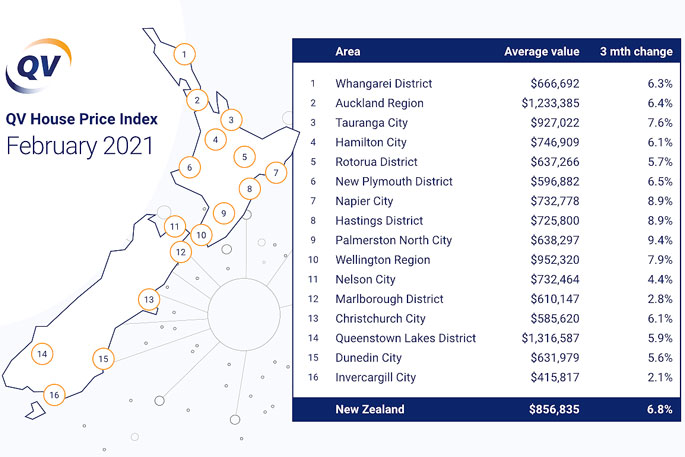 The average value in the Auckland region sits at $1,233,385, up 6.4 per cent over the last quarter, with annual growth at 14.2 per cent, up from January's year-on-year growth of 13.4 per cent.
All the major urban centres are showing strong gains in value with Palmerston North continuing to lead the way with 9.4 per cent growth over the past three months.
The twin Hawke's Bay cities of Napier and Hastings aren't far behind with both cities showing quarterly growth of 8.9 per cent.
"The larger centres were generally the first parts of the country to experience the very rapid value growth we've seen over the past 12-18 months, and this was primarily driven by both first-home buyers and investors competing for the very limited supply of entry-level housing stock," says David.
"But the market strength has now spread to the higher-value locations in the major centres as confidence returns in the post-lockdown economic recovery.
"We may see a gradual cooling of the market in the second and third quarters of 2021, particularly in the entry-level locations as property investors reach their credit limits and first-home buyers struggle to raise a big enough deposit.
"But with the long-term forecast for housing demand in New Zealand looking positive, it is difficult to see the market take a significant turn for the worse any time soon."
More on SunLive...