Tauranga Maori ward referendum cancelled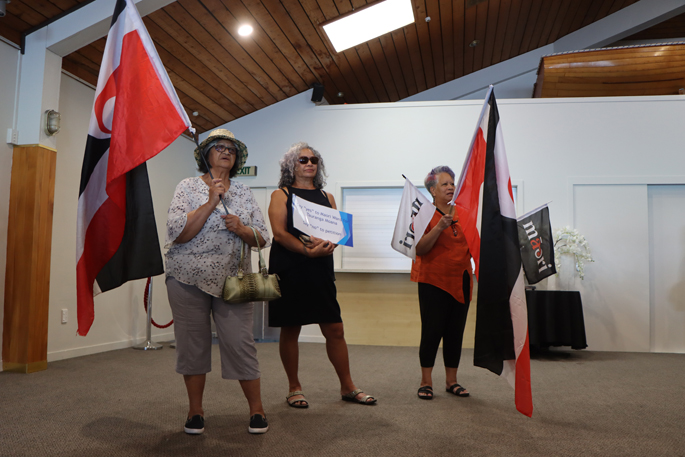 A referendum on the establishment of a Māori ward for Tauranga has been formally cancelled after a change to local government electoral laws came into effect.
The Concerned Citizens Group submitted a petition opposing the establishment of a Maori Ward.
Tauranga City Council's former mayor and councillors voted last August to introduce the ward.
Emotion ran high at a public meeting discussing the implementation of the ward in late January.
Hundreds of people both in favour and against the petition attended.
Protesters standing with signs and Maori flags filled the back of the Tauranga Yacht and Power Boat Club room, behind rows of seats filled to the brim with other meeting attendees.
Speakers included former New Conservative party member Elliot Ikilei, and Hobson's pledge members Don Brash and Casey Costello.
They argued their views are in favour of equality and Maori bettering themselves.
Some of the remarks were visibly difficult for protesters to hear, with many shaking their heads, and tearing up during the speeches.
The change, to the Local Electoral Act 2001, removes a provision in which a council's decision to introduce a Māori ward can be overturned by a process in which at least 5 per cent of voters sign a petition requiring a binding poll.
A valid petition was received in February, by which time Local Government Minister Nanaia Mahuta had indicated that a law change would remove the poll provision. The council was obliged to continue preparations for a poll until the law change formally came into effect.

Tauranga City Council Electoral Officer Warwick Lampp says the law change had now occurred. This meant there was no longer provision for the poll to continue, and it had therefore been cancelled.
More on SunLive...