New faces for Tauranga Arts Festival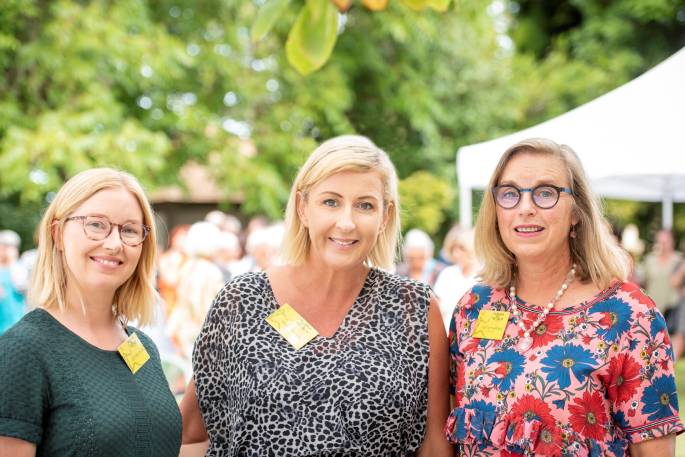 Tauranga Arts Festival have welcomed a new artistic director and general manager.
Gabrielle Vincent and Nikki Hansen, respectively, have taken up the roles.
A group of Tauranga Arts Festival's supporters gathered on the lawn at The Elms not only to mark the beginning of a new Festival Year but also to welcome the new members.
Although it was an informal get-together it also included some cracking speeches and, after a traditional, welcome from kaumatua Puhirake Ihaka on behalf of The Elms Foundation.
"We are acutely conscious the arts have a huge part to play in allowing us, in this new Covid world, to celebrate, think about who we are and also sprinkle some joy and colour through our city," says Festival Trust Board chair Kathryn Lellman.
"Remember, because of your support, the ticket price paid by audiences is only about 30 per cent of the actual cost of our event.
"On behalf of the board and management team we extend our heartfelt thanks to all of you for your investment and recognition that our community is enlivened by the debate, discussion, enjoyment and the social and economic benefits the Festival brings."
Kathryn thanked the Festival's cornerstone funders TECT, Port of Tauranga and Carrus, and said the Board was "extremely humbled by the response of our patrons in continuing their financial support to us last year in the midst of so much uncertainty".
Gabrielle has outlined her vision for the October 21-31 Festival.
"For me, a festival is about creating a sense of togetherness and belonging for both the audience and artists," she says.
"As the programme for the 2021 festival comes together, I want the selection of works to remind us to see the world in a big-hearted way. To find joy in community and be grateful to live in a country where the show can go on."
Nikki delivered some good news. The Carrus Crystal Palace will be back on the Baycourt lawn with the Festival Hub, started in 2019, further developed.
The Festival will again partner with The Incubator to deliver Fringe Village on Labour Weekend Saturday with kai provided by the team at Hereford Kitchen.
Andrew Gregg, general manager of The Elms, has also outlined what a Covid world has meant for the historic building and grounds – including having 400 schoolchildren visit last week, the chance to do some much-needed maintenance on the grand old lady, and opening a new garden.
More on SunLive...