Fishing community appalled with court ruling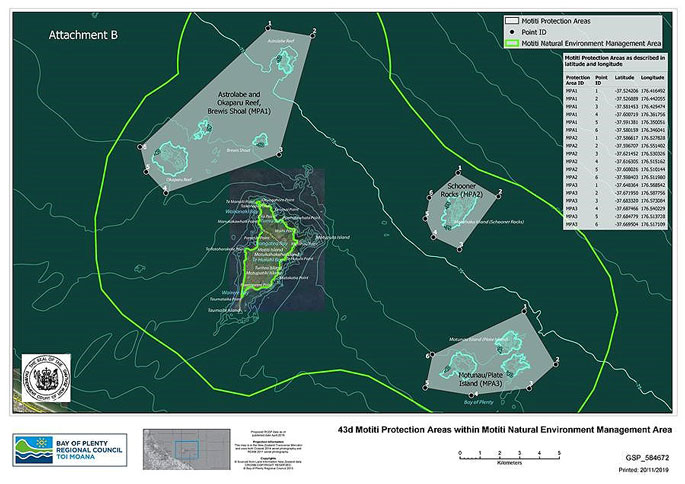 The fishing community are "absolutely outraged" with the environment court ruling to prohibit fishing around Motiti Island and the surrounding area.
The comes after the Bay of Plenty Regional Council received notice that Minister of Conservation Kiri Allan approved the Bay of Plenty Regional Coastal Environment Plan.
Mount Maunganui Sports Fishing Club president, Dennis Gore says it's unbelievable.
"The fishing community are disgusted."
He says many in the fishing community are annoyed, as it can't be overturned and they had no say.
"There was no real consultation. We've been totally pushed aside."
Regional Council's regulatory services general manager Sarah Omundsen says the community can expect to see the rules in place for next summer.
Dennis says the council won't be able to afford enforcement as it will cost millions of ratepayer dollars to patrol.
He says fishermen are not "raping and pillaging" the fish, as people mostly release them.
He says the purpose of the club is to promote recreational fishing in a sustainable way, and it was a 'green idea' to lock it up.
"It's a few greenies saying we don't want you fishing there anymore."
Dennis says although the fishing club has more than 1400 members, fish get over-populated and the location is further off shore, meaning less people go there.
"I was there for three days and I was lucky to see another boat."
But those who do make the trip can be rewarded with kingfish, trumpeter, tarakihi, blue vod, snapper, john dory, and trevalli, among others.
Dennis says it's a sport and an activity which makes for a fun day, and is big business.
He says there's a good quota management system, which is 'self-limiting'.
His concerns are supported by National MP for the Bay of Plenty Todd Muller, who is presenting a petition to parliament next week to reverse the ban and put control of the area back into the hands of the Ministry of Fisheries.
Bay of Plenty MP Todd Muller.
Muller says there are hundreds of recreational users who were not given the opportunity to share their views on the closure of the reef system.
"There are a number of concerns that people have raised with me, aside from the lack of consultation. Closure of these reefs will have safety implications as people will have to travel by boat further afield towards Mayor Island.
"Motiti Islanders are worried about the effects on their own coastline and fish stocks. Iwi have been left out of the conversation too, with customary fishing rights also removed."
Muller plans to have the petition heard by Parliamentary Select Committee soon after he presents it next week.
"It will be the priority of a future National Government to ensure the Ministry of Fisheries, and not the Environment Court, has primacy over our fisheries."
The protected area includes Motiti Island, Astrolabe including Brewis Shoal, Te Porotiti, and O Karapu Reef, Schooner Rocks, and Plate Island.
Tauranga diver and ecologist Phil Ross has monitored the Rena wreck for years and said the MPA is the biggest step towards protecting biodiversity since the Marine Reserve Act came into effect in 1971.
"We had done a lot of managing fisheries but not maintaining biodiversity," he says.
"In the court process it was determined to part of resource management was to maintain biodiversity."
Ross says in just a few years the protected areas will likely be teeming with fish, crayfish and plants. This will make the reef a prime place for marine research for academics.
It will also make the spot popular for divers wanting to see a biodiverse reef.
"It will be an opportunity to see what an ocean should look like and this will provide better understanding of how to better manage ocean resources," he said.
"It's a place to take a bunch of students through to aid research. Some of these studies will be on mapping the effects when you stop fishing in an area."
Forest & Bird chief executive Kevin Hague says the Mōtītī Protection Area means the legacy of the Rena disaster will be three reefs permanently protected for nature.
"We're delighted the Environment Court and the Court of Appeal firmly upheld the relationship between conservation values and mātauranga Māori in the creation of these protected areas."
Hague says it's important to remember that only 1 per cent of the Bay of Plenty is now protected.
Minister of Conservation Kiri Allan approved the plan, resolving two outstanding appeals relating to the Motiti Protection Area and Matakana Island.
The decision part of a six year legal process which 'traversed multiple courts'.
The protected areas are significant for their marine biodiversity, landscape and cultural values.
Sarah Omundsen says planning for a public education campaign is well underway and details of the protected areas and how people can help look after these reefs, will be in local newspapers, community newsletters, on boat ramp signage, on Regional Council's website and social media.
"Over the coming weeks we will be working through the next steps, including determining a date the rules will apply.
"We can all agree that the marine environment is worth protecting for future generations and by following the new rules, everyone can do their bit to protect these reefs and their ecosystems too."
More on SunLive...