Severe weather watch issued for BOP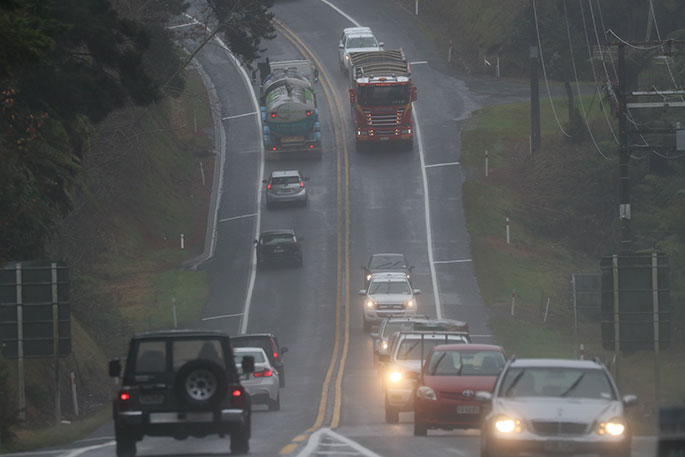 UPDATE 9.08AM: A severe weather watch is now in place for the Bay of Plenty.
The MetService is forecasting a period of heavy rain for the Eastern Bay of Plenty.
"A front, preceded by a humid and unstable northwesterly flow, moves northeastwards over the South Island this afternoon then slowly eastwards over the North Island during Thursday," says a statement from the weather organisation.
"A period of heavy rain is likely for northern and western regions ahead of the front, with thunderstorms and localised downpours also possible in some places.
"People are advised to keep up to date with forecasts in case part of this watch is upgraded to a warning or further areas are added."
HEAVY RAIN WATCH
Area: Bay of Plenty east of Opotiki and the ranges of Gisborne
Valid: 12 hours from 10am to 10pm Thursday
Forecast: A period of heavy rain, with thunderstorms and localised downpours possible. Rainfall amounts may approach warning criteria.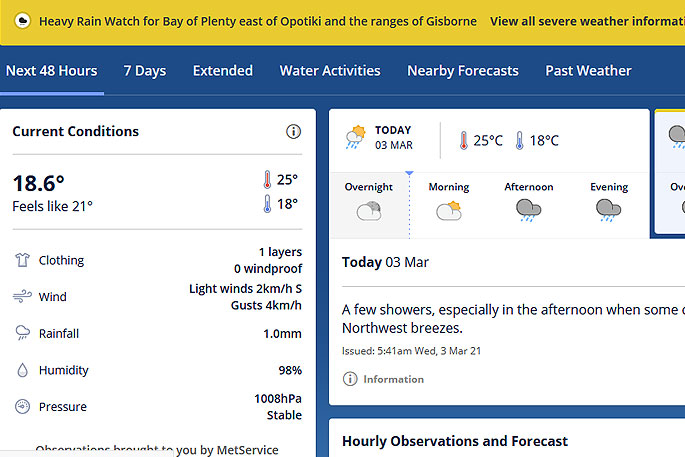 Image: MetService.
EARLIER:
A rumble of thunder is being forecast for the region this afternoon.
Rain is lashing the Bay of Plenty today, as a front pushes northwards over the South Island.
WeatherWatch.co.nz is forecasting northwesterlies for the North Island today.
"Expect some rain or shower activity for western regions, mainly dry out east however Southland and perhaps Otago could see some precipitation," the weather organisation says on a post on its website.
"Temperatures in the early to mid-twenties for most, perhaps late twenties for some eastern regions.
"Northerly quarter winds today, moderate for most but breezy to strong through Cook Strait."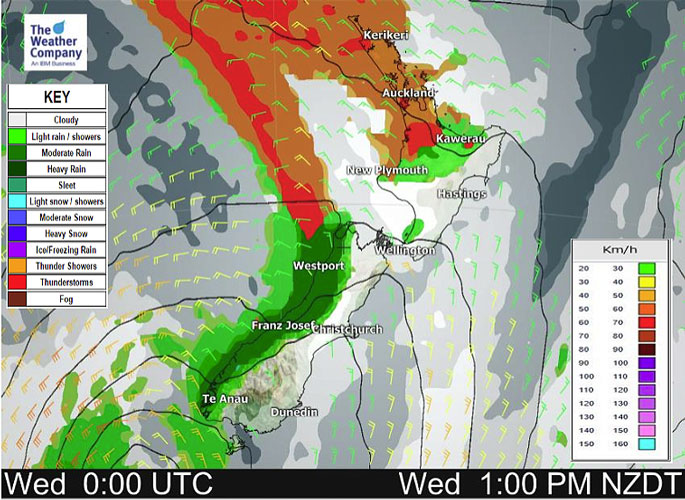 Image: WeatherWatch.co.nz
Northland, Auckland, Waikato & Bay Of Plenty
Partly cloudy, the odd shower. Showers pick up in the afternoon with an isolated heavy fall / rumble of thunder then easing mid to late evening. Northwesterly winds.
Highs: 22-25
Western North Island (including Central North Island)
Cloud then some sun breaks through, a few isolated showers, more so in the afternoon north of about Palmerston North, easing evening. Northwesterly winds.
Highs: 21-24
Eastern North Island
A mix of sun and cloud, light north to northwesterly winds.
Highs: 25-29
Wellington
May be a morning shower then cloud breaks to sunny spells in the afternoon, a shower or two possible again later in the day. Gusty north to northwesterly winds.
High: 20-22
Marlborough & Nelson
High cloud, breaking to mostly sunny weather in the afternoon. Nelson is a bit cloudier, spits of rain or showers for a time in the afternoon spreading from the west. North to northwesterly winds, breezy about Marlborough.
Highs: 22-26
Canterbury
High cloud, some rain in the high country (possibly heavy) then easing to showers and clearing during the afternoon. Nearer the coast high cloud breaks to sun in the afternoon as northerlies tend breezy northwest.Highs: 23-28
West Coast
Morning rain with a few heavy falls then easing to showers by midday as northerlies change northwest.
Highs: 16-19
Southland & Otago
A few morning spits then sunny spells, northerlies tend northwest. A few spits move in again from afternoon about Southland as cloud thickens, spits for Otago by evening.
Highs: 20-26
More on SunLive...