Witness appeal after woman and dog's near miss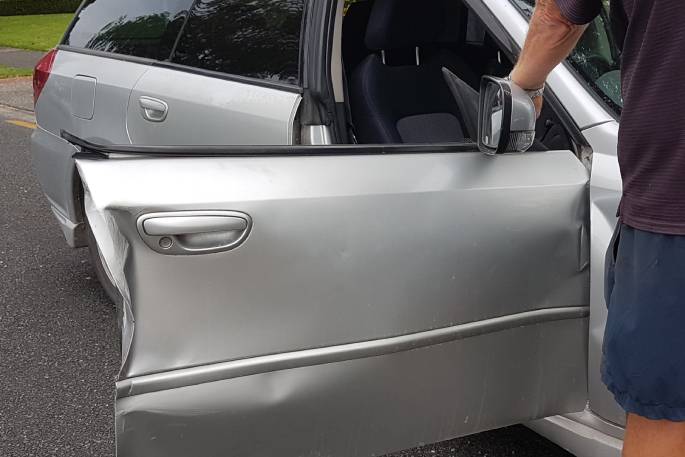 A Tauranga woman is sharing her story as a warning to motorists about getting witness details if involved in traffic incidents.
Catherine Geeves was lucky not to be hurt when the door of her car was crashed into by another motorist.
Catherine was at The Avenues Retirement Village when the incident happened at about 2pm Wednesday.
She was visiting with her dog Dudley as part of her role with Canine Friends Pet Therapy.
Catherine got out of the car to let Dudley out the back when another car collided with the door of her Subaru Legacy.
Both were lucky not to be hit.
"Mercifully it missed me," says Catherine. "But it whipped the door right back. I got a hell of a fright. I actually thought I would see the door on the road."
Two young women in separate cars then stopped to check on Catherine. She admits being so shaken, she did not get their details.
While this was all happening, the driver of the alleged offending vehicle quickly emerged.
His vehicle also suffered significant damage with glass strewn across the street.
At that stage, Catherine told the two young women that she was fine and they could leave.
She never believed the man in question would deny he was to blame.
"I just assumed that he would acknowledge liability," says Catherine.
"After my husband had arrived and I had spoken to my insurance company, they told me to just check I have got his details and get him to acknowledge liability and he just smiled and said 'why would I do that?'"
Catherine is hopeful the two women who witnessed the incident may come forward to help her with the claim.
She would also like to thank them for checking on her after the "frightening" experience.
The car door will need to be replaced, as well as the front side panel, all at considerable cost.
A police spokesperson suggested that motorists in a similar situation should dial the police non-emergency line 105 and report the incident.
"The lesson really is I should have called the police, I should've got those young women's details," says Catherine.
"But you kind of make the assumption that someone else will acknowledge what is clearly their fault."
Catherine is urging the two witnesses, or anyone else who saw the incident to come forward and contact her at evancath@gmail.com
More on SunLive...